Wodonga store cattle report October 3, 2019
AGENTS: Elders, Paull & Scollard-Landmark
EYCI: 493.00c/kg
FEEDER STEER: average 311c/kg (EYCI rating +45 points)
SUMMARY: 2508 head
STEERS: 360-450kg $1070-$1370, av 298c/kg; 280-360kg: $740-$1100, av 298c/kg; 200-280kg; $575-$705, av 283c/kg.
HEIFERS: 360-450kg: $870-$930, av 235c/kg; 280-360kg; $770-$900, av 256c/kg; 200-280kg: $490-$670, AV 248c/kg.
VIDEOS: Murray Arnel's livestream of the August 16 Ballarat sale, courtesy of Shanahans Livestock Transport 
Click below to watch post-sale interview with Elders Matt Tinkler
HEIGHTENED uncertainty over the finishing potential of the season across northern Victoria has weighed heavily on the results of the Wodonga store cattle held yesterday at NVLX Barnawartha.
A smaller than usual following of local restocker buyers attended the 2508-head Paull & Scollard-Landmark and Elders Limited market – most of the absentee operators, no doubt, assessing the merits of turning planned cereal crops into haylage as the region dries out through a lack of subsoil moisture and hastened by a string of mid-spring frosts.
However, buying orders placed from the Western District, South Australia and Tasmania bolstered demand and were applied with greater ease than usual holding demand near firm on the steady results of this same sale conducted one month earlier.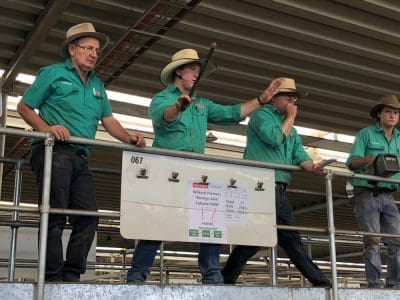 PSL Landmark auctioneer Matthew Pitzen assessed the result as "okay under the circumstances".
The lead of our feeder steers he said sold well to the regular feeder competition, Mr Pitzen said.
"The results of these were easier on the recently cheaper feeder market while the smallish following of local restockers meant our commission buyers absorbed a lot of the larger lines but it was tough going on the smaller pens".
In his post-sale interview (see above) Elders auctioneer Matt Tinkler agreed that the local area has begun to dry out and producers were asking questions of the season.
"This factor alone presented buying opportunities on the smaller longer-term cattle" Mr Tinkler said.
"This has been the case for a while now that local traders are looking for the shorter-term, heavier cattle for a quicker turn-over hence the cattle weighed at over 330kg have received the better competition".
An example of this lay in the opening yards of the steer sale where a pen of 17 Shorthorn steers, 463kg, made $1440 or 311c/kg, and a lighter pen of the younger brothers, a yard of 29, 420kg, made $1320 or 314c/kg.
These were offered for the last time (property sold) by Major Ridge "Ïnglebar" Mulwala, NSW
Vendor JC & KA Cardwell, Gundowring then sold 19 Hereford steers, 450kg at $1370 or 305c/kg with all three lots secured by Ravensworth Feedlot, located to the west of Hay, NSW.
A further yard of 28 Hereford steers, 393kg, offered by D & K Mills, Coreen, NSW also went on the Ravensworth truck priced at $1140 a head along with the market's highest priced steer yard – a pen of 23 Angus, 461kg, cleared at $1495 or 324c/kg by Three Creeks, Culcairn, NSW.
Victorian vendor J & S Nicholson, Tallangatta Valley sold a yard of 26 Angus, 418kg, at $1355 along with 24 Angus-Hereford steers, 431kg, priced at $1345.
Burnbrae Crossing, Gerogery, NSW sold 29 Angus, 378kg at $1160 while a second of Three Creeks, Culcairn Angus, 415kg, made $1205 or 290c/kg.
With most steer sales bouncing 15 to 20-cents either side of $3/kg, the market saw another yard of the Burnbrae Crossing Angus (30 in pen, 334kg), make $1080 or 323c/kg while P & G Lavis, Bungowannah sold 20 Angus, 349kg, at $1050 or 300c/kg.
Similarly, KP & MB McPherson, Whorouly sold 22 Angus, 326kg at $1000 a head while Strathvean Trading, Tarcutta, NSW sold 20 Angus, 356kg at $1040.
And gaining one of the better cents per kilogram averages on the day, NSW vendor, RJ & SA Bulle, Holbrook sold 22 Angus, 311kg at $1000 a head along with a yard of 19 Angus, 267kg at $905: the latter realizing 338c/kg.
The October market also offered two large feature lines through its pens- February/March-drop calves normally sold in the January sales that were weaned from their mothers and sold early.
The first was a draft of 170 Hereford and Hereford-Angus steers (153-280kg) which was sold to a top of $800/head and average $655 by Tom Coughlan and Sons, Morundah, NSW while a consignment of Tarabah Pastoral Hereford steers, Wirruna-blood (252 to 306kg) also bred at Morundah, NSW and sold from Mt Narra Narra Station, Holbrook made to $895 and averaged $771.
While the market for steers overall averaged a whisker under $3/kg the demand for heifers saw the heavy eased 20c/kg in value while the mid to lighter weights averaged firm at around 255c/kg.
The best priced in the heifer yards was a pregnancy-tested empty pen of 10 Angus, 379kg, sold at $930 a head by C Boyd and Son, Bobinawarrah while Strathvean Trading, Tarcutta, NSW sold a yard of 36 Angus, 363kg at $900.
Other sales of heavier heifers included a PR & RH Hilton yard of 17 Angus, 368kg from Jarvis Creek sold at $870 while AM Pastoral, Mudgegonga sold 33 Angus, 347kg, at $865.
P & G Lavis, Bungowannah sold 25 Angus, 315kg at $835 while KP & MB McPherson, Whorouly sold 18 Angus, 328kg at $840.
An EU-line of Hereford heifers, 306kg, made $770 while at similar weighted yard of P & A Stevenson Angus, Tallangatta Valley, 305kg made $820 selling to the same buyer.
The market for breeding females saw better demand established with a yard of 19 Wagyu heifers with 5-6-month-old Wagyu calves at foot sold at $1500 while a yard of 12 middle-aged Angus cows, with young one-month-old Angus calves, made $1390.