YARDED: 2307
EYCI Feeder steer rating: +34 points
Steers: 360-450kg: $1035-$1290, 285c/kg; 280-360kg: $755-$970, 292c/kg; 200-280kg: $595-$845, 302c/kg
Heifers: 360-400kg: $1030-$1125, 275c/kg; 280-360kg: $590-$990, 236c/kg; 200-280kg: $450-$660, 231c/kg
VIDEO: Corcoran Parker's Justin Keane and Beef Central's Murray Arnel review the Wodonga store cattle market where prices were slightly improved on recent sales
FEEDLOT orders were not required for another seasonally-affected store cattle market of 2307 head at Wodonga on Thursday.
With the majority of the yarding presented in light store condition, restockers from the local northeast area – bold enough to take a chance on the season – purchased a range of replacement stock at rates considered slightly higher than previous district offerings.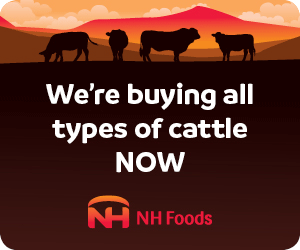 Across the steer yarding, where weights primarily ranged from 200 to 320kg, sale rates of 275 to 315c/kg were mostly achieved, with odd larger and fresher lines priced to 327c/kg.
On a dollar per head basis only a handful of steer sales were pushed beyond the $900 mark while the majority of the steer yarding, which were primarily late spring-drop, made $600 to $850 a head.
Corcoran Parker's Cameron Hilton said there were no steers of feedlot entry weight presented throughout the sale.
"It was a dead-set sale for restockers prepared to take the chance he said, there has been rain across the region, the valleys to east are okay and have feed for cattle but to the west and into the Riverina it is a green drought that requires further falls".
Among the leading sales a yard of 34 4-tooth Angus Hereford-cross, weighed at 453kg, made $1290 a head for PL Moran.
W&J Lucas, Wooragee, Vic, sold 24 Angus steers, 302kg, at $960 while JW Donovan, Burrumbuttock, NSW, sold an unweaned line of 33 Angus, 317kg, at $905/head.
Wild Horse Pastoral, Gundowring sold a yard of 43 Angus steers, 231kg at $750 a head while BA & DA McCormack, Merrijig, Vic, sold 28 Angus, 257kg at $840.
A second pen of the McCormack Angus steers, 236kg, made $677 while TW & LA Lashbrook, Granya, Vic, sold 26 Angus, 243kg, at $795.
A second pen of the Lashbrook steers, 214kg made $685 while a yard of 18 Angus/Hereford steer 267kg, made $755 a head for Kelpark Pastoral, Talgarno, Vic.
Sales of white-faced Hereford steers were best served by Springfield -37 head, 293kg, sold at $865 while Rocky Creek, Emmaville, NSW, sold 53 Hereford steers, 209kg at $595 while a second pen of 58, 183kg, made $535/head.
The yarding of heifers was also tarred with the same brush, with only a pen or two suited to the feeders.
These made $990 to $1145 a head to average 275c/kg while lighter weighted and often plainer conditioned heifers- although quoted as dearer, made 220-245/kg as most fetched $450 to $800 a head.
Among the leading sales a pen of 12 Angus heifers, 373kg, sold by Stockwell made $1030 while 25 Angus heifers, 283kg, made $690 a head for JL & FM Kirley, Kergunyah, Vic.
Mountain View offered and sold 16 Hereford heifers, 339kg, at $825 while Glen Ilsa Pastoral, Wangaratta, Vic, sold 25 Angus heifers, 12-13 months, 271kg at $660.
A pen of W&J Lucas Angus heifers, 283kg, made $680 Springfield Pastoral, Culcairn, NSW, sold yards of 50 and 38 Hereford heifers, 290kg and 256kg, at $650 and $565 ahead respectively.
The sale which was the second by the independent agents' group for May, also offered a sizeable display of breeding females.
Lines of cows and heifers, with young autumn-drop calves at foot, saw a small handful of sales sell from $1300 to $1400 while other better presented younger lots, some joined, made $1000 to $1150 per outfit.
Older and mixed aged cows, with calves, made $800 to $1100 while joined heifers, yet to calve, made $800 to $1000/head or 177 to 214c/kg on a live weight basis.