WODONGA STORE CATTLE SALE 5 SEPTEMBER 2019
Agents: ELDERS, PAULL & SCOLLARD-LANDMARK
EYCI: 499.25c/kg
FEEDER STEER: Avg 310C/kg (EYCI rating +40 points)
SUMMARY: 4055 head
STEERS: 360-450kg $1040-$1560, av 310C/kg; 280-360kg: $775-$1185, av 298c/kg; 200-280kg: $570-$840, av 293C/kg.
HEIFERS: 360-450kg: $965-$1310, av 283c/kg; 280-360kg; $750-$950, Aav255c/kg.
VIDEO: Murray Arnel dicusses sale trends with Wodonga auctioneer Matt Pitzen
WEIGHT and condition remained king as store cattle numbers exploded to above 4000 head at the opening of the spring selling season at Wodonga on Thursday.
With numbers more than doubling compared to the centre's equivalent month earlier market, and a yarding of similar size tipped again for next week, a small influx of South Gippsland buying interests added valuable support to the usual buying group that saw only a handful of pens trucked to South Australia.
Auctioneer, Brett Shea, Elders said seasonal conditions are dominating.
"The overall trend of the market was definitely cheaper" Mr Shea said.
It is a trend that has flowed from increased numbers being sold in the north but our quality lines of locally bred and raised cattle that had the finish and weight to suit the feeders and the Gippsland interest have continued to meet with good competition" he said.
"Local sellers are keen to move their cattle on however our season is still very much alive, with plenty of time yet for a rain in late September to have its normal impact".
Paull & Scollard Landmark auctioneer, Matt Pitzen said the yarding was one of the largest at the Wodonga saleyards since autumn and the annual sales in January.
"However, the majority were local cattle", Mr Pitzen said.
"It was a good quality penning. A good number were off crops and quality pasture, and plenty had the weight and finish that was attractive to our feeder buyers and the bullock finishers from South Gippsland".
"It was a blessing to have that additional support from the south as they don't often travel this far north" he said.
To open the sale, an increased penning of cows, mostly with August-born calves at foot, met reserved inquiry.
These were sold mostly from $1000 to $1370 per outfit while a yard of light-in-condition PTIC Angus heifers (350kg) appeared good buying at $575 a head.
Also sold at the front of the sale was two yards of Friesian steers that made $1030 (463kg) and $910 (417kg) that returned sales in the 218 to 222c/kg liveweight range.
The market for beef-bred steers, although solid on the better presented lines, did vary considerably throughout the passage of the sale.
While the better end of the Angus bred lots drew bids from 320 to 345c/kg, lots that did not offer the required weight, condition and/or breeding, met a market more loosely varied from 260 to 325c/kg.
Among the stronger sales, Holbrook, NSW vendor Mt Annan sold a yard of 21 Angus, 447kg, at $1560 with a second pen of 11, 397kg, cleared at $1240 a head.
Mohyu, Vic, vendor, Wallis Partners was also rewarded with a sale of 25 Angus, 384kg, made at $1260 a head, and a second pen of 23, 377kg, cleared at $1205 a head.
Meanwhile, two yards of GN & HJ Whitehead, Cudgewa, Vic, Angus steers, 388kg and 357kg, made $1115 and $1035 a head and appeared good buying on the day.
Reflecting the tough conditions at Everton, Vic the annual draft of the DFK Heywood & Sons' Witherswood, Ben Nevis and Fernhill-blood spring-drop weaners that had had all their treatments and which were bunker trained met with plenty of interest.
Drafted tightly into four specific weight ranges the Heywood top line of 69 (360kg-plus, average 383kg) made $1195, their second pen of 61 (330-360kg, ave 340kg) was bid to $1070 while their third-draft lot of 76 (300-330kg, ave 311kg) fetched $995 a head.
Two lighter pens from the Heywood draft 285kg and 252kg made $860 and $770 a head respectively.
DFK Heywood & Sons, principal Dennis Heywood said the tough winter, with its many frosts and limited rain, had weighed heavily on the lines progress.
"They were as good as we could get them" the dedicated cattleman said. "They were heavily fed and the result could have been better but it was about where we'd anticipated".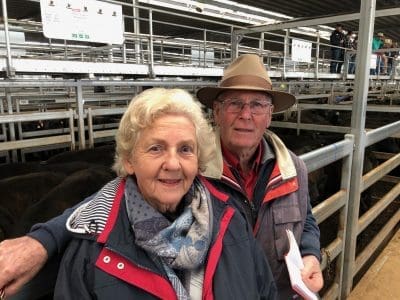 Other lines sold of interest included a pen of D & C Phegan, Walla Walla, Angus steers, 393kg, cleared at $1210. D & C Cheshire, Burrowye sold Angus steers, 365kg, at $1085, while PR & RD Hilton's Angus steers, 395kg from Jarvis Creek made $1310/head.
Another line of interest was the annual draft of Angus pasture-fed steers, aged 11-12 months, consigned by J, V and G Yench of Holbrook.
These were sold at $1165 a head for their first pen of 27, 374kg, a second yard of 56, 347kg, made $1065 while a third yard of 32, 325kg, made $990 a head.
Mr John Yench said that he was happy with their result but nervous as the market was softer and appeared inconsistent.
Among the leading sales of red-coated steers NSW cattle breeders, RA & MH Trethowan sold a line of 50 Hereford steers, 16-18 months, Lindawarra Bred, with their top yard of 27, 392kg, sold at $1305, and second pen of 27, 358kg made $1185.
Heatherlie Pastoral, Tallangatta Valley then sold yards of Red Composite steers: 336kg at $950 and 310kg at $915.
Other sales of red-coated steers included Yarrangerie, Finley- 16 Hereford, 352kg, sold at $990, Little Billabong, Holbrook, – 15 EU Hereford steers, 299kg sold at $910 and 21 Cocketgegong, Urana, Hereford steers, 243kg, sold at $670.
Although again off -the-pace, the market for unjoined heifers varied.
Prices ranged mostly from 260 to 280c/kg although odd pens taken for breeding made more and some suspect-for-age (feeder-doubt) made less.
Among the better sales, RA & MH Trethowan sold a scanned empty pen of 50 Hereford heifers, 352kg at $950, and a second yard 330kg, at $870.
RM & DM Wolter also sold scanned empty Angus heifers, 390kg, at $1070 while a pen of Dalender, Porpunkah Angus-Hereford heifers, 391kg made $1120.
Pens of the Mt Annan, Holbrook, Angus heifers, 413kg and 370kg, made $1140 and $965 respectively while K & L Nankervis sold EU Angus heifers, 399kg, (secured for breeding) at $1310.