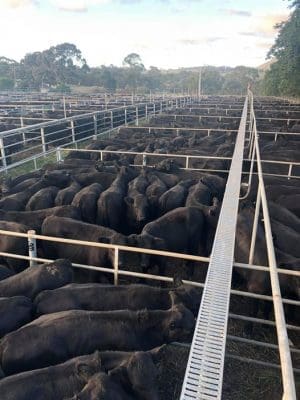 VISITORS to the opening mountain calf sales this morning have witnessed "probably one of the dearest sales that has ever been seen in this part of the country", according to market analyst Murray Arnel.
Now in its 84th year, the annual East Gippsland calf sales draw large crowds as people flock to the mountain yards for the enjoyment, the atmosphere and the nostalgia, and today today they were treated to a little bit of history as well as new price levels were reached.
This morning's sales comprised 1100 mainly Hereford cattle yarded by Sharpe Fullgrabe sale at Hinnomunjie and close to 1600 black and black baldies penned by Elders at Omeo.
To view Murray Arnel's interview with Graeme Fullgrabe click here
Click below to watch livestream of opening pens at the Elders sale:
Cattle sold to Tamworth in northern New South Wales, while demand from South Australia, Victoria's Western District and South Gippsland was also strong.
The first sale saw 300 to 350kg steers making in the 470o520c/kg range, with a pen of grown 659kg steers topping the sale at a return of $2390 per head.
Calves in the low 200kg range in the predominantly weaner fixture pushed as high as the 700-750c/kg mark.
At the Elders sale at Omeo most of the steers in the 350-360kg mark returned around $1900-$1950 per head, with lighter drafts in the 320-330kg range making up to $1850.
Full report to come.