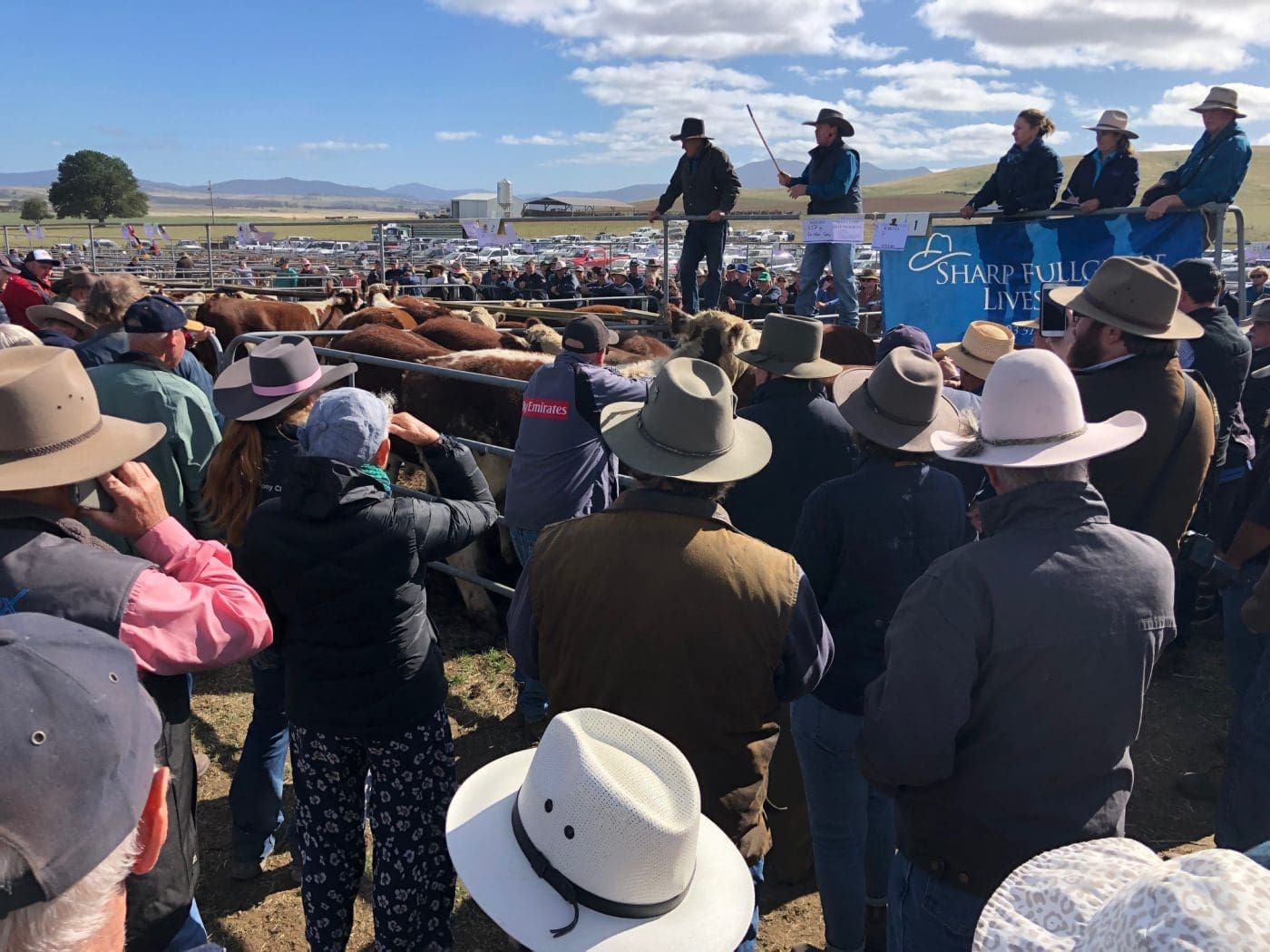 A massive crowd descended of the Omeo district for the 81th running of the East Gippsland Mountain calf sales on Monday.
And while the vast majority of the crowd were interested onlookers and vendors, the buyer fraternity held nothing back in their quest for cattle, dispatching good numbers to all the major cattle finishing districts in Victoria, South Australia and southern and northern NSW.
Many vendors saw the sale as the best result in a good number of decades, providing hope and injecting much-needed cash and confidence into their communities. While some buyers shock their heads in disbelief admitting they could have purchased some of the dearest cattle in Australia.
Three separate sets of saleyards hosted the opening day of this annual two-day event.
HINNOMUNJIE SALE
The first, a sale of 1100 assembled by Sharpe Fullgrabe of Bairnsdale, sold 1100 principally Hereford and Angus mixed sex weaners, with a small sample of Euro-breeds and a couple of yards of heavier grown steers included.
The sale produced the day's top price of $2390 paid for a yard of Hereford bullocks that suggested an un-curfewed weight of 659kg.cracker of a sale
This pen of nine was sold by David Betts to South Gippsland agent Don Bowman, Elders Korumburra while a second pen Betts Hereford grown steers, 551kg, made $2100.
The sale's best presented pen of Hereford steers – an award supported by Herefords Australia – went to PJ & SM Souter. These were a yard of 24 estimated at 350kg that made $1770 while a second draft of the Souter Herefords made $1740.
None of the cattle offered in these sales were weighed and the sale was no interfaced to any of the electronic networks for this reason.
Of the other weaner cattle offered in the Sharpe Fullgrabe sale, RJ & ME Johnson also sold Hereford steers, estimated 380kg, at $1770 while G & S Crisp and AL Fitzgerald, each sold respective yards of 18 and 16 Hereford steers, estimated 340 and 350kg, priced at $1780.
With the opening half-lane of steers fetching $5/kg and better, the scene was set for the rate to progressively edge higher to exceed 600kg on pens of light weight weaners estimated to weight around the 220kg mark.
Heifers were generally sold in 460 to 500c/kg price range for mid-300kg weighted heifers and higher for lighter heifers.
Click here to view Graeme Fullgrabe's assessment of his Hinnomunjie market in a post-sale interview with Beef Central
OMEO BLACK SALE
The first of the Elders Rural Services was an all-black mixed sex penning of 2111 at the Omeo saleyards that overall averaged $1675.33.
The penning's 1447 steers, that averaged $1725, sold its heaviest pens between $1900 and $2090 for weights estimated between 420-440kg.
The top priced lot was a yard of 8 white-faced Angus offered by M Halwidl.
GV & JG Crisp sold 16, estimated 360kg at $1950 while AI & RD Nicholas achieved $1920 for a yard of 19 Angus of similar weight.
B & G Flynn and C & D Anderson also enjoyed strong sales of $1900 for weights estimated at 350kg while lighter drafts of the Anderson family's Angus, estimated 320kg made $1800 and $1820.
Watch the opening lane of the Omeo Black sale as streamed live by Beef Central:

A feature of the Elders black sale was a run of 210 12–15-month-old Angus prepared by FA & DM Bolton.
The Bolton EU-accredited yearling-off steers made $1700 to $1950 for weights varying from 300 to 370kg. These drew the attention of the feedlot orders, with multiple decks finishing in the book of Princes Royal Feedlot, SA.
Across the lighter weights, Black Mountain Station offered some 200 Angus weaners aged 7-8-months. The tops of the Black Mountain steers, estimated at 280kg, made $1700 while the lightest pens (about 220kg) made $1610-$1650 for the selling rates to exceed an estimated 750c/kg.
And close to the back of the steer offering other vendors lines offering sizable numbers made $1580-$1600 for estimated weights of 170- 200kg.
Heifers sold in the Elders Angus sale saw GH & AJ Burton and Partners score a top price of $1790 a paid across a penning of 764 head that averaged $1581.
Estimated at 340kg, the GH & AJ Burton and Partners pen of 22 (340kg) rang the bell in the heifer run. They were secured by Elders Euroa along with yards by AI & RD Nicholas, 22 sold at $1760 and a further pen of 22 Burton heifers, also sold at $1760.
Not to be denied lot feeders swooped on a 150-head draft of FA & DM Bolton yearling-off Angus heifers forking out prices to $1670 for an estimated 330kg, and $1540 to $1580 with estimated with from 300 to 310kg.
Then, in what appeared to be a frantic search for quality future breeders, orders from both northern and southern NSW clashed and pushed the heifer market into the 600-670c/kg range.
This unbridled demand included pens of: Tamcal Angus, 260 and 290kg, sold respectively at $1740, and yards by LH & SE Pendergast (black baldies) and Rosevale Pastoral (Angus) who each sold, at $1430 pens, large pens estimated at 230kg.
Rosevale Pastoral also sold a lighter yard of 36 Angus, estimated at 170kg, at $1260.
BENAMBRA HEREFORDS
The third leg of the Day-1 sales saw a penning of 1102 assembled at the Benambra community saleyards.
Fair dinkum, it was a cracker of a sale that overall averaged $1713.35 a head as the steer portion averaged $1840.15 across 664 steers and $1524.60 for 437 heifers.
In a heavily dominated Hereford yarding, this market saw top honors flow to the family of a past legend of the Benambra district, DJ Tomkin, with a yard of 17 estimated at 420kg and sold at $2110.
This sale was followed at $2020 by a pen of 40 by RG & AH Faithfull (estimated 380kg), while AG & SM Pendergast sold 17 Herefords (estimated 410kg) sold at $1990.
KW &JH Pendergast sold 15 Hereford (est 38kg) at $1980 followed by a yard of 11 Herefords sold at $1960 sold RK & SK Cornwall.
The majority of these sales were secured by Gippsland grass-finisher Graeme Osborne who also booked a yard of 21 Herefords from BR & Estate of LE Pendergast at $1990 in a 270-head haul of the Omeo-Benambra offerings.
Watch the vision of the Benambra sale streamed live by Beef Central:

Following this explosive beginning to the Benambra sale, lighter end drafts pushed to extremes and into the high-600c/kg price range with pens of 240kg Hereford steers sold at $1620, while 220kg steers made $1490.
Heifers sold at Benambra sold like hot cakes as number of second draft pens matched and some even out-sold their heavier first-draft sisters.
Sales topped at $1780 for Ray and Max Pendergast, while a second pen of the Pendergast heifers made $1750.
DJ Tonkin sold Hereford heifers, sisters to the market topping steer yard, also at $1750 while a host of other vendor drafts, 280-320kg, made $1550 to $1720.
Watch Elders auctioneer Morgan Davies' assessment of these two buoyant sales in a post-market interview with Beef Central.
The Elders East Gippsland calf sales will continue Wednesday with an early morning Ensay sale followed by the afternoon showcase Omeo Hereford sale.