KERR & CO ANNUAL SPRING CATTLE REPORT – October 24, 2019
SUMMARY: 3182 head
STEERS: 450-550kg $1460-$1620, AV 305c/kg; 360-450kg $1000-$1421, AV 322c/kg; 280-360kg: $830-$1228, AV 323c/kg
HEIFERS: 360-450kg $940-$1220, AV 277c/kg; 280-360kg; $750-$970, AV 266c/kg
VIDEOS: Murray Arnel's livestream of the 24 Oct Kerr & Co sale at Mortlake, brought to readers by Shanahans Livestock Transport
Click here to watch Live coverage video
Click this link to watch post-sale interview with Kerr & Co's Craig Pertzel
LOTFEEDERS took a back-seat ride to eager restockers during the 25th annual Kerr & Co spring store cattle sale held at Mortlake's Western Victoria Livestock Exchange on Thursday.
Competing for a quality yarding of 2295, restockers from across a broad area of Western Victoria held court in the majority of the bidding duals ably supported by a keen following of buyers from South and West Gippsland and the southeast of South Australia.
Kerr & Co auctioneer, Craig Pertzel told Beef Central the result had exceeded pre-sale expectations.
"We were hoping for a steer average of around the 310 to 320 cents a kilogram mark and I believe we've beaten that especially on our lead drafts where, in some instances, rates of 350c/kg were achieved" Mr Pertzel said.
"However, you must remember that the best calves in this yarding are the cream of the Western District's spring crop and are the equal to any of the autumn-born calves sold in our feature January calf sales" he said.
Mr Pertzel said that for various reason there were fewer numbers penned of the heavier-end 18 to 20-month-old Angus steers.
Some of these he said had been sold early as stores due to the tough autumn. Others had retained for bullocks due to the exceptional spring growth on some properties and others were being held over making up cow numbers sold off during the dry start to winter.
That being the case, only a small handful of the regular feeder orders appeared remotely interested to secure large numbers. Among the more prominent buyers was Prince Royal Station Feedlot, Peterborough, SA who was a repeat buyer of the Greenhills, Minhamite, Murray Grey steers that offered EU-accreditation.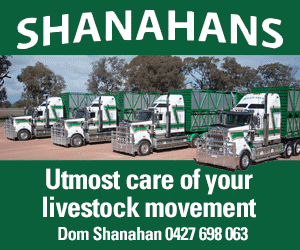 Weighed up to 486kg the lead 26 Greenhills Murray Grey steers made 315c/kg, its second-line of 85, 433kg, made 323c/kg while its third pen of 69, 396kg made 327c/kg.
Other pens of Hereford, Angus and Charolais steers, aged 18 months and old (450 kg and heavier) made 274 to 319c/kg to average 305c/kg and top at $1620 a head while lighter 360 to 450kg steers (all breeds) realized $1000 to $1420 a head to averaged 322c/kg.
Among the better sales recorded in the 360- 450kg feeder weight range was the market's presented steer pen, a yard of 22 Kilkenny Angus, 418kg that made 340c/kg to return $1419.50 a head.
It was the fifth time in as many years that David and Robyn Roache's Coolana-blood Kilkenny steers from Hawkesdale have been awarded the David Powling Memorial shield as the best presented in this annual fixture.
A second pen of 62 Kilkenny Angus steers, 395kg made 335kg or $1322 with both lots secured by the Elders Pakenham branch.
A pen of 33 Eulo Angus steers, 387kg, were keenly sought to 330/kg or $1267 by Conargo, NSW, feeder Australia Food and Agriculture while a second pen of 38 Eulo Angus, 351kg, was snapped up at 340c/kg or $1194 by Pakenham agency, Everitt Seeley Bennetts.
As the weights drifted lower bidding on noted pens to crept higher with a yard of 62 Pardoo Cattle Co Angus, 350kg made 346/kg on a bid placed by Geelong agency HF Richardson while at 352c/kg a yard of 23 Murroa East Angus, 349kg was sold to Kerr & Co, Hamilton.
And to conclude the 68-lot steer sale a number of pens were offered unweighed. These included a feature line of Ardonachie Angus steers that made to $1100 which were estimated at 270-280kg while a second pen of 30 Ardonachie Angus made $890 on an estimated weight of 240-245kg.
The demand for unjoined heifers also crept higher on recent stronger sales.
Increased by an average of four to six cents a kilogram, bidding for heifers was edged higher into the 270 to 285-cent price range with a top of $3.06/kg paid for Angus heifers to returned to the paddock for breeding purposes.
The heifer market top of $3.06/kg was paid for a yard of 19 Coolana Rural Angus, 390kg, while 34 Furneaux Pastoral Co. Angus, 445kg, made $3/kg and will also be retained for breeding.
A small selection of cows, with calves at foot, were sold $1660.
The pen of 13 x 13 Black Simmental-cross, with solid, snappy 2-3-month-old Black Simmental calves at foot, were re-depastured to a Black Simmental bull to commence calving in March 2020.
A single yard of nine Angus heifers, pregnancy tested in calf for a March calving made $1300 to conclude the sale.