Thursday daily cattle summary
15 January 2015
Dalby penned 3,300 head for the opening market of the year. A full panel of buyers competed strongly over the yarding of mostly young cattle and prices improved 40¢ to 50¢/kg from where they finished at the close of 2014. Restockers were active on light weight yearlings, purchasing C2 steers (200-280kg) to 288¢, with sales averaging 271¢, and C2 heifers (200-280kg) to 247¢, with sales averaging 236¢/kg. Selling to feeder buyers, heavy C3 yearling steers averaged 254¢, making from 235¢ to 279¢, while medium C3 yearling heifers averaged 249¢, selling to a top of 259¢/kg. Average cow prices lifted 35¢ to 48¢ from where they finished last year, with heavy D4 lines to slaughter averaging 195¢ and selling to a top of 203¢/kg.
Numbers at Casino lifted 15% week-on-week to 1,531 head, attributed mostly to greater grown cattle consignments. Additional restocker, lotfeeder and export processor competition joined the usual vealer buyers and prices trended dearer across all categories. Medium (200-280kg) C2 vealer steers and heifers to the trade both improved 31¢, averaging 243¢ and 242¢, respectively, while restockers purchased steer lines up to 257¢ and heifer lines to 242¢/kg. Heavy C3 grown steers to slaughter improved 7¢, averaging 218¢, and medium D2 cows to processors increased 19¢, averaging 179¢ and selling to a top of 191¢/kg.
Warrnambool yarded 2,600 head, up 40% week-on-week. All the regular buyers competed and the 1,800 export cattle averaged 7¢ to 30¢ dearer while the 800 head of young cattle sold 8¢ to 25¢ higher. Heavy C2 vealer steers to the trade averaged 213¢, up 8¢ week-on-week, while the D3 heifer portion averaged 191¢, up 23¢/kg. Heavy C3 grown steers to slaughter averaged 216¢, up 12¢, while heavy D4 cows averaged 205¢ and sold to a top of 218¢/kg.
At close of Wednesday's market, the Eastern Young Cattle Indicator (EYCI) was up 4.50¢, at 439.25¢/kg cwt. Trade steers increased 3¢ to 235¢ while medium steers were 2¢ dearer on 209¢/kg. Feeder steers and heavy steers were firm, averaging 238¢ and 225¢, respectively, while medium cows averaged 194¢, up 2¢/kg.
Numbers return
14 January 2015
With markets returning to full operation, national throughput, at NLRS reported saleyards, more than doubled week-on-week to 36,807 head. With the return of Roma Store, which yarded 3,000 head, numbers in Queensland increased almost nine-fold to 5,090 head.
With CTLX and Wagga both recording about 2,000 head more than last week, throughput in NSW more than doubled to 14,319 head. With yardings at Pakenham and Shepparton doubling and Wodonga increasing by 1,600 head, throughput in Victoria almost doubled to 11,853 head. Numbers in SA and WA increased 167% and 84%, respectively, to 2,743 head and 2,527 head while Tasmania almost doubled to 275 head.
Strong demand: Saleyards across the country reported strong competition across all categories and prices continued to rise. At Roma Store, strong feeder and restocker competition pushed yearling prices up 18¢ to 51¢ and export processor competition was extremely strong, with bullocks and cows reaching 234¢ and 226¢/kg, respectively. Similar dearer  trends were reported at Warwick, however, at times, prices were too high for restockers to operate.
The usual buying group at Wagga was joined by additional northern feeder and restocker competition and all lines sold to dearer trends. Quality was very good at CTLX and strong competition saw some category prices reach local record levels. With quality very good at Wodonga, and an additional Queensland feedlot joining the usual buying group, prices continued to improve. Shepparton followed a similar trend, with reports of interstate buyers also competing.
EYCI hits record: At the close of Tuesday's markets, the Eastern Young Cattle Indicator (EYCI) finished at 434.75¢/kg cwt – the highest on record and almost 60¢ above where it finished 2014. Trade steers finished at 232¢ and medium steers averaged 207¢/kg. Feeder steers and heavy steers averaged 238¢ and 224¢, respectively, and cows finished at 193¢/kg.
Australian beef exports to Japan steady in 2014
14 January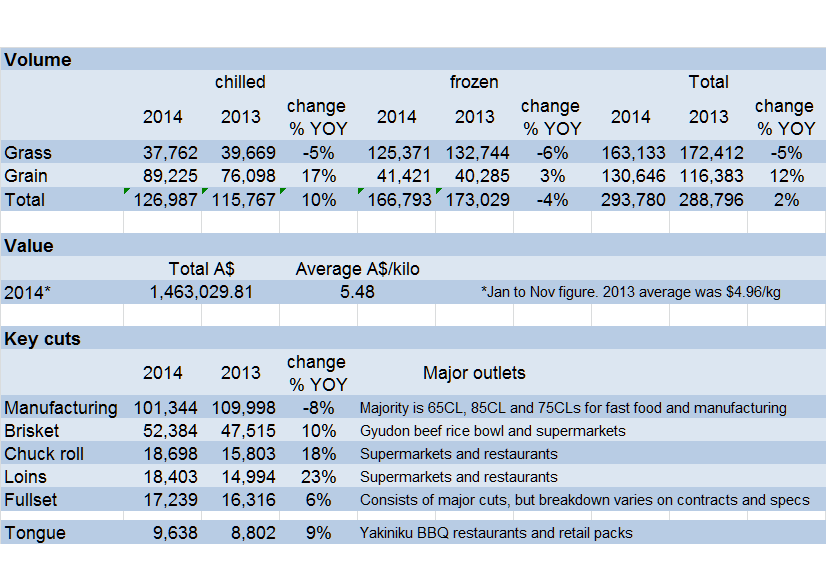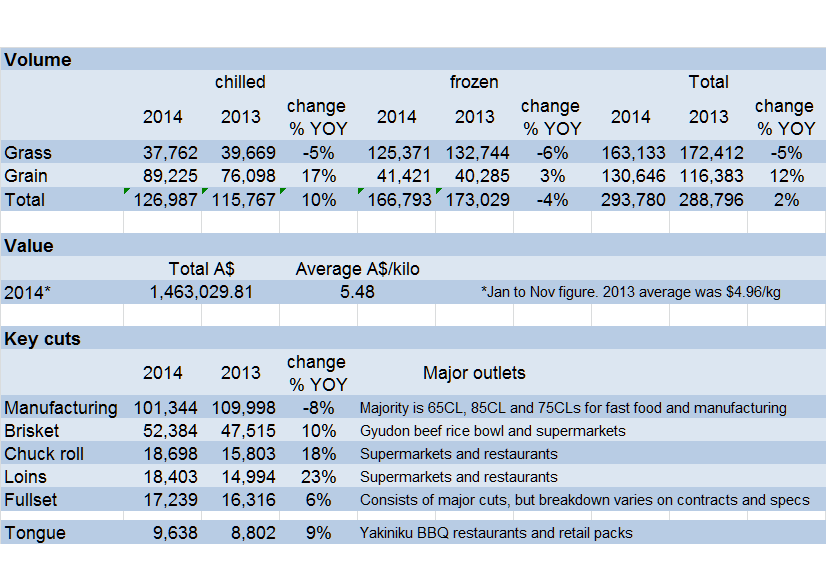 Australian beef exports to Japan in 2014 were 2% higher than 2013, assisted by improving demand, particularly in the final six months of the year, tight US supplies and increased production in Australia.
However, while shipments to Japan in 2014, at 293,780 tonnes swt, did increase year-on-year, as a proportion of total Australian exports (1.29 million tonnes swt), Japan accounted for 23%, a decline of 4 percentage points from 2013.
Chilled and grainfed beef exports to Japan during the year totalled 126,987 tonnes swt (42% of total exports, down from 45% in 2013), and 130,646 tonnes swt (57% of total export, up from 56%), respectively.
Japan also took 26,384 tonnes swt of beef offal in 2014, a 3% increase from the previous year.
For 2015 it is likely that Australian beef exports to Japan will decline slightly, largely underpinned by a contraction in supplies from Australia.
EYCI kicks 2015 off with a bang
13 January
In response to widespread rainfall over the Christmas/New Year break, the Eastern Young Cattle Indicator (EYCI) started 2015 with a big jump on the 2014 close, up 39.25¢, to 415.25¢/kg cwt.
Largely assisting all markets was strong feeder interest, despite the number of cattle on offer for the first day being relatively high.
Not only did markets commence 2015 stronger than where they closed last year, the EYCI is up 121.25¢/kg cwt year-on-year – reaching its highest point since January 2012.
Some markets in particular performed exceptionally strongly, with EYCI eligible cattle at Wagga averaging 437.55¢/kg cwt, while Tamworth was 457¢ and Forbes 439¢/kg cwt.
While the widespread rain has clearly sparked some producer confidence, the longevity will be depended on timely follow-up falls. However, the significant lift in over-the-hook prices over the Christmas period suggests processors are anticipating a contraction in supplies – further supporting producer confidence for those with cattle to sell.
Producers looking to restock will need to look carefully at what their peak buying price can be, and how many cattle their properties will be able to stock comfortably to generate a good margin on any traded cattle.
Volatility in US cattle futures over the Christmas break
13 January
Most categories of US cattle futures, for both feeder cattle and live cattle, followed a similar trend between the end of November and mid-January. For futures maturing in the first half of 2015, there was a peak in their value in the last week of November, before a sharp decline to 3-4 month lows by mid-December. Contracts then rose through to the first week of 2015, before another round of bearish behaviour in the past week. Contracts are currently at levels similar to earlier peaks in July-September 2014, which are still historically high, although lower than late 2014 records.
A sharp bout of cold weather since the start of the year in some key cattle feeding regions is reportedly behind the latest fall in futures prices. It has become more difficult to feed for weight gain in these conditions, and feeders and packers are also cautious ahead of what is usually a slow beef consumption period in February to March.
Feeder cattle futures out to May are all currently just over 213US¢/lb lwt.
Live cattle futures to April are around 160US¢/lb lwt, and drop to 151US¢/lb lwt for June delivery.
Source: Meat & Livestock Australia