AFTER spending the past nine months in four digits, the beef industry's primary price indicator for state of heath, the Eastern Young Cattle Indicator, crashed below 1000c/kg (dressed weight equivalent) yesterday, before sneaking back over the bar again this afternoon.
After yesterday's sales, the EYCI hit 999.09c/kg, continuing a spectacular, near vertical collapse in price seen since the middle of June (see graph).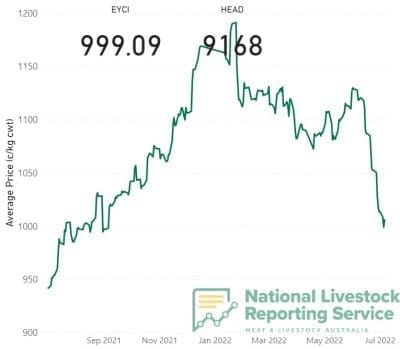 Yesterday's price was down almost 10c/kg since Monday; more than 29c/kg on Tuesday last week, and almost 120c/kg lower than this time last month. Yesterday was the lowest figure recorded since September last year.
Going against the trend, the indicator in fact produced a small rise after today's weekly Wednesday sales including Dalby, CTLX, Warwick and others, finishing at just over 1006c/kg. But there's a number of reasons for that.
The number of EYCI-eligible cattle sold since late June has virtually halved, from around 13,700 head last week to 7590 head for today. For example, Roma yesterday only contributed 1264 EYCI-eligible cattle, down from more than 3000 the previous week, due to rain.
While EYCI prices dropped another 10c/kg at today's Dalby sale (960c/kg), the fact that numbers of eligible cattle sold at Dalby plummeted to 984 from 2545 a week earlier (again, rain influenced) meant this week's relatively expensive Wagga Sale (1032c/kg average for EYCI cattle, for 1234 head of EYCI-eligible animals, representing 16.3pc of the total) out-muscled Dalby's contribution, pushing the indicator slightly higher.
So why is Dalby under-performing the EYCI at present, while nearby Roma remains above (1011c yesterday)?  Some feel that local Downs lotfeeders are currently well-covered for feeders, having bought strongly earlier.
To put the broader sharp downward EYCI trend since mid-June into better context, however, today's EYCI figure still remains 54.5c/kg higher than this time a year ago.
But apart from that short-term influence, it's clear that young cattle prices remain under considerable pressure.
Another factor in the downwards trend is the gradual displacement within EYCI reporting of lighter, younger weaner weight cattle (typically sold at higher c/kg) with heavier feeder and backgrounder weights (typically sold at somewhat lower c/kg). For the past seven days, for example, yearling steers and heifers have made up almost 85pc of all EYCI eligible cattle sold, versus just 15pc for weaner and vealer weights.
Within the broader EYCI offerings, heavier weight steers sold to lotfeeders are now averaging 982c/kg dressed weight, or around 560c/kg liveweight (using a 57pc dressing conversion). Restockers purchasing the lighter end of the EYCI spectrum were yesterday averaging 1024c/kg, but that figure, too, has declined significantly in the past three or four weeks.
Heifers, also have come back significantly, with yearlings yesterday averaging 936c/kg and vealer heifers 962c/kg.
Lotfeeders a week ago were making up 42pc of the buyers among EYCI eligible cattle, rising to 45pc by yesterday – effectively buying more heavier cattle, at a relatively lower price.
The current price movement is making the 'extreme' levels above 1150c/kg seen back in December-January look unsustainable, if not somewhat artificial.
The EYCI first broke through 1100c back on November 17, and hit 1000c/kg for the first time in history almost exactly a year ago, back on 22 July, 2021.
As explained in more detail below, the EYCI is a seven-day rolling average of young cattle (vealer and yearling weight steer and heifer categories) from 23 saleyards across Queensland, NSW and Victoria. It is expressed in c/kg, carcase weight equivalent.
While the Australian export beef industry is enjoying the benefit of a low A$ value at present, falling below US68c overnight, the US is mounting a strong competitive challenge in key beef export markets like Japan, Korea and China due to an abundance of beef production caused by drought across large parts of the US. This is squeezing Australian grainfed export processors' margins, and adding pressure to lowering feeder prices.
* Understanding the EYCI
The Eastern Young Cattle Indicator, or EYCI, is a seven-day rolling average of young cattle (vealer and yearling weight steer and heifer categories) from 23 saleyards across Queensland, NSW and Victoria. It is expressed in c/kg, carcase weight equivalent.
The EYCI is designed to be applicable to a wide range of beef industry participants across the supply chain. It describes general movements in cattle market prices in much the same way that the All Ordinaries share index describes general price movements in the stock market. It is generally a good indicator of the physical market, with movements closely reflecting movements in other MLA cattle prices, including the National Vealer and Feeder Steer Indicators. Movements in the EYCI also closely reflects movements in young cattle prices in states outside the EYCI's (Queensland, NSW and Victoria). This is expected, as many major Australian and global factors that influence beef demand and supply have an impact across all states. Price movements in WA, SA and Tasmania follow the general trends of the EYCI due to the influences described above. However, these states show evidence of other price trends related to distance from major markets, focus on other trades such as live export and local factors such as meatworks closures or openings and regional weather influences.