Good demand is expected for weaner cattle across southern Australia over the summer, with prices at upcoming showcase sales likely to be underpinned by lower numbers offered, plus expected competition from local, Gippsland and interstate eastern seaboard restockers, live exporters and lotfeeders.
The weaners are expected to be generally lighter in the January-February sales in Hamilton, Colac, South Australia, Ballarat, Warrnambool and Casterton due to the failed spring in many areas and forced early selling.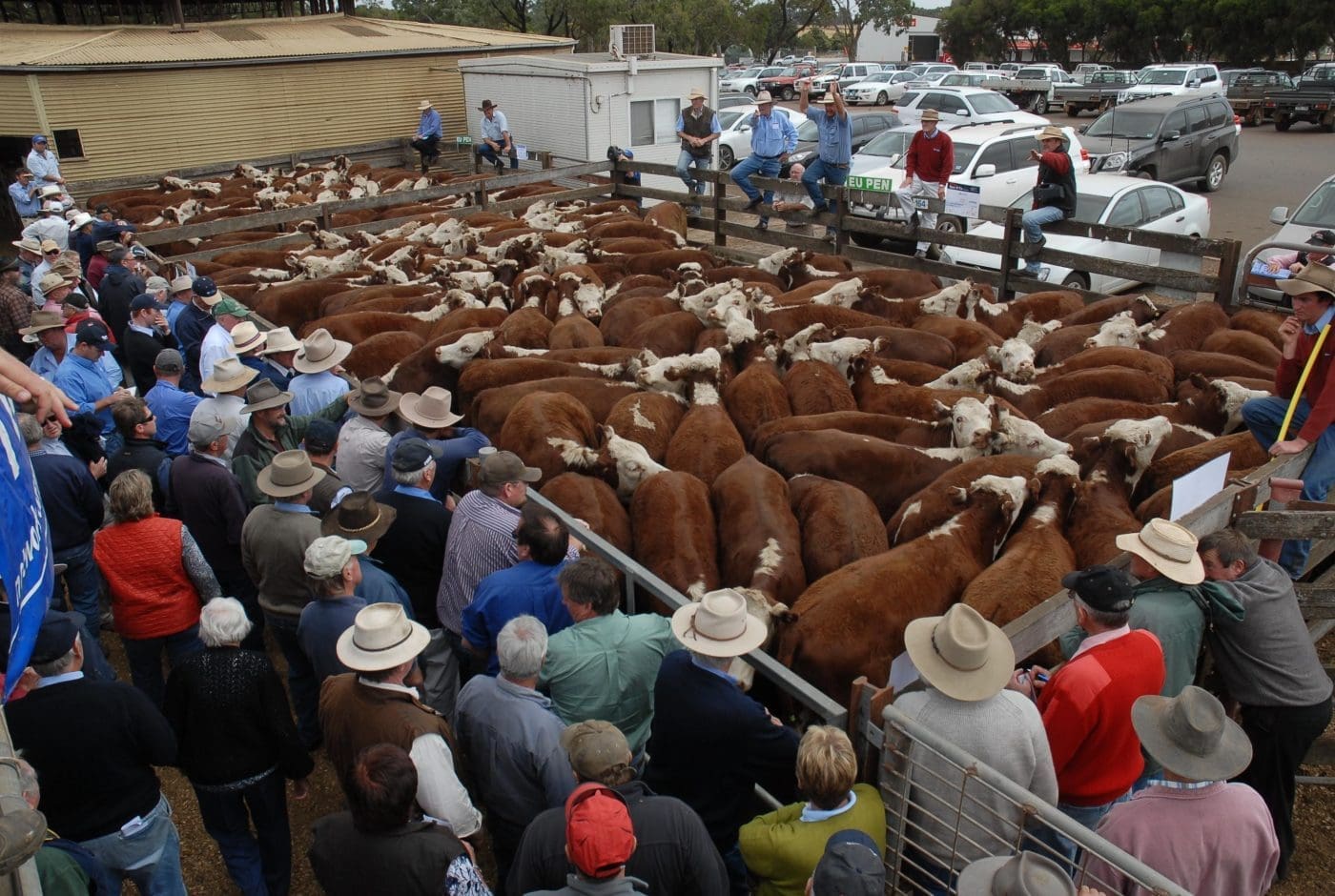 About 23,000 weaners are advertised for sale in Hamilton and Casterton in the next month, with less than 4000 expected at Colac.
Naracoorte sales brought forward a month earlier than normal have provided a good indication of likely demand, Landmark livestock manager Brendan Fitzgerald said.
"We've had two good weaner sales with a lot of our calves coming forward a month earlier than normal," he said.
"The job has held up very well and we've had them travelling to Gippsland, southern NSW, mainly the eastern seaboard and south of us, Millicent down through the Hamilton."
Weaner prices have been as good if not better than anticipated, with heavier black steers selling at 205-240c/kg and the 270-280kg calves around 230-240c/kg.
The heifer prices were more erratic, depending on whether they were wanted by breeders, backgrounders, Victorian and NSW lotfeeders or processors — from 185-230c/kg, Mr Fitzgerald said.
"There were 6500 head in our last weaner sale and live exporter LSS took 1800 of the black steers and was very strong on lines – so that meant the backgrounders had to chase the coloureds more, which pushed them up 10-15c/kg.
"That, in turn, made the heifer job dearer, because people who missed out on steers thought they would jump in on the heifers."
Mr Fitzgerald said the calves were lighter than last year, but sellers were averaging more on a per head basis, similar to the lamb job this year. Numbers through Naracoorte have been similar to last year due to the earlier scheduling of sales to match the season.
"This season is slowly creeping south all the time – the season here now is what we should be in February, but the calves came in looking pretty good."
Mr Fitzgerald said the northern demand is coming mainly from the eastern seaboard, from Gippsland into NSW, in areas that have had a good spring or recent rain and local producers have decided to hang onto their weaners rather than offer them to restockers earlier.
"But other blokes are looking to utilise feed now and that's why they are travelling."
Colac weaners cut in half by season
Colac stock agent Jamie McConachy said the weaner yardings for the Colac sales in January would be about half usual numbers, due to the loss of cattle north of the Princes Highway sold earlier due to the failed spring.
"Anywhere south of the Colac saleyards they have had a very good spring and there is plenty of fed and consequently they have decided to keep their cattle and value-add."
Demand was expected from Gippsland, local buyers, lotfeeders, and commission buyers Duncan Brown and Robert Woodward, though he couldn't see northern buying being particularly strong. Live export demand and the lower numbers were also expected to make for good sales, Mr McConachy said.
"I think prices should be pretty good with basically a shortage of cattle and pretty impressive forecasting for the fat job, it is going to give buyers a fair bit of confidence to jump in and buy some cattle."
With the better quality cattle in the annual weaner sales, he was expecting prices to be at or above prices at the Ballarat cattle sale today, where 300-350kg steers were making 220-230c/kg.
"We've seen cattle here today at 500kg make 200c/kg."
Colac Stock Agents Association president Carl Fish said the quality of the Colac would be very good.
Hamilton weaners will be lighter
Hamilton and District Stock Agents Association president Terry McMeel said weaner numbers would be lower than last year, with some breeders having sold calves earlier. Weights would also be lower, but more breeders have weaned their calves earlier because of the season.
"I reckon you will find that a fair few of them will be well-weaned," he said.
Based on other sales and despite live export demand driving the price for Angus steers, he believed with the lower numbers in southern Australia and further afield that prices would be good.
"The Naraoorte sale last week went really well, underpinned by LSS.
"The last Warrnambool store sale went off like a packet of crackers as well," he said.
"So if they are any indication, the fact that we are going to have good lines of beef-bred cattle is probably going to play well for the coming sales.
"I'm just hoping that the rain in the north is going to have a bit of bearing on it."
Beef Central will file a summary report on the showcase weaner sales during the circuit.
Naracoorte weaner sales –
8 January – steers
9 January – heifers
22 January – steers
23 January – heifers
Hamilton weaner sales –
5 January – Angus steers
6 January – Angus steers
7 January – Hereford steers
8 January – Hereford and Euro steers
13 January – Euro steers
14 January – British bred heifers
15 January – all breeds heifers
Casterton weaner sales –
6 January – all breeds steers
9 January – all breeds steers
16 January  all breeds heifers
Colac weaner sales –
12 January – steers
19 January – heifers, joined female and cows with calves
Warrnambool weaner sale –
16 January –  mixed sex weaners
Ballarat weaner sales –
13 January – heifer weaners and PTIC heifers
20 January – steers