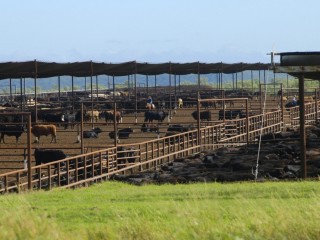 While there is still plenty of red ink around in grainfeeding cattle, the sums are continuing to inch towards profitability – a circumstance unseen since April.
Beef Central's regular feedlot breakeven calculated yesterday suggests a figure of negative $37 on 100-day grainfed cattle going on feed today and closing-out on November 30.
Results have improved a little from the previous calculation on August 3, due mainly to a soft rise in forward prices for grainfed export cattle.
An analysis based on yesterday's spot market for inputs suggested a breakeven figure of 371c/kg, dressed weight, for 100-day grainfed steers ex-Darling Downs, going on feed today and closing-out on November 30.
That's up 3c from the high 360s in Beef Central's similar analysis done a fortnight ago – around a 1pc increase in cost of production. Finished ration price rose $5/t from the last calculation to $260t.
Feeder steer buy prices have remained steady since the last calculation at 180c/kg. Total production cost was calculated at $1307, a 0.5pc rise from $1300 last time. That includes flatback feeder steer purchase plus typical feeding program, and a 1pc mortality rate in the yard.
Another influence on the outcome is the over-the-hooks forward market price for late-November, which, while still difficult to define due to the low liquidity among processors, has been raised from 355c to 360c/kg. That's still some way from the high 370s seen in breakeven calculations made in early June.
The 5c/kg rise is a reflection of the traditional annual 'high-point' seen in meatworks cattle around that time each year, as well as recognition of the recent lift in rates and cautious optimism being seen among processors and exporters. The softening in the A$ last week was a major contributor to that, but currency has since crept back closer to US105c again.
Major southeast Queensland processors yesterday were quoting the spot market for 100-day grainfeds at 340c/kg, up 10c on our last breakeven performed in early August. That's due mostly to a slow return to higher processing throughput after a period of very low kills, caused by an excess of meat in the supply chain and flat international demand driven by the A$ and global financial fears.
All this means today's proposition for close-out in 100 days' time is about 10c/kg dressed weight below breakeven, worth about negative $37 a head. That's a significant improvement on a negative $89 figure calculated in late June, but still a way to go to achieve profit.
Figures close to break-even have not been seen in Beef Central's calculation since before Easter.
Beef Central's calculation is based on assumptions including a 356kg dressed weight, average daily gain of 2kg, and a feed conversion ratio of 7.5:1 (as fed).
One or more variables have to shift in order for figures to move closer to profitability again for 100-day cattle. To go closer to breakeven, forward grain-finished cattle price must go up 10c/kg, or feeder cattle back by a similar figure make financial sense. Further softening of the A$ would help that process.
Lotfeeders are now heading into a period where cattle on feed performance should lift quite significantly. Average daily gains, conversions and respiratory disease morbidity performance should all improve heading into spring, judging on normal seasonal patterns. That could be worth up to $30 a head on typical custom-fed cattle.
Young cattle stronger
Yesterday's NLRS Eastern Young Cattle Indicator closed at 384.25c, up 1.5c on a day earlier and 10.25c on a week earlier.
One contact put the recent strength in the young cattle market down to a general reluctance to sell young cattle, combined with a 'little' feeder speculation activity counting on the typical rise in prices seen late in the year for fed cattle. Cold, wet conditions in southern Australia may also have limited supply.
Yesterday's Longreach (central western Queensland) sale, for example, saw prices four young weaner type cattle (250-280kg) hit a hefty 230c/kg, displaying the current strength in the market. Those same cattle were making around 200c a fortnight ago.
While frost-hit pastures in many grazing areas are now much less productive than they were earlier in the year, there is still a very large body of dry feed present and many producers are seeing better potential return in paddock production supplementation of cattle than sending theme to the feed-yard, one source said.
The solid rain front moving through Eastern Australia today could also influence cattle supply patterns in the short-term.
Beef Central's regular 100-day grainfed breakeven scenario is based on a representative standard set of production variables, ex Darling Downs. It is important to note, however, that variations can exist across production models (feed conversion, daily gain, mortality, morbidity, carcase specification); from feedlot to feedlot; and between mobs of cattle. For a more specific performance forecast on a given mob of cattle, contact your preferred custom feeder.