Australia's official Government commodity forecaster is expecting livestock prices to fall over the next financial year, as the pace of herd and flock rebuilds fuelled by successive above-average rainfall years begins to slow.
The value of beef and sheepmeat exports are expected to fall to $9.4 billion and $3.6 billion respectively, as price falls outweigh an increase in export volumes, the ABARES June 2022 commodities outlook report released this morning forecasts.
Herd and flock rebuilding is continuing in many parts of the country, but ABARES' report suggests the frenetic buying of the last 18 months is slowing.
Prices are still at historical highs for preferred livestock, but stock outside that category are now selling for an increasing discount, it notes.
"This suggests that demand is still strong, but graziers can now afford to be more selective about what cattle they buy," the report states.
"Furthermore, herd rebuilding over the last 18 months has meant that graziers are likely to find it easier to build their own herds, rather than having to buy cattle in.
"Sheep flocks are further ahead in their rebuilding cycle. Successive years of restocking and favourable seasonal conditions are expected to result in high joining, lambing, and marking rates, which in turn are expected to produce a large crop of spring lambs.
"The low costs of finishing a lamb and further strong demand from processors are expected to see an increasing amount of trade lambs in saleyards."
Production of beef and sheepmeat is increasing as herd and flock sizes grow.
The beef cattle herd is expected to grow by 6pc to 24.2 million head in 2022-23, while the sheep flock is forecast to stabilise around 69 million head.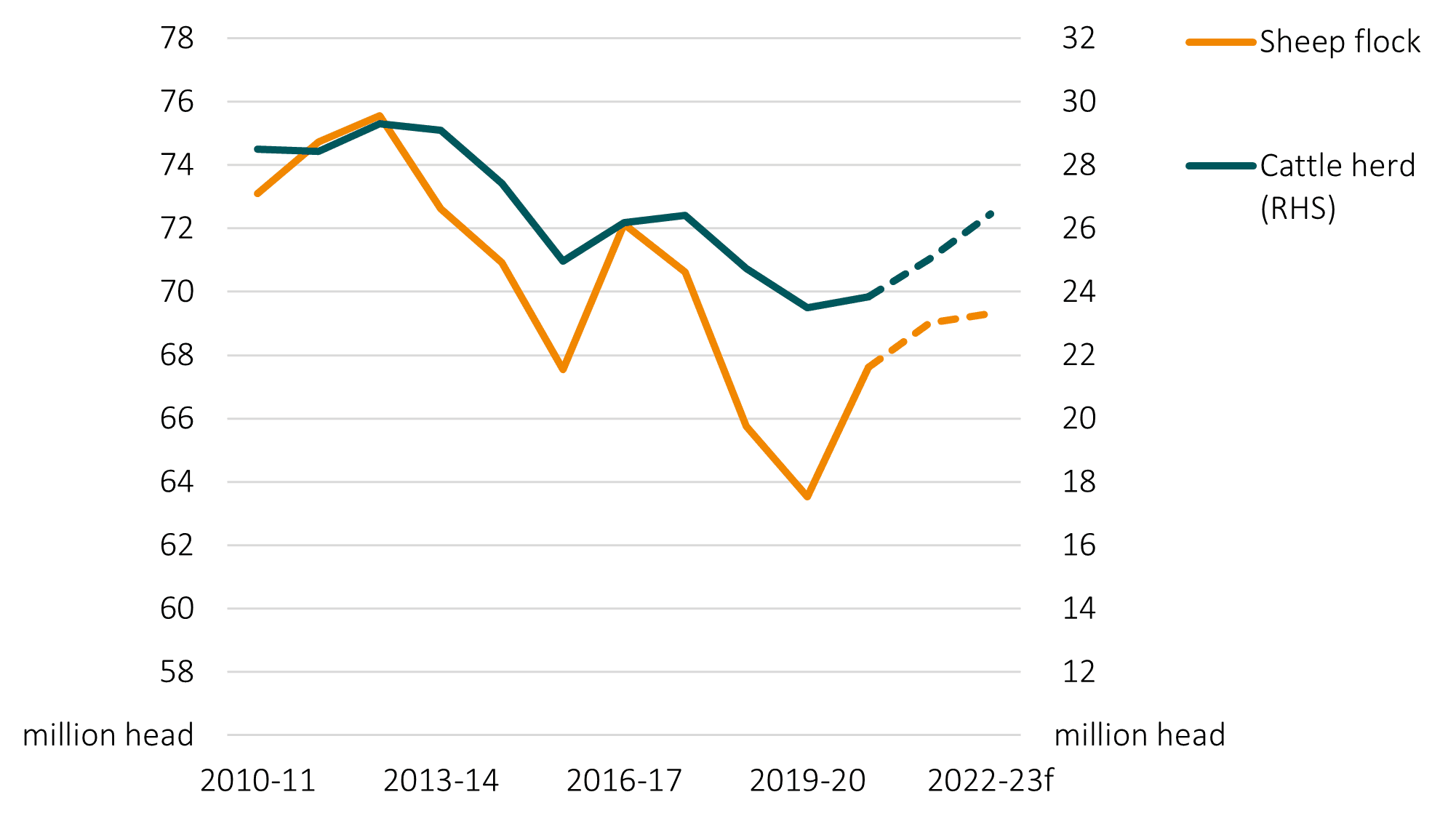 Processing labour shortages are an ongoing bottleneck that will constrain meat production until the situation is resolved.
As a result red meat supplies are expected to remain tight in the face of continuing strong global demand for red meat in 2022-23.
The main factors that present a downside risk to global meat prices include the logistical difficulties being created by restrictions on the mobility of export product to and within China, and expected falls in disposable incomes in developed countries as a result of inflation rising faster than wages.
"This situation could however push consumers from higher quality cuts towards ground beef, particularly in the United States," the outlook noted.
The heightened risk of disease incursions now that Lumpy Skin Disease and Foot and Mouth Disease have been detected on Australia's northern doorstep are a further source of uncertainty.
ABARES modelling from 2013 has been updated and determined that a large multi-state outbreak of Foot and Mouth Disease in Australia could cost more than $80 billion.
"It is essential that government and industry are prepared to combat incursions of these diseases," ABARES states.
The ABARES forecast also assumes that there will be no significant policy changes in relation to live sheep exports in 2022-23, but notes that the new Government has stated an intention to phase out sheep exports and that such an outcome in the next 12 months would alter the outlook for sheep prices.
Wool prices forecast to remain steady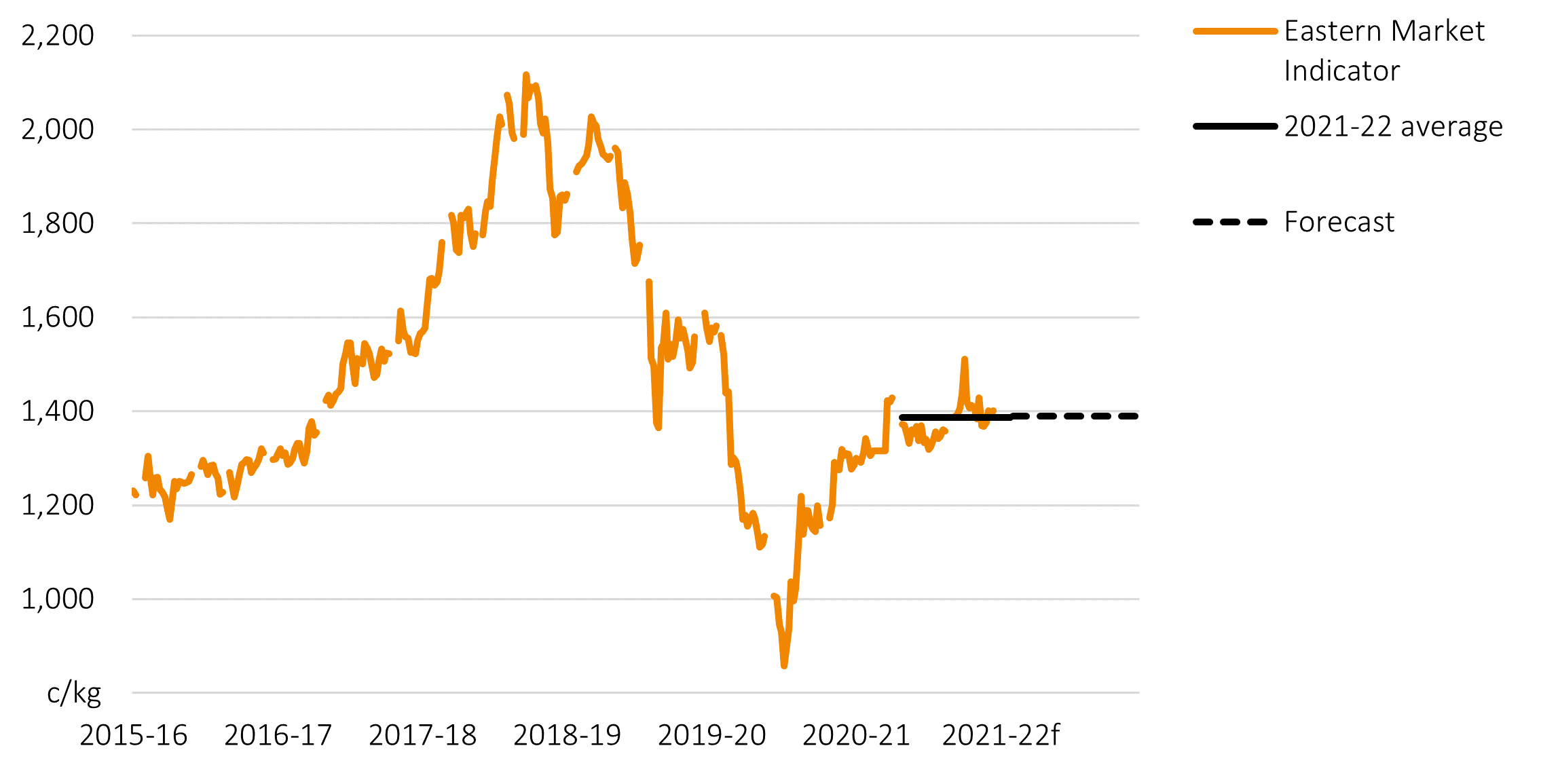 In 2022–23, the Eastern Market Indicator is expected to remain unchanged at an average of 1390 cents per kilogram .
A Foot and Mouth Disease outbreak in South Africa, and a subsequent ban on South African wool imports to China, is expected to drive stronger demand for Australian wool.
Like Australia, South Africa is heavily reliant on Chinese wool buyers, with 80 percent of South African raw wool exported to China in 2020–21.
It is unknown how long the ban will be in place, however the Chinese restrictions on South African wool are expected to provide support to Australian exports while it continues to be in place.
To read the full June 2022 Agricultural Commodities report click here