TOTAL cattle listings on AuctionsPlus this week decreased by 13 percent to 8819 head, while the national clearance rate was up 9pc to 59pc from the previous week.
New South Wales accounted for 45pc of the listings, achieving a clearance of just 44pc, while Queensland listings (44pc of the total catalogue) delivered a much stronger 62pc clearance.
Joined females were down in numbers to 1521 head, with an increase in competition almost doubling their clearance rate on last week, to 62pc.
Sale prices in all heifer weight categories were down this week, while young steers were generally higher.
Joined heifers averaged $1388, selling to a top of $1800 for a line of 43 three-year-old Angus heifers from Foster, Victoria.
Proven breeders averaged $1481, selling to a top of $2200 for 34 head of 4-6 year old Angus cows from Bendemeer, NSW.
Cows and calves, and heifers and calves were in short supply this week with only 119 units on offer. They averaged $1837, with a top of $2520 for a line of 2-3 year old maiden cows from Carroll, NSW.
Notable lots offered this week included 434 EU-eligible Angus weaner steers 9-10 months from Minnamurra Pastoral Co, Wollar, NSW. Three of the heavier lots were passed in, but the remaining four made from $1250/head (370c) for weaned steers 338kg, and $1145 average (384c) for steers averaging 298kg. The four lots sold will be travelling to Tamworth, NSW, Hamilton, VIC and Goondiwindi in QLD.
Conseulo Cattle Co, Rolleston, QLD sold 402 Santa Gertrudis cross weaned steers over five lots with two mobs of the lighter steers averaging 189kg selling for $765 or 403c/kg, and the heavier steers averaging 262kg making $975 or 372c.
Top priced heifers in NSW went to a line of 16 month old Angus heifers from Gravesend, NSW weighing 353kg making 417c/kg or $1475. Top priced heifers from QLD went to a line of Angus heifers from Dirranbandi weighing 245kg going for 362c/$891.
In a breakdown of young cattle sold, by weightrange:
Steers less than 250kg sold from 364c432c/kg to average 407c (up 15c); while heifers sold from 316- 406c to average 341c (down 1c)
Steers 250-300kg sold from 341-414c to av. 375c (up 10c); while heifers sold from 265-354c to av. 301c (down 55c)
Steers 300-350kg sold from 325-381c to av. 357c (up 8c); while heifers sold from 295404c to av. 348c (down 5c)
Steers 350-400kg sold from 306-366c to av. 337c; while heifers sold from 304-417c to av. 360c (up 50c)
Steers 400-450kg sold from 305-323c to av. 314c; while heifers sold for 220c.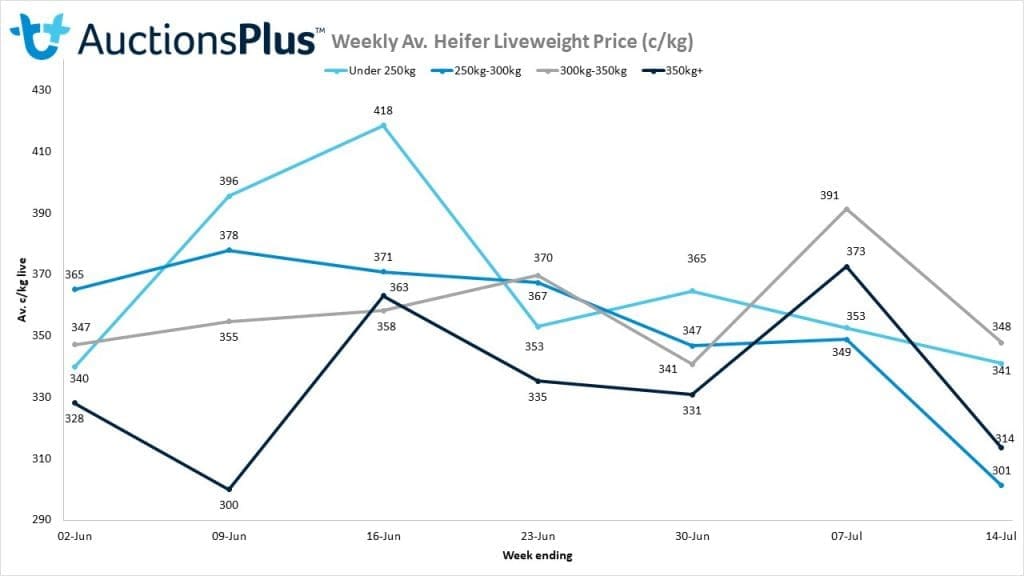 State summaries:
NSW steer highlights:
7-8 month old Poll Hereford/Poll Hereford steers; 185kg from WAGGA WAGGA, selling for 432c/$800
7-11 month old Angus/Angus steers; 228kg from ASHFORD, selling for 427c/$975
9-10 month old Angus/Angus steers; 231.4kg from GUNDAGAI, selling for 399c/$925
8-11 month old Angus/Angus steers; 276kg from TENTERFIELD, selling for 394c/$1090
QLD steer highlights:
7-9 month old Angus/Angus steers; 214.2kg from HANNAFORD, selling for 431c/$925
7-10 month old Angus/Angus steers; 266.6kg from HANNAFORD, selling for 414c/$1105
6-8 month old Angus/Angus steers; 260.8kg from DIRRANBANDI, selling for 407c/$1062
5-7 month old Santa Gertrudis/Santa Gertrudis steers; 189.4kg from ROLLESTON, selling for 403c/$765
VIC steer highlights:
8-9 month old Angus/Angus steers; 225.1kg from GUYS FOREST, selling for 364c/$820
SA steer highlights:
16-17 month old Braford/Braford steers; 356.5kg from STEWART RANGE, selling for 309c/$1105
TAS steer highlights:
9-11 month old Angus/Angus steers; 303kg from CAMPBELL TOWN, selling for 379c/$1150
9-11 month old Angus/Poll Hereford steers; 340.8kg from CAMPBELL TOWN, selling for 372c/$1270
9-11 month old Angus/Angus steers; 355.4kg from CAMPBELL TOWN, selling for 365c/$1300
NSW heifer highlights:
16-18 month old Angus/Angus heifers; 353.7kg from GRAVESEND, selling for 417c/$1475
12-13 month old Angus/Angus heifers; 333.8kg from COONAMBLE, selling for 404c/$1350
11-12 month old Angus/Angus heifers; 276.7kg from COOMA, selling for 354c/$980
10-12 month old Angus/Angus heifers; 316.5kg from BUGALDIE, selling for 338c/$1070
QLD heifer highlights:
6-8 month old Angus/Angus heifers; 245.9kg from DIRRANBANDI, selling for 362c/$891
5-7 month old Santa Gertrudis/Santa Gertrudis heifers; 184.4kg from ROLLESTON, selling for 344c/$635
5-7 month old Santa Gertrudis/Santa Gertrudis heifers; 184.4kg from ROLLESTON, selling for 341c/$630
4-8 month old Angus/Angus Cross heifers; 194.2kg from ST GEORGE, selling for 319c/$620
VIC heifer highlights:
8-10 month old Speckle Park/Angus heifers; 221.6kg from GUNBOWER, selling for 406c/$900
10-13 month old Speckle Park/Angus heifers; 304.2kg from GUNBOWER, selling for 378c/$1150
TAS heifer highlights:
9-11 month old Angus/Angus heifers; 331.9kg from CAMPBELL TOWN, selling for 346c/$1150
9-11 month old Angus/Angus heifers; 331.9kg from CAMPBELL TOWN, selling for 343c/$1140
9-11 month old Angus/Poll Hereford heifers; 304.2kg from CAMPBELL TOWN, selling for 328c/$1000
Source AuctionsPlus