LIGHTER steers and heifers were firmer in price in the first AuctionsPlus sales for the year held this week, compared with closing rates in 2019.
The first week back saw 5327 head offered online across the four weekly sales, with 3089 head listed in yesterday's Weaner & Yearling Sale alone. Clearances averaged 66 percent for the week.
The BSW North West Slopes and Plains was the largest purchasing region with 550 head secured by producers in the area, followed by South-West Victoria and then Central West NSW.
Cows with calves at foot averaged $1118 this week selling from $600 to $1800. Top price was returned by two lines from Euroa, Vic, offered as a run out of the gate. These two lines, each of 20 station-mated Angus cows 26-28 months averaging 450kg, were joined to Angus bulls, and with calves at foot averaging 180kg.
From Orange, NSW, a line of 55 Angus heifers and calves cleared reserve by $340 to sell for $1330. These 30-month-old Rennylea blood heifers averaged 357kg, with calves at foot by Angus bulls.
Joined females averaged $1275 this week, selling from $615 to $1725. Top price was returned by a line of 21 PTIC Hereford x Shorthorn heifers 22-24 months averaging 559kg, from Talgarno, Vic.
The same vendor, Seasonsong, offered 300 PTIC heifers across two different properties. Other highlights included 26 PTIC Angus heifers from Naracoorte, SA which sold for $1200. These heifers were 413kg, 21-23 months of age and were joined to Nampare and Granite Ridge Angus sires.
Steers less than 280kg sold from 244c to 358c this week, and averaged 305c. Top price went to a line of 108 unweaned Angus steers from Laggan, NSW. These Rennylea/KO Angus blood steers were offered account Old Bolong Pastoral, and average 221kg at 4-5 months of age.
From Lucindale, SA, 65 Angus weaned steers 6-7 months averaging 185kg sold for 347c.
Steers 280-400kg sold from 276c to 329c this week, and averaged 312c. Top price was returned by a line of 16 weaned Red Angus steers from Casterton, Vic. These steers were 8-10 months averaging 369kg. The same vendor, account Prospect, offered 113 head in the auction and averaged 326c for the steer portion and 261c for the heifer portion.
Heavy steers more than 400kg sold from 274c to 341c this week, and averaged 317c. Top price was returned for a line 37 Angus x Hereford weaned steers from Casterton, Vic. These steers were 412kg at 11-12 months and were EU accredited. Offered a/c Retreat, a total of 253 head were sold by the same vendor, selling to an average of 330c for the steers and the single line of heifers offered returned 262c.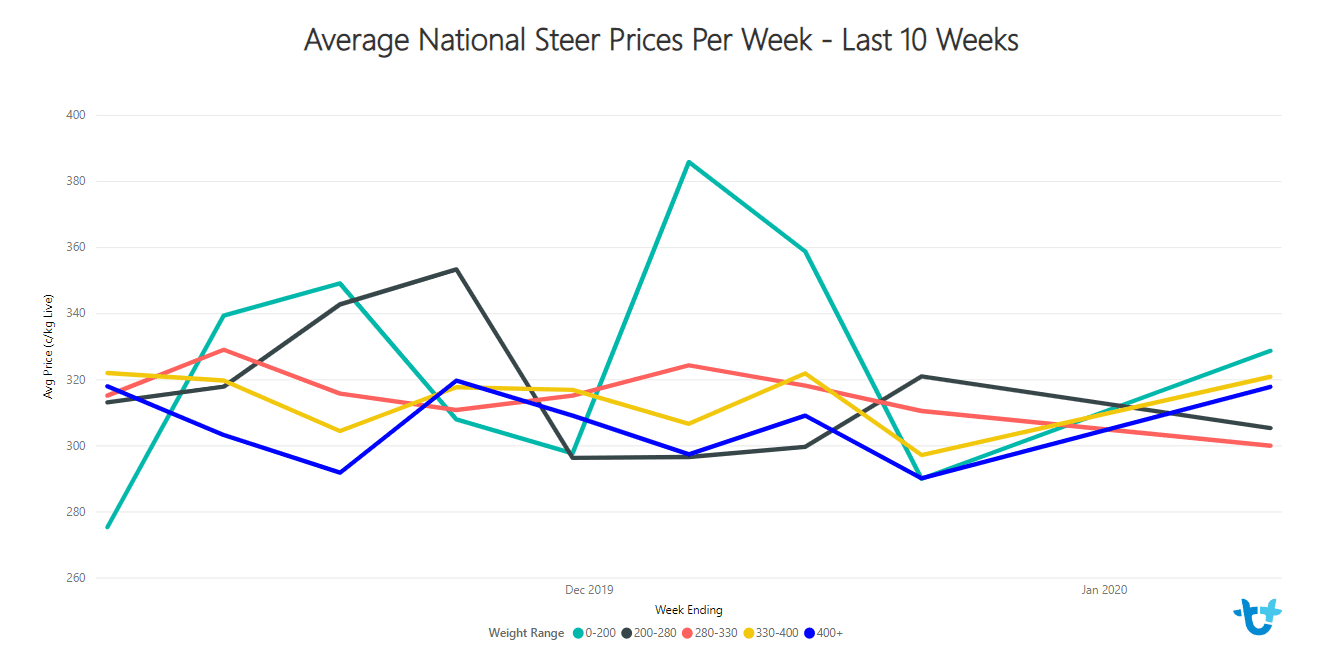 Heifers less than 280kg sold from 175c to 342c this week and averaged 254c. Top price was returned by a line of 72 Angus weaned heifers 4-7 months averaging 137kg, from Trangie, NSW. From Inverell, NSW, 27 Angus heifer calves 156kg at 4-6 months sold for 308c.
Heifers above 280kg sold from 242c to 292c this week and averaged 261c. Top price was returned by a line of 15 Angus x Hereford weaned heifers from Pipers River, TAS. These heifers were 322kg at 9-10 months. From Nundle, NSW, 53 Limousin x Angus/Hereford yearling heifers sold for 263c. These heifers were 373kg at 18-20 months.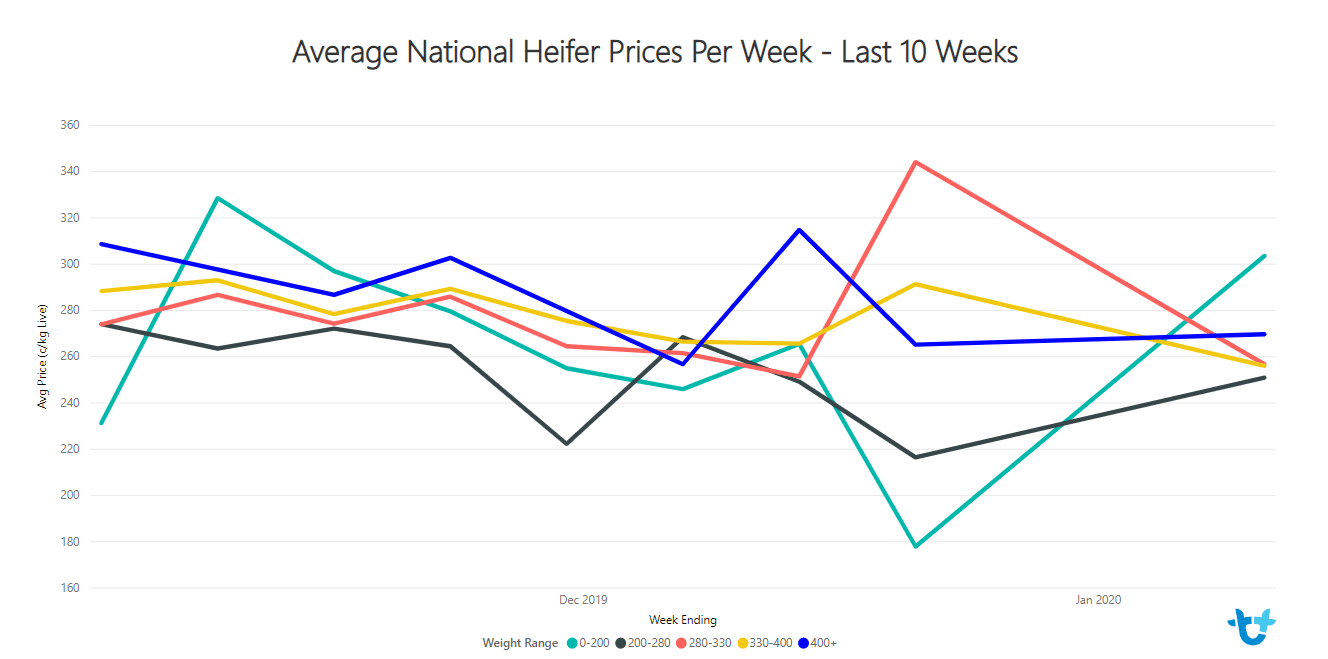 This week's WA cattle sale achieved a 100pc clearance with a total of 197 head offered. Top price was returned for 33 Angus x Murray Grey yearling steers from Manjimup selling for 306c or 580c/kg dressed. The steers were 472kg at 14-17 months. From Boyupbrook, two slaughter Angus bulls returned 400c/kg dressed or $2070.
Source: AuctionsPlus