PRICE trends for young cattle categories on AuctionsPlus were mixed this week, with lighter steer descriptions firm to better, although domestic and export weight feeders slipped significantly.
Breed and location influenced some strong results. Breeding lines, however, were met with strong demand which saw prices kick higher. A solid autumn break may have been just what cattle breeders needed to make final decisions on their stock numbers heading into winter.
Listings lifted slightly to 16,371 head this week, with numbers higher out of Queensland and Tasmania, but lower in other states. Clearance rate down slightly to 46pc and values over reserve were flat on the previous week.
Steers
Steers 200-280kg registered 2465 head and averaged 467c/kg – up 13c on last week for a 77pc clearance. Per kilogram prices ranged from 298-611c.
From Julia Creek, Northwest Queensland, two even lines of 102 Droughtmaster steers 8-12 months old averaging 279kg returned $1270/head, or 454c/kg.
Listings of 280-330kg steers lifted 32pc to 1838 head and averaged 481c, up 31c on last week for a 66pc clearance. Top price of 627c/kg was achieved by a line of 90 F1 Wagyu x Angus backgrounder steers from Barraba, NSW. The steers were aged 6-8 months averaging 312kg, returning $1955.
Steers 330-400kg registered 1123 head and averaged 397c – down $45 or 40c/kg from last week for a 58pc clearance. Per kilogram prices ranged from 332-440c.
Two even lines of 84 Angus steers 16-18 months averaging 392kg from Burraga, NSW returned the top price of $1686/head, or 431c/kg.
Heifers
Listings of 200-280kg heifers lifted 80pc to 1839 head and averaged $913 – up $35 on last week for a 39pc clearance. Price ranged from 303-463c and averaged 379c. From Omeo, Victoria, 71 Angus heifers 7-8 months averaging 264kg returned $1000/head and will travel to a buyer in SA.
Heifers 280-330kg registered 750 head and averaged $1381 – up $188 on last week for a 38pc clearance. The top price of 559c was achieved by 94 F1 Wagyu x Angus heifers from Barraba, NSW. The heifers were aged 6-8 months averaging 286kg, returning $1600.
Heifers 330-440kg listings increased 45pc to 1023 head and averaged 339c, down 7c on last week for a 28pc clearance. Prices ranged from 296-415c. From Springsure, Central Queensland, 60 Charbray heifers 15-18 months averaging 374kg returned $1218 or 326c.
Breeding females
Breeding lines were met with strong demand this week, pushing prices for SM and PTIC categories up by 12-66pc. The subdued clearance rates combined with significant price increases would suggest that producers continue to be highly selective in their restocking decisions. However, the early autumn break may have given producers enough confidence of good pasture growth through winter to step into the market and compete for the right article of breeding females.
PTIC heifer listings slipped to 2141 head and averaged $2003/head – a significant lift of $452 on last week for a 24pc clearance.
From Glen Innes, NSW, 30 Angus PTIC heifers 20-22 months averaging 492kg returned $2200. Top price of $2800/head was achieved by 11 Santa PTIC heifers 18-20 months averaging 427kg from Toowoomba, Southern Queensland.
PTIC cows registered 1249 head and averaged $2070/head – up $375 on last week for a 24pc clearance. From Goulburn, NSW, 49 Angus PTIC cows 8-9 years averaging 682kg returned $2250.
Prices as at 2pm Friday, 28 April.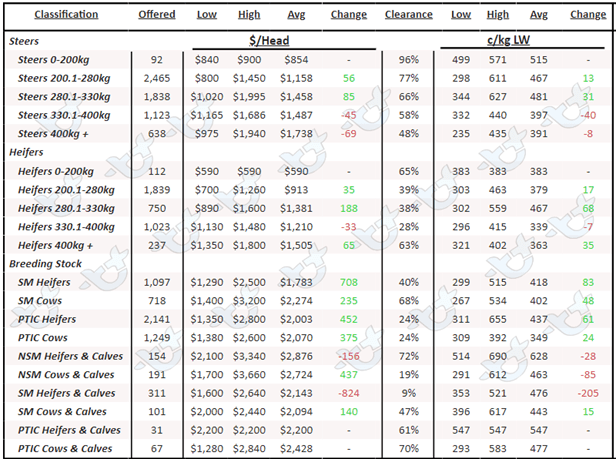 Source: AuctionsPlus