THE remarkable young cattle market went to another high last week, as recent rain, especially through Queensland, bolstered sentiment and continued to stoke restocker demand. With supply impeded by rain and logistics, total AuctionsPlus offerings were down ten percent on the previous week, at 14,968 head. The sharpest contraction was observed through the young heifer lines, with the 330-400kg category back 59pc.
What has been just as outstanding as the actual price received for young cattle has been the increasing frequency at which milestones have been passed, with the EYCI going through 1100c/kg this week. The EYCI first broke through 700c on August 9, 2016. Exactly 1535 days later it cracked 800c barrier on October 22, 2020. The next milestone, at 900c, was exceeded on 14 April 2021 – only 174 days later. In late July, most thought that the final milestone had been reached, breaking through the 1000c barrier on 22 July – taking only 99 days. Last week's new record, exceeding 1100c/kg on 17 November – was slightly slower, at 118 days – but nevertheless given the increasing degree of difficulty with each new higher milestone, an astonishing result.
Overall AuctionsPlus results last week were mixed, albeit with clearance rates for the lightest steer lines continuing to exceed 95pc. The two lightest steer and heifer categories contracted sharply in price, while heavy steer prices bounced back, after a second week of reduced numbers, with 400kg+ steers rising 39c on the previous week, to finish at $2467/head.
Even with the exceptional clearance rates and robust demand, prices for the lightest steers (less than 200kg and 200-280kg) eased 172c/kg ($118) and 46c/kg ($103/head), respectively, with an increased supply of dairy influenced lines in the southern sales impacting overall averages.
For the young heifer market clearance rates were also somewhat mixed, with numbers well back through the mid-weight categories. Heifers 200-280kg averaged 17c lower on last week, at $1718/head, while 280-330kg lines lifted 17c, to average $1931.
Breeding cattle
A 35pc contraction in the supply of PTIC heifers this week failed to stop a price decline, back 61c or $115 on last week, to average $2732 – with a 75pc clearance rate for the 1003 head offered.
Utilising movement data, the majority of the PTIC purchases are headed towards the northeast corner of NSW. With very thin numbers through most of the breeding lines reported, prices were varied, with the 777 PTIC cows offered selling to a 77pc clearance – averaging 41c lower on last week, at $2879.
Out of Nundle, NSW, Timor Cattle Co sold 146 Angus and Angus cross NSM heifers plus a few cows, mostly with calves at foot. Prices ranged from 652c ($3270) for a line of 15 cows 5-9 years with ten calves at foot, to 832.3c ($3830) for a line of 55 heifers 24-36 months averaging 460kg, all with calves at foot.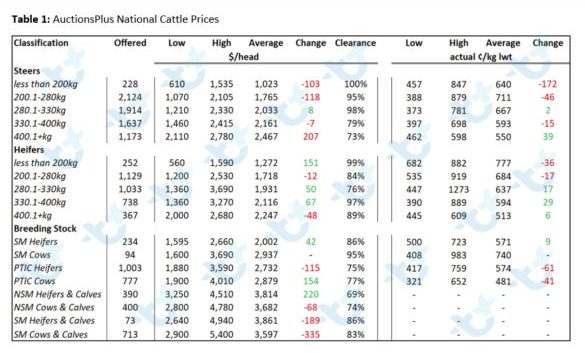 Source: AuctionsPlus