THE national cattle market looks determined to run flat-out into the final weeks of 2021, with another good week of clearance results for vendors online. As has been the case for much of the past year, the rain continues to dictate the market sentiment, with flooding through key cattle regions, especially in Queensland, likely to impact the market for months to come.
There was roughly 14,000 commercial cattle offered this week, down from around 15,000 the week before. Numbers in recent weeks have been well behind the equivalent weeks last year.
The main feature of this week's results was the conflicting movements within the young cattle categories, with some significant shifts between neighbouring weight categories. Lighter steer and heifer categories moved downward, in places sharply, while medium and heifer weights mostly lifted.
The 200-280kg steers declined 7c/kg for the 1287 head offered, to average 716c/kg, while the next heaviest category, 280-330kg steers, jumped 35c to averaged 699c.
Out of Eromonga, far Western Queensland, 108 weaned Charolais cross steers sold to $1940/head – ranging from 152-307kg/head, averaging 229.8kg. Steers 330-400kg jumped 49c on last week, to average 627c or $2278/head – with a rebound in the weekly clearance rate to 90pc for the 953 head offered.
Demand for heavy steers +400kg continues to be robust, with a 93pc clearance registered for the 1128 head offered. The category averaged 7c higher on last week, at 569c. A line of 72 Angus feeder steers, averaging 473kg, out of Oberon NSW, sold to 617.3c, equating to $2919/head.
Like the young steer lines, young heifer results were also mixed for the week, with the lightest category results heavily influenced by dairy lines. The largest category with 1041 head, 330-400kg heifers dropped back 92c ($231) on last week, giving up most of last week's $260 increase, to average 599c ($2145/head) – albeit with a 99pc clearance. Similarly, 280-330kg heifers dropped back 91c ($190), to average 631c ($1944/head) – with a 91pc clearance for the relatively small offering of 622 head.
Breeding cattle
For the breeding stock market, PTIC heifers again dominated the offerings, with the very large 2525 head offered, up 47pc on the previous week, producing an 85pc clearance. Values felt the impact of the increased numbers, with prices averaging $147 lower in $/head terms, at $3035/head – but in c/kg terms, PTIC heifers lifted 141c/kg to average 619c.
A line of 77 Angus x composite heifers 18-26 months 388kg, in calf to Angus and Brangus bulls, from Goondiwindi southern Qld made 675.6c to clear $2620 a head.  Further south, a run of 47 PTIC Angus heifers 18-20 months 429kg, mated to Angus bulls, out of Gunnedah NSW, made 764.8c.
PTIC cows sold $154 higher on last week, to average $3125/head – with a 93pc clearance rate for the 1092 head offered.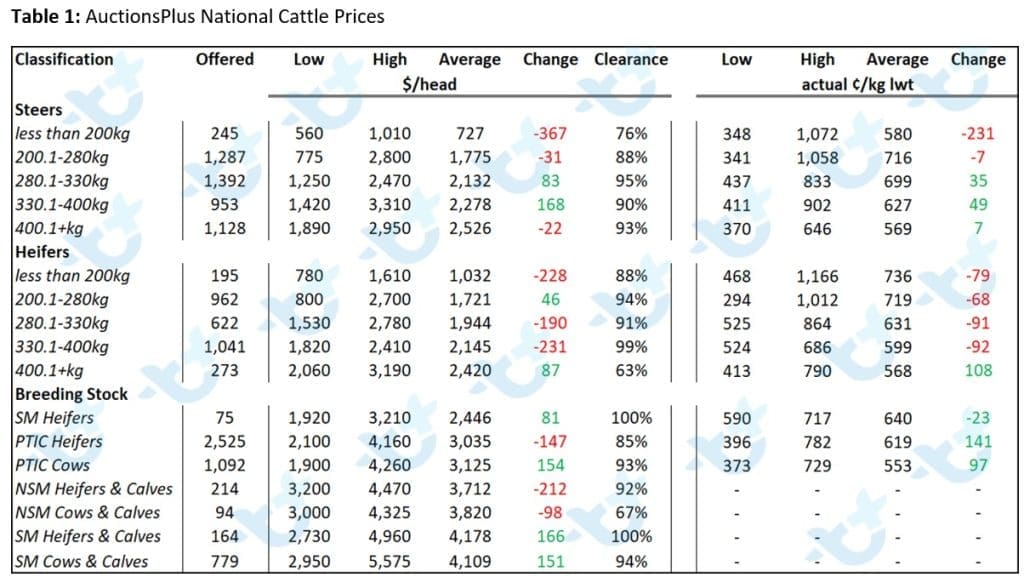 Source: AuctionsPlus