Following the Easter break, numbers on AuctionsPlus jumped by 3970 head this week to produce a total offering of 14,211 head.
Overall, prices strengthened across many stock categories, with cow and calf units lifting $418 on last weeks' average, while PTIC cows also advancing $182 on average over the previous week.
Western QLD supplied the largest offering across the board, with stock movements continuing to shift interstate.
Cow and calf units remained popular with a 90pc clearance, to total 836 head sold.
Prices jumped significantly, selling from $1720 to $3020, averaging $2119, up $418. Top price went to a line of Angus and Angus cross station-mated heifers, with calves sired by Simmental bulls.
The 18-24-month-old heifers, averaging 455kg, had 3-5-month-old CAF and were offered by Tool Holdings from Parkes, NSW.
From Ellerslie Park, Fish Creek, VIC, a line of 2-3-year-old PTIC Hereford heifers averaging 542kg with 7-8-month-old CAF achieved $2960, going to a buyer from Tullibigeal, NSW.
PTIC cows produced a 71pc clearance to total 1097 head, selling from $1450 to $2470, averaging $1997, up $187. From Tenterfield, NSW a line of Angus mixed-age cows, PTIC to Angus bulls achived the top price, while from Goondiwindi, QLD, a line of three-year-old Angus cows averaging 624kg sold for $2400 and will be making their way south to Inverell, NSW.
PTIC heifers sold from $1400 to $2050 this week to average $1688, down $27 on last week.
A line of 18-21-month old heifers offered by Wyalla, Piallaway, NSW achieved the top price. These Booragul blood polled Angus heifers averaged 541kg and were PTIC to registered Angus bulls. From Londrigan, VIC Eldary Partnership offered a line of 408kg 19-20-month-old Speckle Park heifers which sold for $2000, to a buyer from Roslyn, NSW.
Young cattle
Steer numbers rose this week to total 3685 head sold. The increased offering was welcomed by buyers, seen through the increased clearance of 92pc which was significantly higher than 75pc from the previous week.
Light steers less than 200kg sold from 343c to 624c, averaging 537c. Top price was achieved by Rennylea and Hazeldean blood polled Angus steers offered by Nithsdale, Braidwood, NSW. These 6-7-month-old steers averaged 198kg and will be heading to Marrar in the Riverina region of NSW.
Steers 200-280kg sold from 365-612c, averaging 498c, up 10c on last week. A line of 7-8-month-old Angus steers averaging 207kg achieved the top price, offered by Pint Pot from Armidale, NSW. A line of Angus steers 240kg from Nithsdale, Braidwood sold for 599c to a buyer at Gurrundah, NSW.
Steers 280-330kg saw a 24c average price increase, selling from 362-476c, averaging 429c this week. Top price went to a line of 282kg Glenavon and Clunie Range blood Angus steers 7-9 months offered by EJ & PE Billing,  Yetman, NSW, heading north to QLD.
Feeder steers 330-400kg sold from 330c to 419c this week, averaging 365c, down 31c on last week. Top price went to a line of 351kg Injemira blood Poll Hereford steers 11-12 months offered by DA & KM Turner, South Gundagai, NSW heading to Yass, NSW.
With only two lines of heavy steers averaging over 400kg, sold as a run out the gate, offered this week, the average price eased to 342c, down 25c on last week. The Droughtmaster steers from Clermont, QLD offered by ACR & DL Donaldson averaged 445kg and were 18-24 months old.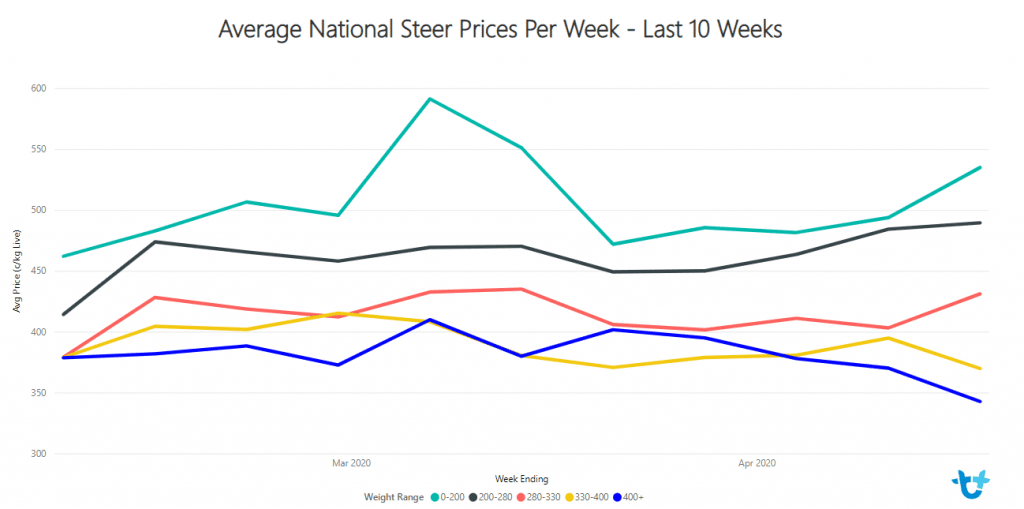 After the Easter break which saw a decline in heifer numbers, 3592 head sold and achieved a very strong 91pc clearance this week. Prices of light heifers less than 200kg continued to hold strong following last week with a 9c drop in the average, selling from 266c to 562c, averaging 470c.
From Holbrook, NSW, a line of Black Simmental cross heifers were offered by Glencoe Pastoral Co averaging 157kg. A line of 6-7-month-old 188kg Clunie Range blood Angus heifers offered by Promoore Pastoral, Inverell, NSW sold for 526c heading to nearby Armidale.
Heifers 200-280kg sold from 240-490c this week, averaging 413c, down 34c. Top price went to a line of 5-7-month-old Angus heifers 242kg offered by Myrella, Jugiong, NSW. From Goomeri, QLD a line of 221kg Speckle Park heifers 6-8 months sold for 476c.
Heifers 280-330kg sold from 251c to 463c this week. Top price was achieved by Pibbon, Mendooran, NSW offering 15-16-month-old Charolais heifers averaging 340kg. From Oxley, NSW a line of 14-16-month-old Angus heifers averaging 296kg sold for 429c.
Feeder heifers 330-400kg sold from 300c to 425c this week averaging 378c, up 11c on last week. Top price went to a line of 16-18-month-old Noonee, Wattletop and Glenavon blood Angus heifers averaging 361kg offered by Toopuntul Holdings, Glenburn, VIC. A line of 12-14-month-old Anvil blood Angus heifers averaging 336kg sold for 407c.
Similar to the steers, heavy heifers averaging over 400kg also saw a small offering, with two lines offered, which sold for 353c and 398c to average 375c, up 10c.
Averaging 439kg, a line of Kilburnie blood Angus heifers achieved the top price of 398c. Aged 18-19-months-old these heifers were offered by Gleneagles, Walcha, NSW. The other line offered was 17-19-month-old Charolais cross heifers from Inverloch, VIC averaging 430kg, which will head to Willowmavin, Central VIC.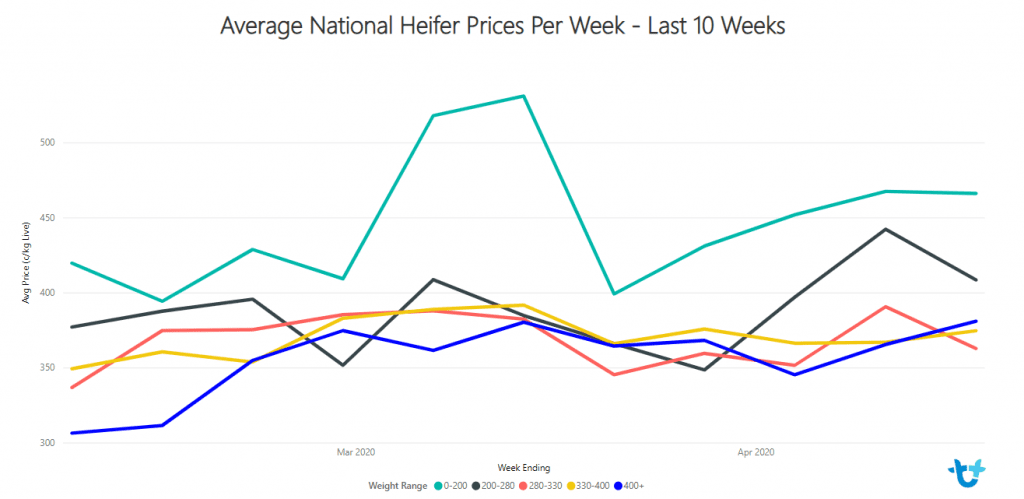 In Tasmania, this week saw a total of 1205 head offered, up 640 head from last week. Clearance jumped from 73 to 82 and prices remained strong selling from $650 to $2280, averaging $1167, the same as last week.
A line of four-year-old Angus cows with 100kg Angus CAF offered by E & K Beacham, Legana sold for $2280. Weaner heifers achieved a 95pc clearance, selling from $650 to $1100, averaging $925, up $41 on last week.
Top price went to a line of Angus x Poll Hereford weaned heifers 11-12-months averaging 320kg. Offered by Happy Valley from Jetsonville, these heifers will be making their way to Naracoorte, SA.
Weaner steers made up the bulk of head offered with 707 head sold to achieve a 92pc clearance for the category. These steers sold from $655 to $1460, averaging $1193, up $81 on last week. Top price went to a line of 7-9 month of Raff blood Angus steers averaging 333kg, offered by Stuartmead Family Trust.
Source: AuctionsPlus