LIGHTER category steers and heifers, and some breeder categories lifted in value in a smaller AuctionsPlus offering this week.
Numbers were back by just over 3000 head to 14,218 head.
Highlights included PTIC heifers averaging $160 dearer and steers less than 200kg experiencing a 133c/kg price increase – including a new AuctionsPlus c/kg record for non-Wagyu cattle (more details below). Southern Queensland remained the purchasing powerhouse this week, securing 2811 head, followed by the NSW Central West continued its restocking operation, securing 1616 head.
Cows with calves at foot were $5 dearer than last week averaging $2586, with prices ranging between $1680 and $3550. Top line consisted of NSM Angus cows aged 6-7 years averaging 634kg with CAF aged 2-6 weeks. Hailing from Rocking W Pastoral Co, Bathurst, NSW the cows were by Millah Murrah bulls and will head to Molong, NSW.
PTIC heifers were up $160 on last week, selling between $1300 and $2140 to average $1961. Top price was achieved by a line of Charolais heifers averaging 472kg from Longwarry, VIC.
PTIC cows saw a reduced offering this week, however prices averaged $22 dearer than last week at $1790 with prices ranging from $1700 and $1950. Hailing from Goulburn, NSW top line of Angus cows offered by James Jeffery were aged 6-9 years and averaging 642kg. The cows were of Reiland and Bannaby Bloodlines and will head to Moss Vale, NSW.
Record price among young cattle
Steers less than 200kg saw a large price adjustment this week, up 133c to average 673c with prices ranging from 564c to 695c. Reflecting the current unbridled strength in the young cattle restocker market, a new AuctionsPlus c/kg record was set for non Wagyu cattle, when a line of 83 Glentrevor bloodline Poll Hereford weaned steers 11-12 months averaging 175kg, PCAS eligible, made 695c/kg. The same vendor, Arunga North Pastoral from Korumburra, near Port Fairy, VIC offered a second run of 42 slightly heavier Hereford x Angus steers which made 681c.
The previous record of 686.cc/kg was set by Santa weaner heifers back in February. 
Steers averaging 200-280kg sold 4c dearer this week, ranging between 387c to 599c to average 448c. Hailing from Boggabri, NSW, the top priced line of Angus weaner steers averaging 221kg will be heading interstate to Texas, QLD.
Steers 280-330kg averaged 446c this week, lifting 3c with prices ranging between 366c and 519c. Top price went to a line of Angus steers from Bingara, NSW offered by Bargibal Pastoral Co averaging 295kg, which will journey north to a buyer in Southern QLD.
Feeder steers 330-400kg saw a price reduction of 13c this week with prices ranging from 259c to 457c to average 420c. From Dalby, QLD, the top line of Angus steers averaging 347kg was offered by McVeigh Ag.
Steers heavier than 400kg returned an average of 386c this week, a decrease of 25c with prices ranging from 259c to 422c. A line of Angus yearling steers offered by Bellevue from Willatook, VIC averaging 422kg achieved top price.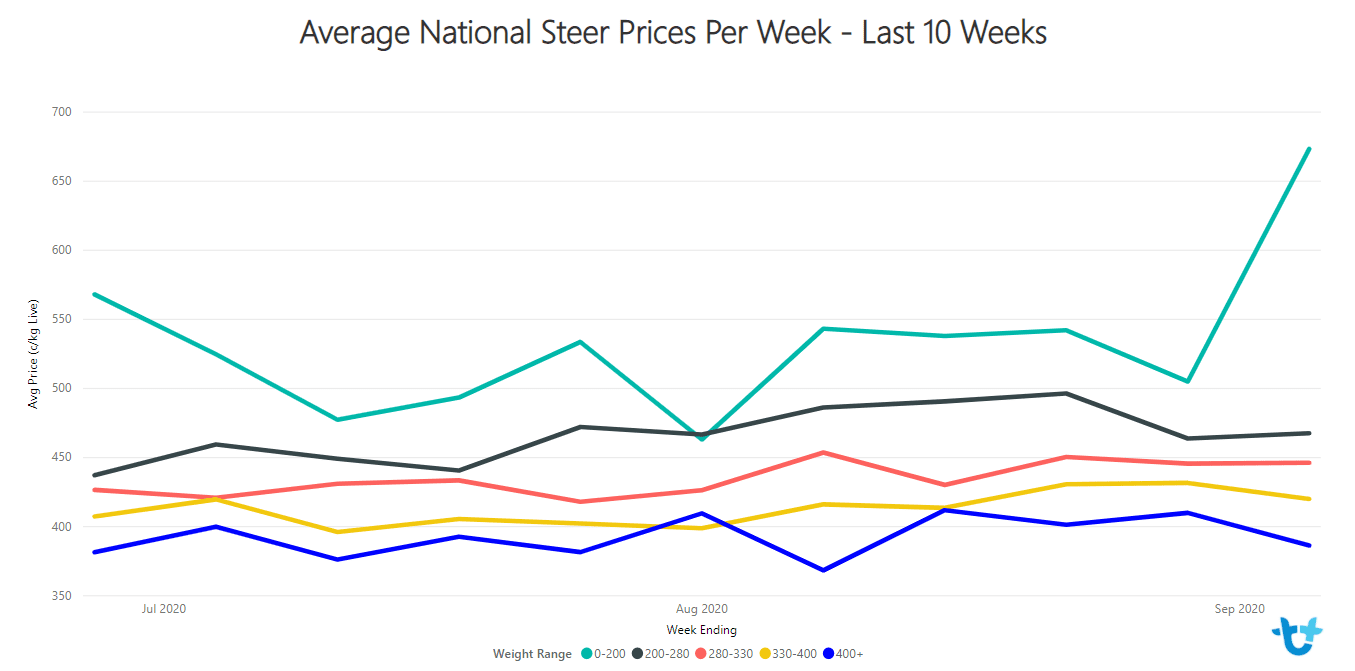 Heifers averaging less than 200kg averaged 15c dearer this week at 486c, with prices ranging from 378c to 571c. From Port Fairy, Victoria a line of Angus/Hereford/Charolais weaner heifers aged 11-12 months and averaging 147kg achieved top price at 571c. Offered by Aringa North Pastoral, the heifers and will be travelling to Horsham, VIC.
Heifers 200-280kg averaged 440c this week, up 7c from last week with prices ranging between 387c and 599c. Top price went to a line of 10-month-old Angus heifers averaging 257kg from Scottsdale, TAS offered by Nichols Family Trust. They will journey to Marrawah, TAS.
Heifers 280-330kg remained firm this week, selling between 338c and 520c, to average 418c. Top price went to a line of 11-12-month-old Angus weaner heifers averaging 281kg from Edi, VIC. The heifers will head to Benalla, VIC.
Heifers 330-400kg held firm on last week, to average 420c with prices ranging from 331c to 461c. From Rockley, NSW the top line of Angus heifers averaging 366kg offered by Dunns Plains were of Rennylea bloodlines, and will travel to a buyer in Monaro, NSW.
Heifers averaging more than 400kg held their value this week, increasing 2c to average 385c with prices ranging from 349c to 423c. From Cootamundra, NSW Sharman Advisory achieved top price for Angus heifers averaging 413kg carrying Rennylea and Hazeldean blood, which will travel to Moss Vale, NSW.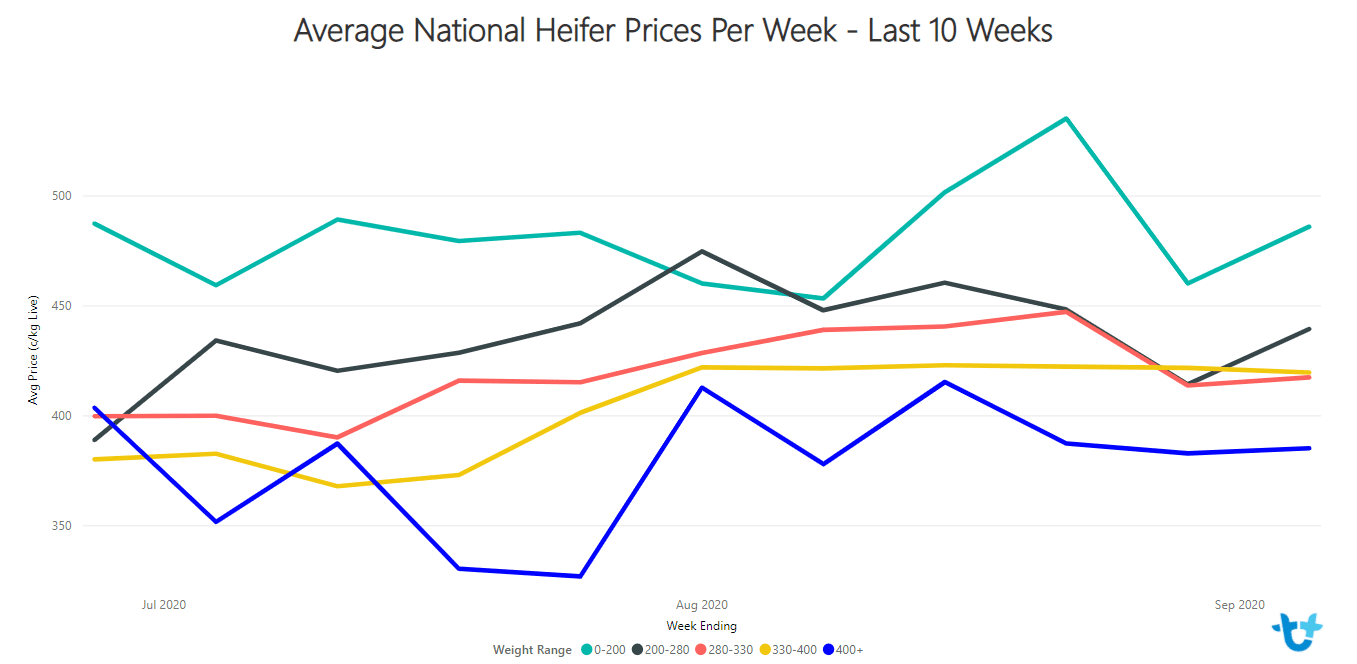 In Tasmania this week, a reduced offering of 104 head achieved a 100pc clearance rate. Yearling and grown steers sold from 258c to 386c to average 322c. Top price was Friesian x Speckle Park yearling steers from Redpa, TAS which averaged 360kg and will remain in TAS. Weaner heifers sold from 363c to 499c to average 431c. Top line of 10-month-old Angus heifers averaged 256kg came from Scottsdale, TAS.
In a breakdown of young cattle sold this week, by weightrange:
Less than 200kg: Steers sold from 564-695c to average 673c, while heifers sold from 378-571c to average 486c
200-280kg: Steers sold from 387-599c to average 468c, while heifers sold from 363-499c to average 440c.
280-330kg: Steers sold from 366-519c to average 446c, while heifers sold from 338-520c to average 418c.
330-400kg: Steers sold from 259-457c to average 420c, while heifers sold from 331-461c to average 420c.
400kg+: Steers sold from 259-422c to average 386c, while heifers sold from 349-423c to average 385c.
Source: AuctionsPlus