A WEAKER light cattle market was offset by increased feeder steer prices in AuctionsPlus trading on Friday, while increased supplies, quality and breeding were the main influences on a cheaper breeder market.
The offering slipping below 21,000 head for the first time since early February.
The young cattle market was marginally softer for all but the heaviest lines on a $/head basis, as the overall clearance rate edged higher, favouring the three heaviest categories.
A significant reduction in 400kg+ lines, at only 506 head contributed to an improved clearance, hitting 91pc for the week, while the average for the week jumped $66, to $2436/head.
Through the 280-330kg lines, the 84pc clearance for the 1465 head offered helped to sustain prices, averaging only $1 lower on the previous week, at $2035/head.
From Roma, Southern Queensland, 50 weaned Shorthorn steers sold to very strong bidding, with the 6–8-month-olds averaging 294kg selling to $2170/head, or 737c/kg lwt.
Steers 330-400kg averaged $3 lower for the week, at $2235/head. Out of Bendemeer, Northern NSW, 48 Poll Hereford steers made $2370, or 621.7c/kg. The 16–18-month-old line averaged 381.2kg.
The lighter 200-280kg category slipped back $36 on the previous week, to $1923/head – with a 79pc clearance for the 2158 head offered.
Compared to the young steer market, the light heifer market was more active, with large average price changes through all categories. Heifers 200-280kg jumped $105 on last week, to average $1,842, with a subdued 60pc clearance for the 1691 head offered. Heifers 280-330kg averaged $80 higher for the week, at $1992, while in contrast, 330-400kg lines averaged $34 lower, at $2,130.
Similar to their male counterparts, 400kg+ heifers edged higher on the back of a sharp supply contraction, finishing the week at $2476 – with an 88pc clearance for the 599 head offered.
Breeding cattle
Proven breeding lines took a step back this week, with clearance rates through the PTIC segment of the market well down on previous weeks. With an increased offering of 3435 head, PTIC heifers slipped back $209/head or 85c/kg on last week, to average $2990/head – with only a 49pc clearance.
PTIC cows also took a step back, with numbers up 21pc on last week, at 2289 head. With the increased supply and cautious bidding, there was a 44pc clearance, while average prices slipped $205 on last week, to finish at $2787.
Out of Dingo, Central Queensland, 42 Brahman cows and 42 CAF sold to $3640/unit. The cows averaged 493kg liveweight and ranged from 4-11 years of age, while the calves ranged from 48-198kg, averaging 109kg.
Among larger lines sold this week, Paraway Pastoral Co sold 206 PTIC Angus heifers from Burindi, Barraba NSW, PTIC to Wagyu bulls, in four runs, ranging from 789.7c/kg for a line of 68 heifers 433kg at 18-24 months, down to 728c/kg for a line of 46 heifers 439kg.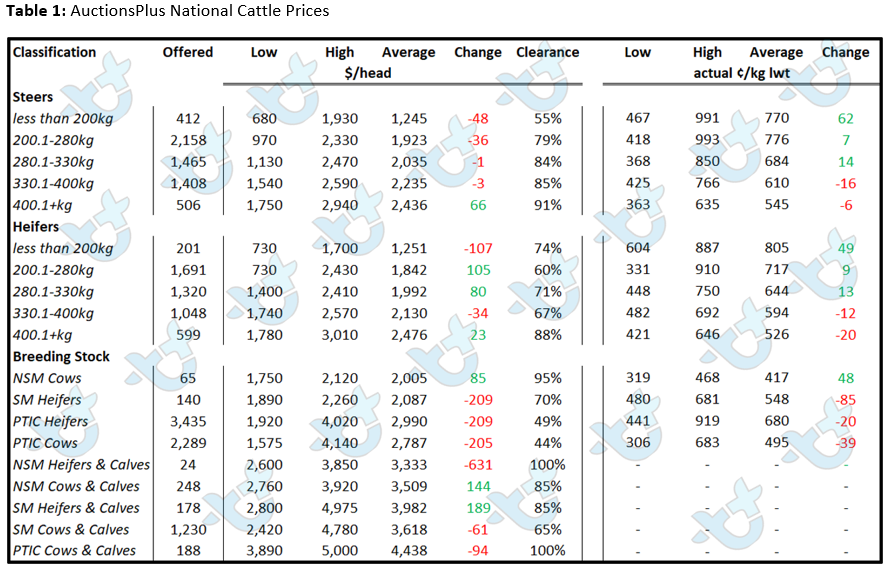 Prices as at 2pm, Friday 11 March.
Source: AuctionsPlus