LARGE numbers of weaners and yearlings out of New South Wales boosted the offering on AuctionsPlus this week, with catalogue numbers rising 20 percent to 8129 head across all sales.
A total clearance rate of 80pc was achieved. Weaned heifer prices were up 12c on last week, while weaned steers were down 5c.
Joined & PTIC female numbers almost doubled to total 991 head, with the majority coming out of NSW & Victoria.
Joined heifers sold from $1200 to $1820 and averaged $1400. A line of Poll Hereford heifers 30 months averaging 581kg from Byawatha, VIC sold for $1350.
Joined cows sold from $950 to $2470 and averaged $1523. Two lines of PTIC Angus cows 4-6 years from Bunyip North, VIC sold for $1710. Looking to NSW, Angus x Limousin three year old second-calvers, PTIC to Glenmorgan Angus bulls, from Armidale made $1230.
Cow and calf numbers increased to total 1523 head, up 336 on last week. Despite the increase in listings clearance was also up achieving a total of 56pc.
Prices ranged from $960 to $2120 and averaged $1494. The top price was for a line of station mated EU eligible five-year-old Te Mania blood cows with calves at foot, from Mansfield, VIC. The same vendor also offered a further 222 head in the same sale and received 100pc clearance, with lots selling to both NSW & VIC.
A line of 3-4 year old Hereford cows with calves at foot and joined back to Injemira bulls, from Culcairn, NSW sold for $1360. Station-mated four-year-old Angus cows with calves from Gunning, NSW made $1660 and are headed across to Tasmania.
This week's Weaner & Yearling sale listed 3670 head. Three lines totalling 318 Santa Gertrudis weaned heifers aged 7-14 months averaging 232kg were offered account Chandler Pastoral Holdings, Barcaldine, QLD, making 280c/kg or $650.
Among other larger lines sold this week, mostly from very dry areas:
261 Hereford yearlings 13-16 months from Scone, NSW saw the heifer portion averaging 202kg make 258c/$520, and the steer portion220kg make 290c/$640
165 Angus x Droughtmaster weaners 5-10 months from Cunnamulla, southern Queensland saw the steer portion averaging 160kg make $500 and the heifer portion 157kg make $345. A further 43 Droughtmaster x Brahman mixed sex weaners 8-12 months 216kg made $500.
Two lines of Angus yearling steers offered by CH & KR Wills, Mandurama, NSW saw the heavier portion averaging 384kg make 313c/kg or $1205, while the lighter 338kg steers made 352c/kg or $1190.
In Western Australia, 1746 head were offered in the IRA Pemberton Elite Vealer, Weaner & Yearling sale. This is the 27th year that agent Col Thexton has run the sale in conjunction with AuctionsPlus. Vealers sold from 519c/kg to 543c/kg and averaged 527c/kg dressed. Weaned steers sold from 301c/kg to 330c/kg and averaged 316c/kg live, while weaned heifers sold from 280c/kg to 325c/kg and averaged 287c/kg live.
In a breakdown of young cattle sold this week, by weight range:
Steers less than 250kg sold from 262c to 341c to average 301c; while heifers sold from 220-283c to average 266c
Steers 250-300kg sold from 273-313c to average 296c; while heifers sold from 219-271c to average 251c
Steers 300-350kg sold from 301-352c to average 315c; while heifers sold from 256-282c to average 269c
Steers 350+kg sold from 195-318c to average 268c; while heifers sold from 263-285c to average 274c
Steer Highlights
12 to 14 month old, 338kg, Angus steers from MANDURAMA, NSW sold for 352c/$1190
3 to 5 month old, 151kg, Shorthorn steers from WILLOW TREE, NSW sold for 342c/$515
12 to 15 month old, 285kg, Angus steers from TEELBA, QLD sold for 313c/$890
13 to 17 month old, 333kg, Santa steers from BILOELA, QLD sold for 302c/$1005
8.5 to 9.5 month old, 289kg, Angus steers from NORTH WANGARATTA, VIC sold for 313c/$905
9 to 10 month old, 320kg, Angus steers from GRANYA, VIC sold for 305c/$975
14 to 16 month old, 374kg, Friesian steers from CHUDLEIGH, TAS sold for 196c/$730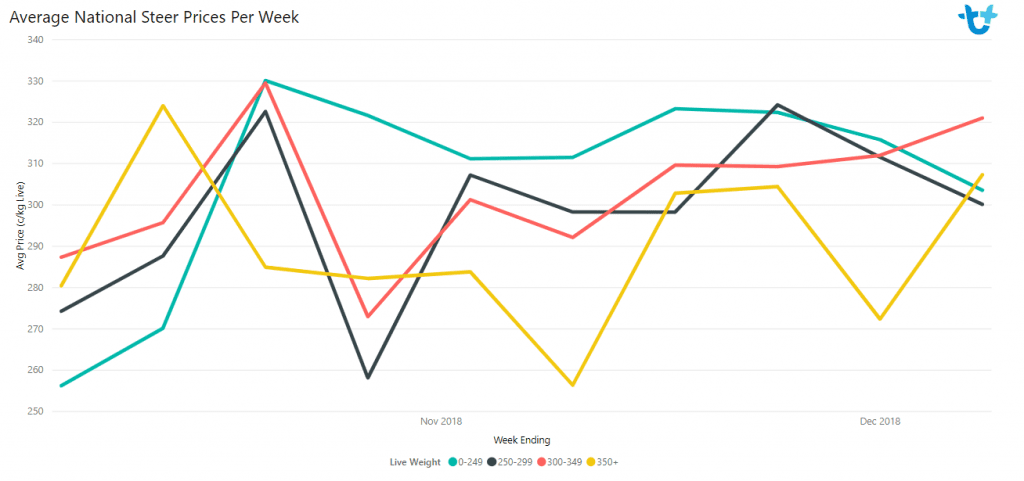 Heifer Highlights
14 to 15 month old, 374kg, composite/Angus/Hereford heifers from HOLBROOK, NSW sold for 285c/$1065
13 to 14 month old, 333kg, Angus heifers from MEADOW FLAT, NSW sold for 283c/$940
7 to 14 month old, 232kg, Santa heifers from BARCALDINE, QLD sold for 281c/$650
13 to 17 month old, 305kg, Santa heifers from BILOELA, QLD sold for 256c/$780
14 to 15 month old, 293kg, Angus heifers from CUDGEWA, VIC sold for 265c/$775
15 to 16 month old, 380kg, Angus heifers from MANSFIELD, VIC sold for 264c/$1000