GIVEN the very mild winter and fantastic start to spring across large parts of eastern Australia, attention is now starting to focus on likely slaughter cattle turnoff patterns over the next six months.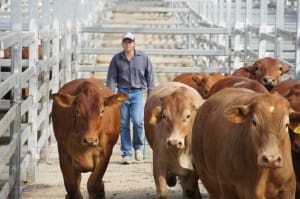 While there's been talk of a 'mini-rush' of cattle sometime later this year (perhaps not a well-chosen term, given the overall lack of cattle in the supply chain system since the drought), the timing of that is now starting to crystalise a little, based on conversations Beef Central has had with processors across eastern Australia in writing this morning's separate weekly kill report.
The mild, unusually wet conditions experienced this winter are setting many producers up for a memorable spring, and potentially, at least, one of the longest summer grass-growing seasons on record.
There's a widespread belief now evident among processors that the favourable conditions could see grass finisher cattle that would under normal seasons be held back for slaughter until early next year, being marketed well before the end of 2016.
November hot-spot?
November is shaping up as a 'hot-spot' for grassfed turnoff in areas like central and northern NSW and the southern half of Queensland, feedback from a number of processors suggests.
That's perhaps a month later than earlier speculation, due to the way the rain has fallen.
Oats cattle, also, are perhaps a month later than normal because of the way the rain came, with a push in oats-finished cattle turnoff from early October, with the bulk of the grassfed ox perhaps a month behind that.
With a big, if late oats crop on hand, there will also be a natural tendency for forage crop producers to try to put as much weight into cattle as possible – especially as replacements are still likely to cost a king's ransom.
Add to that cattle in western Queensland's channel country, which in many cases have not moved yet because ground is still too wet to shift stock after earlier rain, and there's a compelling case emerging for reasonable slaughter supply numbers from October/November onwards, contacts are telling Beef Central.
Further rain disruptions to stock movements (the Bureau of Meteorology's latest eight-day outlook has solid rainfall across NSW and southern and western Queensland during early stages of September) could yet slow that turnoff pattern further, however.
"Think back to the past few years and there has typically been a late cold surge in the last six weeks of winter, which has really hammered grassfed cattle, to the point where they have had to play catch-up during the first few weeks of spring. There's been absolutely none of that set-back this year. Some places that are frost prone have barely had a frost this winter," one processor contact said this morning.
"Some of those cattle in the past, having copped a July-August seasonal hammering and then a slow start to spring, grass-wise, would have been held-over for slaughter in the first few months of the new year," he said. "But this year, cattle have got going again quickly on early green pick, and look like hitting desirable slaughter weights by November."
But does a surge late this year then compound the slaughter cattle supply problem again early next year, in a very tight market?
Possibly not for plants in the southern half of Queensland and northern NSW, because the outstanding season in the top half of NSW and southern and Central Queensland, is likely to flush even more lighter cattle forward earlier than expected next year, processor contacts said.
Click here to view this morning's weekly kill report