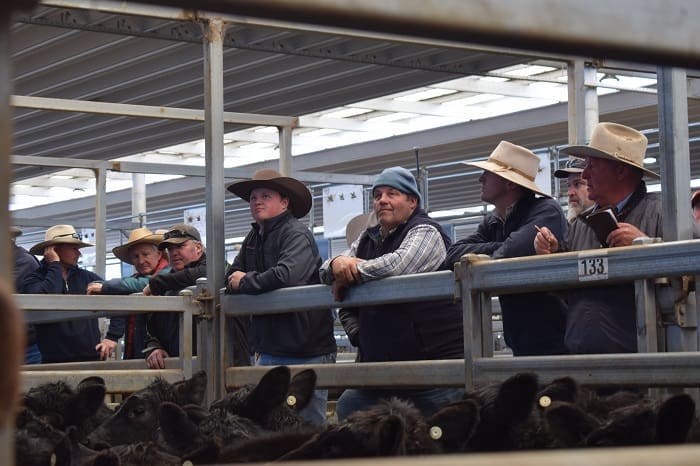 AFTER a year of record-breaking prices extending beyond predictions, the cattle market has started to recede, with processors dropping grids and the saleyards softening.
The benchmark Eastern Young Cattle Indicator has this week dropped to 977c/kg carcase weight after going well above 1,100c in January – mostly coming off the boil in the past month. Prices are still well above this time last year, but they are on a different trajectory to the key input costs of fuel, fertiliser and electricity.
So, with cattle still fetching historically high prices, is the latest drop a cause for concern?
Beef Central put that question to agents at the Tamworth Regional Livestock Exchange at today's store sale – where numbers and prices were well down on recent months.
Cold weather creates feed gap
Most were attributing the market slowing down to a feed gap, with cold weather and heavy frosts slowing the growth of native pastures and oats crops.
Garven and Cousins principal Phillip Hetherington said he expected a quiet couple of months at Tamworth, with the area in the depths of winter.
"Considering the conditions, the market has been pretty good. Most people who have oats in are fully stocked, so there is not a lot of excess feed," he said.
"I'm not too concerned about the drop in prices, it's just a matter of people having the feed and I think that will happen soon."
Mr Hetherington said he was expecting local demand to increase when it warms up later in the year.
"Once we get more feed I think people will looking for more cattle and there is the potential for them to start going north again," he said.
The FMD factor
Purtle Plevey Agency director Patrick Purtle said the spread of Foot and Mouth disease in Bali was creating a "nervous undercurrent" among producers in the area.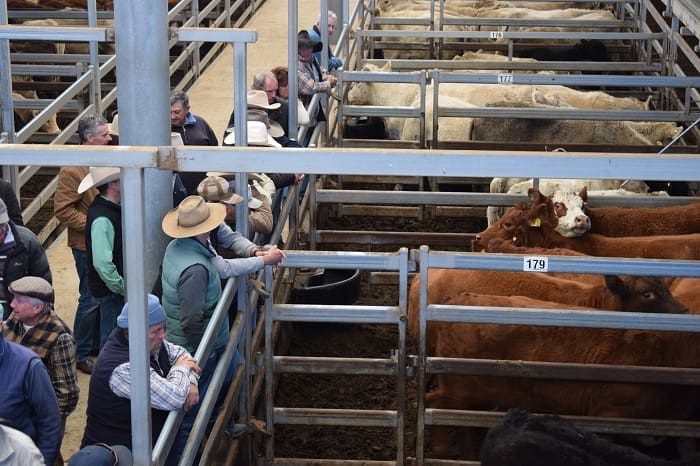 "We need to be keeping FMD out of Australia and there seems to be a lot of talk and not much action, which frustrating people," he said.
"Most agents would have had enquiries about where it is all happening and it is hard to give people an answer to that. I would say there is not need for panic because nothing has actually changed for us, except the season getting a bit tougher."
Mr Purtle said aside from FMD, general market forces were dictating the market.
"Prices can't keep going north forever, meat has become a bit harder to move and that is playing out in the cattle market," he said.
"The season has also left us a bit, we are in the middle of winter, the grass is not growing as fast which takes buyers out of the market and softens prices."
Lower prices present opportunities
Nutrien Tamworth agent Tim Hollis said the drop in prices presented some opportunities for buyers, who were to buy in at a lower price.
"The market has softened and everyone can recognise that and we have noticed some people taking advantage of the prices on the better end of the steers," Mr Hollis said.
"It has been a while since you could buy calves for under $1,000 and started to see that here today."
Mr Hollis said buyers were still discerning on quality, with discounts for Bos Indicus cattle – which were still present at the yards after a big buy up from Queensland last year.
"The good lines of heifers sold really well, but as soon as you go away from those good drafts of heifers the prices come back," Mr Hollis said.
"We had a feature line of two and four tooth Charolais heifers and calves, which averaged more than $3,000 and topped at about $3,200. We also had a top of $3,400 for some black cows and calves – those were on their second and third calf."
With plenty of rain over the past 12 months, Mr Hollis said the outlook for spring was positive.
"Six weeks down the track when it starts to warm up a bit and we can grow some feed and if we have kept the borders clean, then I think we will see a bounce in the market again," he said.