HAMILTON
10 Jan 2022
Summary:
4103 Angus Steers
356kg av $2411, $6.80/kg
360-450kg $2246-$2725 av 654c/kg; 280-360kg $2010-$2545, av 706c/kg; 200-280kg $1918-$2174, av 791c/kg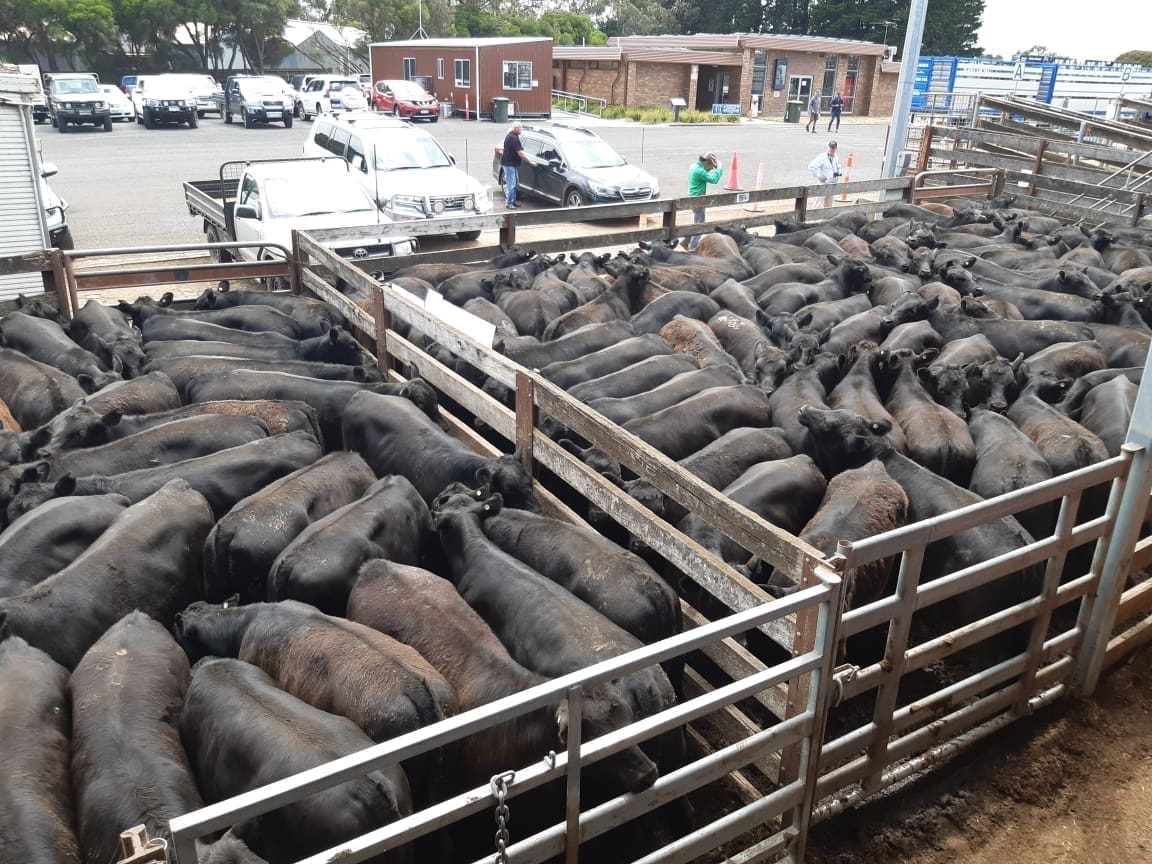 INTERSTATE  buyers have maintained their dominance over local southern restockers as the annual clearance of autumn-born beef weaners continued at Hamilton in Victoria on Monday.
Competing for 4100-strong Angus steer yarding at Hamilton in the state's southwest, the broader contingent of interstate buyers trucked more than 70 percent of the yarding to 19 different NSW destinations while 12 percent were retained to the southwest and 16 percent went to Gippsland.
And in spite of the higher freight differential for the interstate operators resulting prices were only marginally below those seen at Wodonga and Wangaratta when New Year sales began in earnest six days earlier on the state's northern border.
Hamilton stock agent, Craig Pertzel, Kerr & Co Livestock said the demand was bloody strong.
The yarding was larger and weighed an average of one kilogram less at 354kg than last year's sale, Mr Pertzel said.
"Vendors have gone deeper into their drafts retaining fewer of their lighter tail-end calves than they normally would purely due to money" he said.
"Most of the major repeat buyers have returned but somehow the sale didn't have the same fizz and bubble as in previous years".
"Don't get me wrong prices were significantly higher than 12 months but the excitement wasn't there as in previous years: perhaps people are getting conditioned to current prices" Mr Pertzel said.
Hamilton stock agents' association president, Warren Clark, KP Lanyon, said it was surprising how well the cattle had finished given the variable conditions in the local season.
In some places its dusty and others have had huge storms enough to damage the spring feed, Mr Clark said.
"But the calves have finished well, much the same weight as last year, with plenty calves over the 400 kilograms, a lot in the mid-300kg but not many less than 270kg despite a lot of breeders drafting deeper".
"Monday was a record yarding for the Angus steer penning. It was a record result and hardly a calf sold for less than $2000, what more could you ask for".
"Everybody has gone home happy, even the buyers".
"As one interstate buyer of 600 head said to me, we've got feed, we've got water and now we have some cattle to sell whereas before we had none".
"That sorta sums up their position" Mr Clark said.
Leading the sale results, Port Fairy vendor Coffey Partnership sold a draft of 106 Angus steers, 8-10 months, including a yard of 16, 442kg at 616c/kg or $2722 a head.
A second pen of 58 Coffey Partnership steers, 402kg, made 650c/kg for $2621 a head.
Vendor Winninburn sold 22 steers, 426kg, at 633c/kg or $2696 while Willamay sold 18 steers, 418kg, at 640c/kg or $2675.
Among the larger suppliers, JW & RD McErvale "Cadell" Branxholme sold 150 Angus and Angus-cross, to $2649 a head with their best result the sale of 28 Angus, 419kg, sold at 632c/kg.
A second pen of 48 Cadell Angus steers, 383kg was bid 660c/kg for $2527c/kg while a third yard of 22, 338kg made 688c/kg or $2325/head.
The Holcombe family's draft of Camp Creek Angus stood as the opening pen of the sale. This yard of 26 Angus steers, 423kg, was bid to 608c/kg or $2571 while a second pen of 82 steers, 387kg, made 662c/kg or $2561.
The next in line was Brett Linke's draft of 177 Mt Napier Angus steers with a first pen sale of 27, 422kg sold 616c/kg or $2600.
A second yard of 75 Mt Napier Angus, 365kg made 696c/kg $2545 while a third yard of 42, 339kg made 710c/kg or $2411.
A pen of 13 to 14 months-old Corro Angus steers was the highest price for the day. Weighed at 494kg, this yard of 19 made 588c/kg or $2894 while a second pen of 24, 449kg, made 606c/kg or $2719.
EJC Cameron sold from a draft of 220 Angus, pens of 27, 415kg, at 629c/kg or $2611, 69 steers, 369kg, at 675c/kg or $2494 and 30, 324kg, 709c/kg or $2289.
The selling of autumn-drop weaners continues throughout in the southwest of Victoria with further sales at Hamilton and nearby Casterton on Tuesday, Wednesday and Thursday and conclude on Friday with a 7000-head yarding at Mortlake on Friday.
Sales of autumn-born calves will also occur throughout the central district with sales at Yea and Pakenham.