HEIFER prices declined, while steers were firm to stronger in comparison with rates seen late last year in the first week of AuctionsPlus online cattle trading for 2019.
The first week back saw 6776 cattle listed, with New South Wales again making up the majority of listings, followed by Victoria.
Weaner steers achieved a clearance above 90 percent, while yearling and grown steers produced an 86pc clearance. Across the five commercial sales this week, a total of 425 participants (bidders and observers) logged in.
Joined and PTIC female numbers totalled 1011 head. Prices ranged from $960 to $1700 and averaged $1290. The top price was for a line of Simmental heifers offered by WA Doelle & Sons, Edenhope, VIC, offered in the Mid-Week Autumn Calving Female Feature Sale. The heifers aged 19 – 21 months were PTIC to Poll Hereford bulls.
Listed in the same sale were four lines of Angus heifers, 22-23 months and joined to Angus bulls, from Moe, VIC. The heavier lines made $1300 while their lighter sisters made $1200. In Tasmania, 20 Hereford heifers 26-28 months and PTIC to Poll Hereford bulls, sold for $1490.
Cow and calf units saw 873 head listed, with decent listings out of Queensland. Prices ranged from $700 to $2020 and averaged $1361. Top price went to a line of station-mated Angus first-calvers, 27-28 months with Wagyu-sired calves at foot, from Wagga Wagga, NSW. Near Rolleston, Central QLD, 90 mixed age Santa and Santa X cows and calves sold for $1320.
A line of Poll Hereford/Angus cows 3-5 years, with Hereford calves at foot, from Gundy, NSW made $1410.
The new year's first weekly Weaner & Yearling sale saw 4163 head listed. Numbers were boosted by 950 Angus yearling steers and heifers offered by Yammatree Pastoral Co, Cootamundra, NSW. The heavier steers, averaging 308kg sold for 309c/kg or $953 and are heading to Casterton, VIC. The heavier heifers in the offering averaging 296kg sold for 231c/kg or $685.
Nebea Pastoral Co from Coonamble, NSW offered 196 EU-accredited weaned Angus steers over two lots. The older line, 8 months old averaging 278kg, returned 321c/kg or $894, while seven-month-old steers averaging 239kg made 326c/kg or $781.
From Orange, NSW, 80 EU-accredited Angus feeder steers averaging 433kg made 317c/kg or $1314.
In a breakdown of young cattle sold this week, by weightrange:
Steers less than 250kg sold from 310c to 347 to average 325c; while heifers sold from 264-312c to average 281c
Steers 250-300kg sold from 278-322c to average 301c; while heifers sold from 249-299c to average 271c
Steers 300-350kg sold from 273-317c to average 307c; while heifers sold from 253-297c to average 276c
Steers 300+ kg sold for 247-327c to average 300c; while heifers sold from 257-288c to average 269c
Steer Highlights
5 to 6 month old, 183kg, Angus steers from QUAMBONE, NSW sold for 347c/$635
8 to 10 month old, 247kg, Angus steers from MENDOORAN, NSW sold for 332c/$820
14 to 18 month old, 309kg, Angus steers from ALLORA, QLD sold for 317c/$980
10 to 11 month old, 400kg, Angus x Hereford steers from CASTERTON, VIC sold for 320c/$1280
8 to 10 month old, 367kg, Red Angus steers from CASTERTON, VIC sold for 313c/$1150
6 to 7 month old, 233kg, Angus steers from LUCINDALE, SA sold for 326c/$760
15 to 17 month old, 375kg, Angus steers from MEMANA, TAS sold for 328c/$1230
18 to 20 month old, 604kg, Angus x Friesian steers from PEMBERTON, WA sold for 248c/$1495.2
14 to 19 month old, 534kg, Angus steers from MANJIMUP, WA sold for 271c/$1443.81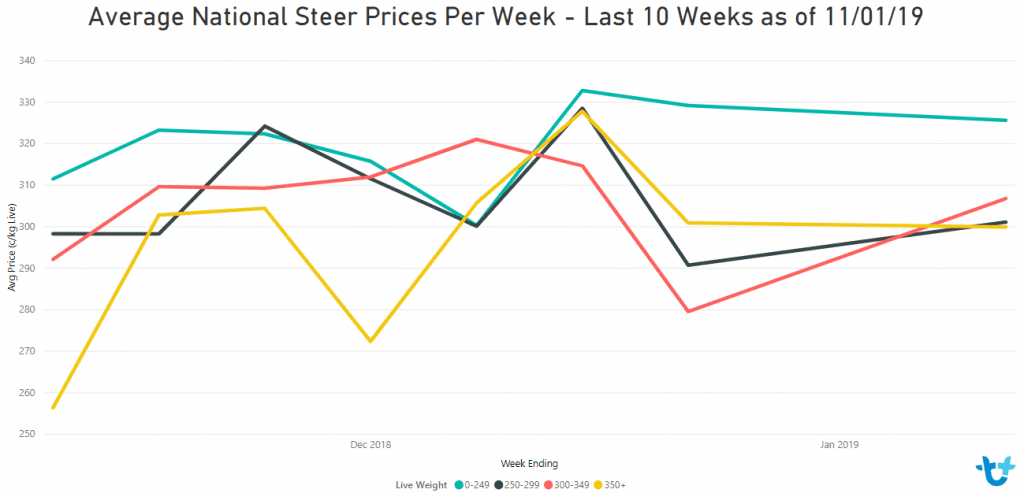 Heifer Highlights
8 to 14 month old, 257kg, Angus heifers from MENDOORAN, NSW sold for 300c/$770
14 to 16 month old, 273kg, Charolais x Shorthorn heifers from MENDOORAN, NSW sold for 293c/$800
16 to 17 month old, 302kg, Limousin Cross heifers from LYNDHURST, NSW sold for 268c/$810
8 to 10 month old, 340kg, Red Angus heifers from CASTERTON, VIC sold for 280c/$950
10 to 11 month old, 368kg, Angus x Hereford heifers from CASTERTON, VIC sold for 276c/$1015
8 to 9 month old, 300kg, Angus x Shorthorn heifers from MOUNT COMPASS, SA sold for 253c/$760
8 to 10 month old, 246kg, Hereford heifers from NATONE, TAS sold for 312c$/770
12 to 14 month old, 306kg, Hereford heifers from NATONE, TAS sold for 298c/$910
14 to 18 month old, 514kg, Angus heifers from PEMBERTON, WA sold for 267c/$1368
15 to 16 month old, 456kg, Angus heifers from NARRIKUP, WA sold for 258c/$1174.53