HEIFER prices mostly trended down on AuctionsPlus this week, while lighter steer weight categories were higher – headlined by weaned steers, which averaged up 45c/kg on last week.
Catalogue numbers dropped by 1200 head to total 6181 head listed. Buyer confidence improved this week, resulting in a 57pc clearance being seen across the total offering, with post-sale negotiations still to come.
Processor activity was experienced in both the Eastern States and Weaner & Yearling sales.
PTIC cows averaged $1001 this week, down $46, selling from $720 to $1300.
The top price was paid for a line of 26 Hazeldean & Onslow blood Angus cows averaging 593kg at rising six years, and PTIC to Angus bulls, from Bungendore, NSW.
A line of 15 Red Angus cows 2-5 years averaging 445kg and PTIC to Red Angus bulls, from Dalby, QLD, sold for $800. From Moree, NSW a line of 39 Santa cows 4-7 years averaging 562kg and PTIC to Angus bulls, returned $1090.
PTIC heifers sold from $650 to $1200 this week, averaging $950. Top price was returned by a line of 46 Angus heifers 20-21 months averaging 463kg, and PTIC to Wagyu bulls, from Armidale, NSW. From Seymour, VIC a line of 19 Lawsons blood Angus heifers, 30-32 months averaging 386kg, and are PTIC to Angus bulls, sold for $960, while from Mundubbera, QLD a line of 27 Brangus heifers 19-32 months averaging 365kg sold for $1000. These heifers were sold PTIC to Brangus and Angus bulls.
Kilburnie Angus from Walcha, NSW offered 48 HBR-joined females in the Eastern States sale. Returning the top price of the sale was a line of 12 Angus cows which achieved $2500. These cows were rising three years averaging 514kg and PTIC to Angus bulls. Another highlight saw a line of 21 PTIC Angus heifers, 18-20 months and weighing 401kg sell for $1310.
Weaned steers sold from 229c to 320c this week, averaging 285c, up 45c on last week. From Springton, SA a line of 37 Angus steers sold for the top price. Weighing 235kg, they were 6-9 months and will travel across the border to Hamilton, VIC.
Eurobodalla Pastoral Co, St George, QLD offered a line of 63 Braford steers 10-14 months averaging 267kg, that returned 262c.
Weaned heifers averaged 256c this week, selling from 222c to 275c. Top price was returned by a line of 21 Hazeldean & Onslow blood Angus heifers 7-8 months averaging 290kg, from Bungendore, NSW. From Goondiwindi, QLD a line of 40 Poll Hereford cross heifers sold for 241c. These heifers were 257kg at 8-10 months.
Yearling heifers sold from 178c to 243c this week, averaging 215c. From Binjour, QLD a line of 35 Brangus cross heifers 16-20 months averaging 306kg sold for the top price.
From Springsure, QLD a line of 94 composite backgrounder heifers 16-19 months averaging 281kg returned 238c. The same vendor offered two other lines of 16-19 month old composite heifers which returned 233c and 234c.
This week saw a single line offered in the WA Cattle sale. From Boyup Brook, Wass Holdings offered a line of 37 Angus cross trade heifers which returned 476c/kg dressed.  These heifers are 24-28 months averaging 482kg.
Just shy of 500 head were offered in the TAS Cattle sale this week. The offering included 144 PTIC Angus cows from Panshanger Estate, Scopus. These cows were Lawson Angus blood, aged 3-4 years and PTIC to Angus bulls. The four lots of three year old cows, averaging 563kg all returned $1490, while four lots of four year old cows averaging 630kg sold from $1430 to $1450.
The vendor achieved a 100pc clearance, and 75pc of the offering will travel across to the mainland to Wangaratta, VIC. Steers under 300kg sold from 274c to 306c, averaging 290c. Returning the top price was a line of Poll Hereford unweaned steers 8-12 months averaging 274kg from Hagley. From Upper Stowport, a line of 21 Angus cross backgrounder heifers 14-16 months averaging 405kg, made 261c.
In a breakdown of young cattle sold this week by weight range:
Steers less than 250kg sold from 229-321c to average 292c; while heifers sold from 179-273c to average 219c
Steers 250-300kg sold from 262-319c to average 283c; while heifers sold from 227-276c to average 247c
Steers 300-350kg sold from 249-284c to average 267c; while heifers sold from 200-247c to average 232c
Heifers 350+ kg sold from 237-261c to average 249c
Steer Highlights
8 to 9 month old 255kg, Angus steers from GOULBURN, NSW sold for 319c/$815
7 to 8 month old 217kg, Angus steers from HOLBROOK, NSW sold for 304c/$660
19 to 21 month old 323kg, Santa steers from BINGARA, NSW sold for 250c/$805
7 to 9 month old 293kg, Angus x Droughtmaster steers from KINGAROY, QLD sold for 294c/$860
7 to 9 month old 293kg, Angus x Droughtmaster steers from KINGAROY, QLD sold for 294c/$860
12 to 13 month old 302kg, Poll Hereford steers from BOOL LAGOON, SA sold for 285c/$860
6 to 9 month old 235kg, Angus steers from SPRINGTON, SA sold for 321c/$755.31
8 to 12 month old 274kg, Poll Hereford steers from HAGLEY, TAS sold for 307c/$840
5 to 7 month old 240kg, Angus steers from WATERHOUSE, TAS sold for 295c/$708
6 to 8 month old 280kg, Gelbvieh x Murray Grey steers from MAYBERRY, TAS sold for 275c$770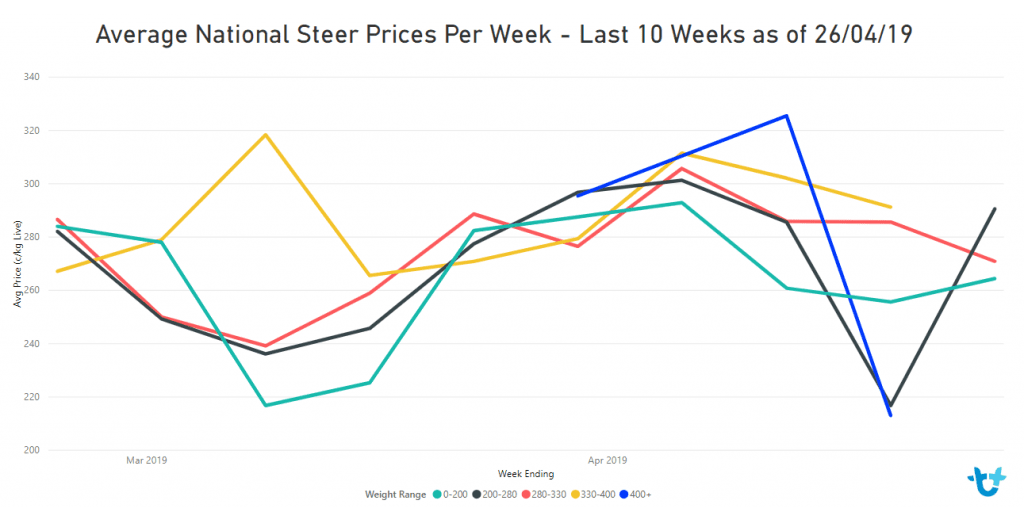 Heifer Highlights
7 to 8 month old 290kg, Angus heifers from BUNGENDORE, NSW sold for 276c/$800
7 to 8 month old 252kg, Angus heifers from BLACK SPRINGS, NSW sold for 275c/$695
16 to 20 month old 306kg, Brangus heifers from BINJOUR, QLD sold for 244c/$745
8 to 10 month old 257kg, Poll Hereford heifers from GOONDIWINDI, QLD sold for 242c/$620
27 to 30 month old 367kg, Santa heifers from ALPHA, QLD sold for 237c/$870
27 to 30 month old 327kg, Santa heifers from ALPHA, QLD sold for 238c/$780
19 to 21 month old 366kg, Hereford heifers from CONDAH, VIC sold for 243c/$890
6 to 9 month old 242kg, Angus heifers from SPRINGTON, SA sold for 250c/$605
14 to 16 month old 405kg, Angus heifers from UPPER STOWPORT, TAS sold for 262c/$1060
5 to 7 month old 237kg, Angus x Hereford heifers from WATERHOUSE, TAS sold for 254c/$600
8 to 12 month old 311kg, Poll Hereford heifers from HAGLEY, TAS sold for 247c/$770
24 to 48 month old 482kg, Angus heifers from BOYUP BROOK, WA sold for 256c/$1232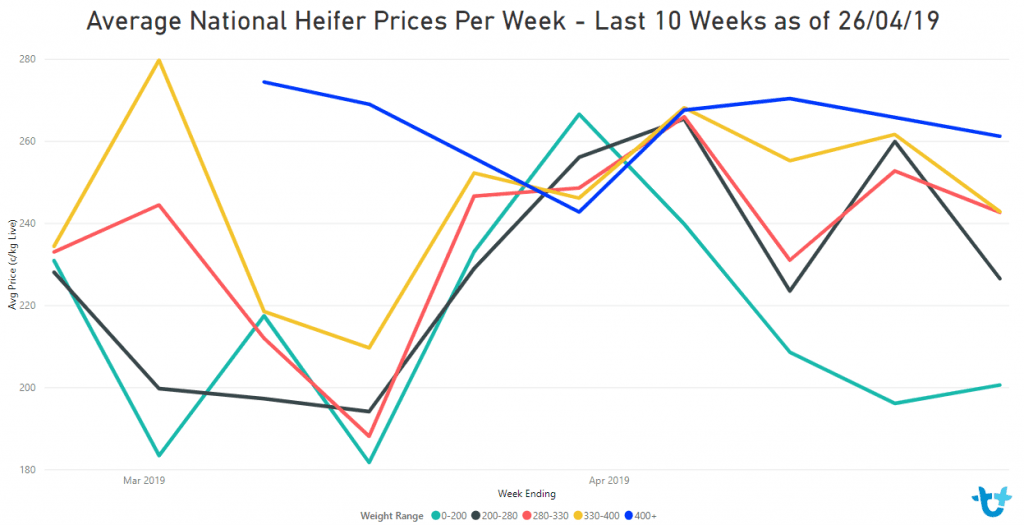 Source: AuctionsPlus