UNMATED heifer prices showed a modest rising trend on AuctionsPlus this week, where numbers offered continued to rise, with a total of 6999 head offered, an 11 percent rise on the previous week.
A total of 2160 joined females were offered this week with clearance rates right back to 29 percent. PTIC heifers sold from $1010 to a high of $1250 and averaged $1122, a decrease of nearly $140 on last week.
The top price was achieved by a line of 31 Angus and Angus x Hereford heifers 490kg at 18-19 months of age from Norwood Pastoral, Goulburn NSW, in calf to Angus bulls.
PTIC Cows sold from $850 to a high of $1500, achieving an average of $1033, a slight increase on last week's prices.
Two lines of PTIC Angus cows from Merricks North, VIC saw the heavier line of 25 cows seven years averaging 663kg and in calf to Banquet Angus bulls achieving the top price.
Cow and calf units continue to be in short supply with clearances rates sitting this week at 67pc, positively high in comparison to other categories. They sold from $890 to a high of $1600, achieving an average of $1168.
The top price was paid for a line of 15 station-mated cows and calves from Dandah Farm, Yass NSW. These cows were three- years old averaging 485kg, with Angus calves at foot.
Weaner and Yearling numbers increased to see a total of 4058 head offered this week, with clearances rates remaining back at 48pc. Weaner heifers sold from 208c to reach 249c and average 229c, with the top price achieved by a line of 58 Angus from Boggabri, NSW.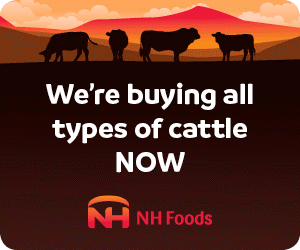 These heifers were 6-7 months averaging 169kg, and will remain in NSW. Yearling and grown heifers sold from 215c to a high of 260c, averaging 233c. The top price was achieved by a line of 333kg, 16-17 month old Kennys Creek & Billaglen Angus blood future breeders from Mendooran NSW.
Weaner steers were low in demand with clearance at 45pc, selling from 250c to 330c for an average of 298c. A line of 102 Angus steers 165kg at 7-8 months of age, sired by Trio blood bulls account Turee Vale Partnership, Coolah NSW, achieved the top price. These steers will be making their way into Victoria.
In other weaner highlights, Consuelo Pastoral Co from Rolleston in Central Qld offered 458 EU-accredited Santa cross backgrounders (232 steers and 226 heifers), 6-10 months across six lines, achieving 100pc clearance to a top of 293c.
Yearling and grown steers sold from 211c to a high of 307c, for an average of 259c. The top price was achieved by a line of 73 yearling Angus steers 278kg at 14-15 months of age, from predominately Millah Murrah blood cows and bulls, from Braidwood NSW.
In a breakdown of young cattle sold this week, by weightrange:
Steers less than 250kg sold from 280-330c to average 301c; while heifers sold from 208-249c to average 229c
Steers 250-300kg sold from 211-324c to average 269c ; while heifers sold from 228-240c to average 234c
Steers 300-350kg sold from 250-267c to average 259c; while heifers sold from 215-260c to average 231c
Steers 350+kg sold from 270-270c to average 270c ; while heifers sold from 194-264c to average 231c
Steer Highlights
7 to 8 month old, 165kg, Angus/Angus steers from COOLAH, NSW sold for 331c/545
6 to 8 month old, 255kg, Angus/Angus steers from ORANGE, NSW sold for 324c/825
12 to 16 month old, 353kg, Angus/Santa Gertrudis steers from LOOMBERAH, NSW sold for 270c/955.26
14 to 15 month old, 278kg, Angus/Angus steers from BRAIDWOOD, NSW sold for 307c/855
6 to 10 month old, 232kg, Santa Gertrudis/Santa Gertrudis steers from ROLLESTON, QLD sold for 294c/680
13 to 16 month old, 268kg, Charolais/Droughtmaster/Hereford steers from BLACKALL, QLD sold for 286c/765
15 to 17 month old, 345kg, Angus/Belmont Red steers from THEODORE, QLD sold for 268c/925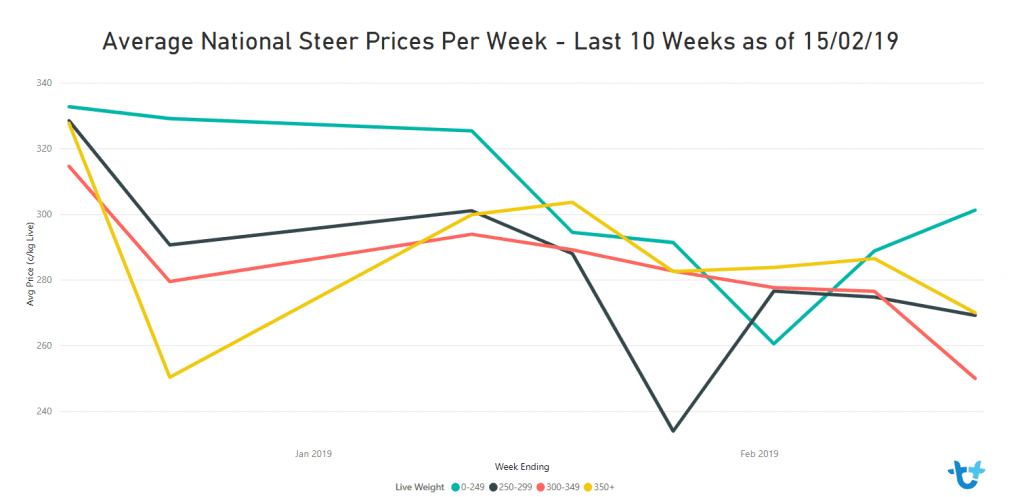 Heifer Highlights
19 to 20 month old, 356kg, Angus/Angus heifers from BOOROWA, NSW sold for 264/940
16 to 17 month old, 333kg, Angus/Angus heifers from MENDOORAN, NSW sold for 260/865
19 to 21 month old, 459kg, Poll Hereford/Poll Hereford heifers from BARRABA, NSW sold for 231/1060
6 to 10 month old, 218kg, Santa Gertrudis/Santa Gertrudis heifers from ROLLESTON, QLD sold for 234/510
13 to 16 month old, 299kg, Charolais/Hereford Cross heifers from BLACKALL, QLD sold for 241/720
14 to 16 month old, 268kg, Poll Hereford/Poll Hereford heifers from SPRINGTON, SA sold for 229/613.14
16 to 19 month old, 519kg, Angus/Angus heifers from NORTHCLIFFE, WA sold for 261/1352
30 to 48 month old, 658kg, Angus/Angus heifers from NORTHCLIFFE, WA sold for 212/1391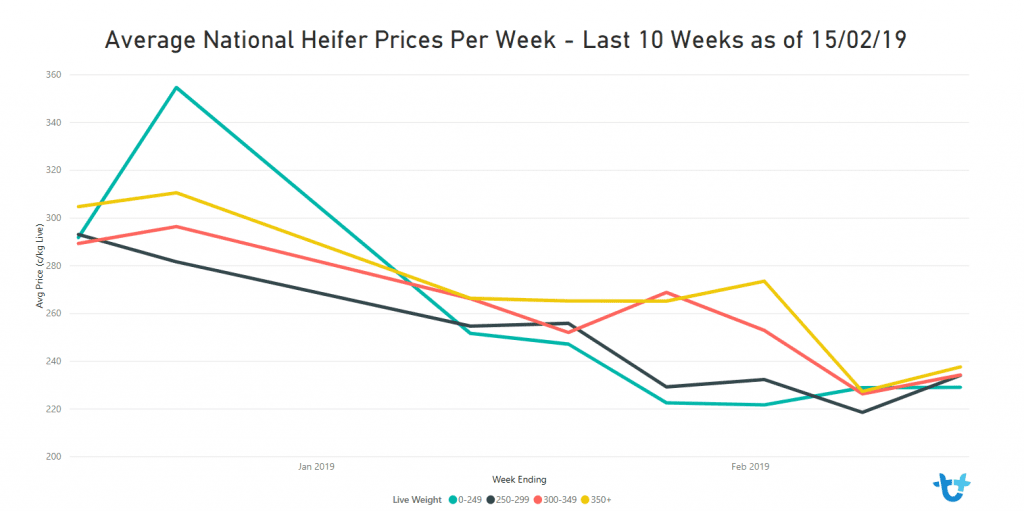 Source: AuctionsPlus