LARGE offerings of weaners and yearlings out of Queensland boosted numbers on AuctionsPlus this week, with catalogues jumping by 68 percent to 10,671 head.
Heifer prices continued to rise, following earlier trends, while young steer categories fell this week – in places sharply. A 66 percent clearance was achieved, attributed to recent rainfall and renewed confidence in the season.
PTIC and joined females saw 1043 head listed, with the majority coming out of NSW. Quality was varied with prices ranging from $715 to $1710 and averaging $1209.
Top price was achieved by a line of Angus heifers and calves offered by Liscombe Pools from Canowindra, NSW. Aged 26-27 months these heifers averaged 484kg had been joined back to Rennylea bulls.
Two lines of station-mated Poll Hereford cows & calves, cows joined back to Poll Hereford bulls totalling 80 head from Holbrook, NSW saw the two-year-olds make $1105 and the four-year-olds make $1145. Five to ten year old station mated Angus cows & calves from Dubbo NSW made $810, going to Dalby QLD.
Cow and calf numbers dipped slightly this week to total 641 head. Prices ranged from $950 to $1625 and averaged $1349. Top price was achieved by 13 Blue-E heifers and calves from Woodstock, NSW. The 24-25 month old heifers averaged 386kg. The same vendor also offered eight other lots to total 100 head. A small line of Speckle Park/Angus first-calvers from Gunbower, VIC sold for $1620.
This week's Weaner and Yearling sales saw 8491 head listed. Yearling heifers averaged 277c or $841 and achieved 100pc clearance.
An offering of 564 yearling Friesian steers from Mortlake, VIC, offered in 18 lots, saw the heavier end averaging 395kg make 175c or $690, 340kg steers make 182c or $617, and 296kg steers make 165c or $490.
In other large lines offered this week, 190 Droughtmaster weaned steers, 4-10 months averaging248 kg from Julia Creek in northwest Queensland made$708, while 370 EU-eligible Santa weaned steers,  8-11 months averaging 219 kg, offered in three lines from Rolleston, Central Queensland  made $720; and 105 Angus weaned steers, 12-14 months averaging 332kg from Coleambally NSW made $1055.
Plenty of small lot sizes were listed on AuctionsPlus this week, with almost 70 lots listing 20 head or less. From Pemberton WA, two yearling steers averaging 686kg made 243c or $1669, while in Tasmania, nine Murray Grey NSM heifers aged 15-16 months made $1080.
In a breakdown of young cattle sold this week, by weight range:
Steers less than 250kg sold from 225c to 374c to average 324c; while heifers sold from 197-380c to average 280c
Steers 250-300kg sold from 165-370c to average 350c; while heifers sold from 208-293c to average 257c
Steers 300-350kg sold from 181-353c to average 267c; while heifers sold from 265-312c to average 285c
Steers +350kg sold from 175-335c to average 281c; while heifers sold from 235-310c to average 278c.
Steer Highlights
5-7 month old, 115kg, South Devon cross heifers from ARMIDALE, NSW sold for 381c/$439
12-13 month old, 248kg, Angus heifers from WALCHA, NSW sold for 315c/$780
15-16 month old, 343kg, Angus heifers from YELARBON, QLD sold for 312c/$1070
12-15 month old, 356kg, Angus heifers from AMBY, QLD sold for 310c/$1103
4-5 month old, 174kg, Angus/Hereford heifers from MOUNT TAYLOR, VIC sold for 303c/$525
15-16 month old, 407kg, Murray Grey heifers from NEW NORFOLK, TAS sold for 266/1080
7-8 month old, 340kg, Murray Grey heifers from OUSE, TAS sold for 265c/$900
14-17 month old, 389kg, Angus heifers from PEMBERTON, WA sold for 251c/$975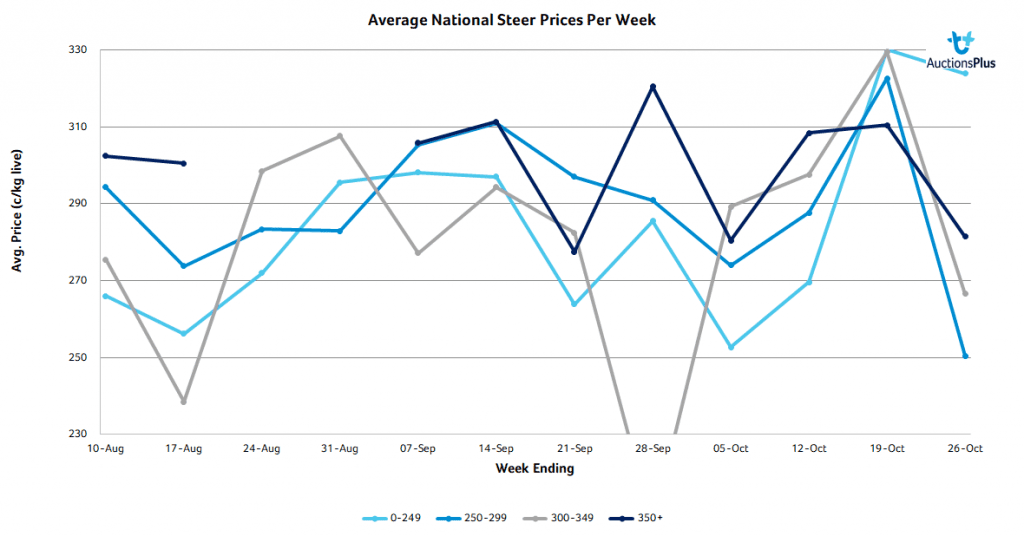 Heifer Highlights
5-7 month old, 115kg, South Devon cross heifers from ARMIDALE, NSW sold for 381c/$439
12-13 month old, 248kg, Angus heifers from WALCHA, NSW sold for 315c/$780
15-16 month old, 343kg, Angus heifers from YELARBON, QLD sold for 312c/$1070
12-15 month old, 356kg, Angus heifers from AMBY, QLD sold for 310c/$1103
4-5 month old, 174kg, Angus/Hereford heifers from MOUNT TAYLOR, VIC sold for 303c/$525
15-16 month old, 406kg, Murray Grey heifers from NEW NORFOLK, TAS sold for 266/1080
7-8 month old, 340kg, Murray Grey heifers from OUSE, TAS sold for 265c/$900
14-17 month old, 339kg, Angus heifers from PEMBERTON, WA sold for 251c/$975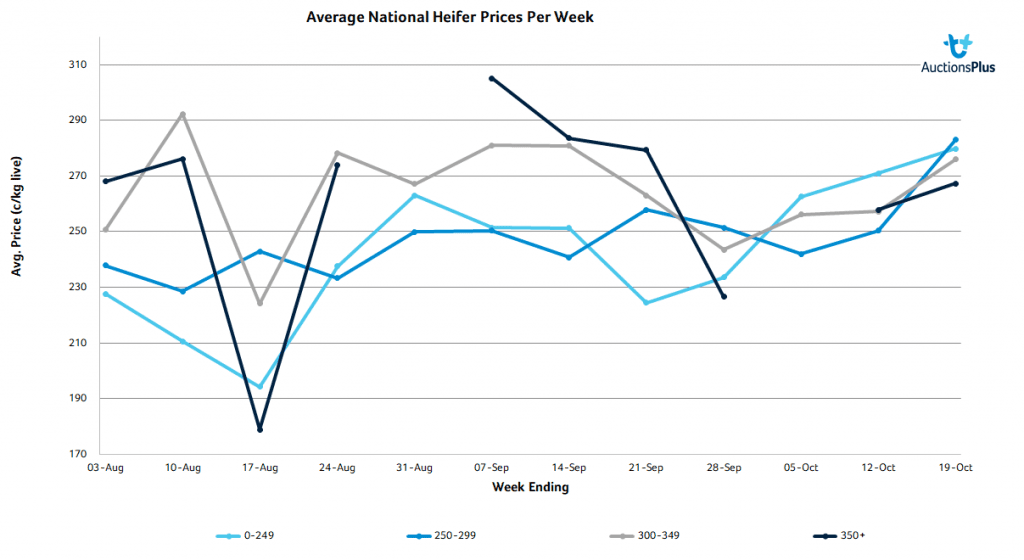 Source: AuctionsPlus