AFTER an extremely quiet August, numbers through AuctionsPlus commercial cattle sales lifted this week, with the 9692 head offered up 83pc on the previous week's offering.
Also lifting was buyer sentiment, with an average sale price $309/head over reserve, as online bidding activity bellowed, "here comes spring, get me some cattle."
Producer confidence for the remainder of 2022 seems to be rising with the day-time temperatures. As wet conditions continue to hinder intended operations in some regions, and with another La Nina outlook on the horizon, the old adage of "there's money in mud" is proving out.
Removing the price volatility of recent weeks, primarily due to the very thin numbers, it was an overall stronger market this week, especially through the heavier end of the young cattle market.
Steers 200-280kg averaged 43c/kg or $116 lower this week, shedding all of last week's gains, averaging 642c/kg or $1584/head. The 1075 head offered in the category sold to a 90pc clearance.
A run of 342 Droughtmaster and Droughtmaster cross backgrounder steers 8-11 months from Springsure, Central Queensland drafted into three lines from 275kg to 280kg made from 611c/kg to 644.3c/kg.
It was a similar path for the 280-330kg lines, easing 25c or $119/head, following last week's $206 jump, to average 635c or $1878/head. The 1102 head offered produced an 88pc clearance, with prices ranging from $1440 to $2230.
The largest category for the week was 330-400kg steers, with the 1488 offered selling to a robust 90pc clearance. With fierce competition, average prices for the week jumped 22c/kg or $73, to 620c or $2202.
From Woodhouse, Southwest Victoria, a line of Charolais x Angus steers 10-11 months averaging 377kg returned $2270, and will travel to a buyer in Burra, South Australia.
Another highlight for the category was 168 Angus steers 14-18 months split across three even lines 333kg from Gilgandra, NSW, which returned $2280/head. They will travel 1,200km to a buyer in Mount Gambier, South Australia.
Feeder steers +400kg sold to strong competition, with the 807 head offered averaging 6c/kg or $36 higher on last week, at 556c or $2392 – with an 85pc clearance.
From Cumnock in Central Western NSW, 73 Angus steers 14-16 months averaging 452kg, returned $2652, and will travel to Southern Queensland.
Across the young heifer market, it was three-up-two-down for the five categories, with the most significant rises through the 330-400kg and +400kg lines.
With a 90pc clearance for the 918 head offered, 200-280kg heifers kicked 97c/kg or $275 higher on last week, to average 650c or $1633, as quality returned to the market after some very thin offerings in recent weeks.
From Bollon, Queensland, Angus heifers 6-10 months averaging 276kg returned $1920 and will travel to a buyer in Rockhampton, Queensland.
In contrast, 280-330kg heifers averaged 86c/kg or $316 cheaper this week, at 659c or $1952, as the market continues to find some equilibrium after last week's $562 increase. The clearance for the 764 head offered reached 99pc.
A line of Droughtmaster heifers 8-12 months averaging 291kg from Wallumbilla North, Southern Queensland, returned $2210 – headed to Springsure in Central Queensland.
Heifers 330-400kg averaged 67c or $143 higher this week, at 632c or $2204/head, with a healthy 94pc clearance for the 551 head offered. From Goulburn, NSW, 58 Angus heifers 12-13-months averaging 346kg returned $2630 – $400 above their reserve price.
Breeding cattle
In what remains a tight market for proven breeders, online bidder activity was strong for quality and proven bloodlines. A rising number of PTIC heifers sold to a steady market, with the 1426 head offered clearing 74pc – averaging $2468/head.
PTIC cows averaged $146 higher on last week, to average $2600/head, with the tight 502 head offered selling to a 65pc clearance. In the Tasmanian cattle sale, a line of 20 six-year-old Simmental x Poll Hereford cows from Bagdad, Southern Tasmania, returned $2360. These girls are set for a boat trip, headed for Mount Compass, South Australia.
From Cooladdi, Western Queensland, a line of 3-7-year-old SM Brangus cows weighing 458kg with CAF returned $3120, heading to a buyer in Longreach, Queensland.
From Strathdownie, Victoria, 26-28-month-old NSM Angus heifers averaging 425kg with CAF returned $4480/head – $950 above their reserve.
Prices as at 2pm, Friday 26 August.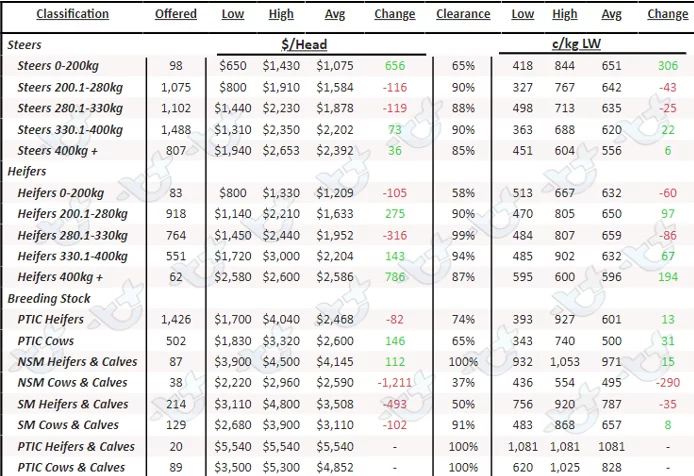 Source: AuctionsPlus