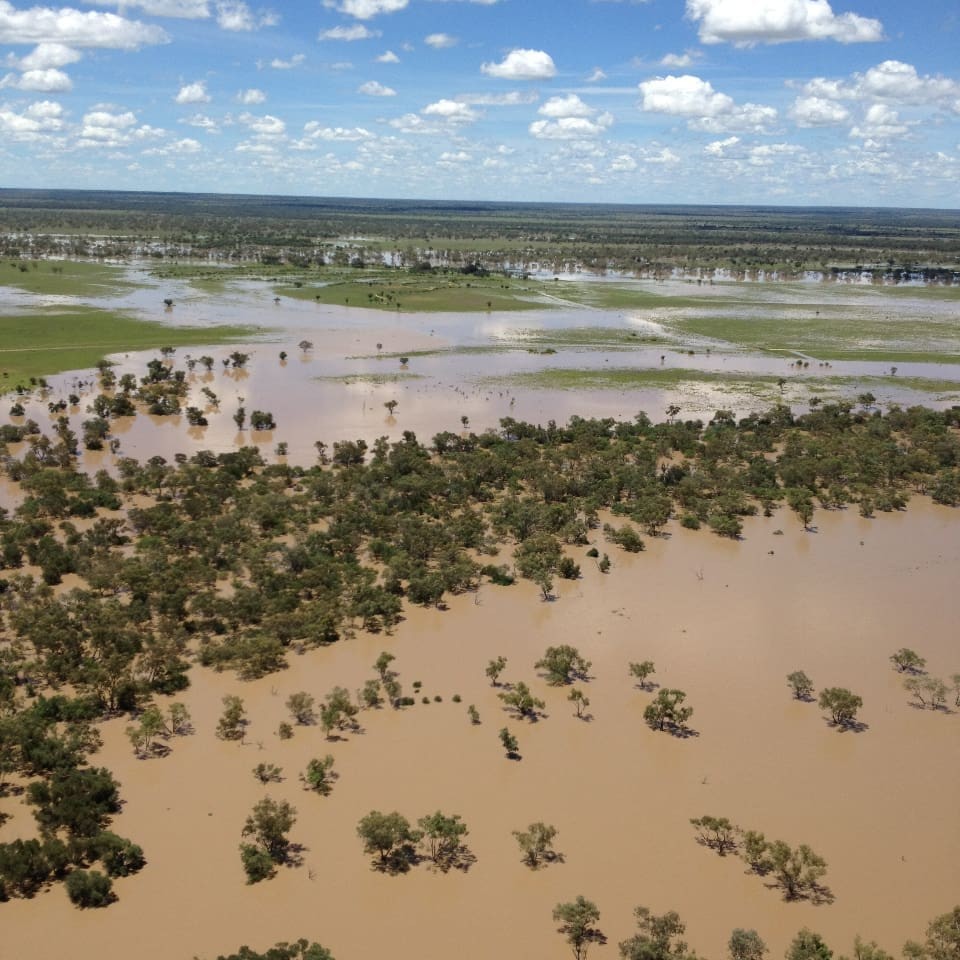 Waterlogged paddocks, flooded roads and heavy load limits on bridges and highways have forced the cancellation of a number of sales from central Queensland to northern New South Wales, and restricted the flow of cattle to market where sales are still open.
Cattle sales at Blackall, Roma, Moree and Narrabri are among the casualties of the flooding that has submerged large tracts of country in both states.
Roma – today
Flooding has forced the cancellation of today's Roma Store cattle sale for the second week in a row.
Landmark Roma branch manager Rod Turner said the third major flood in as many years had left the area reeling.
Cleaning up and rebuilding after one major flood was one thing, but having to do so three years in a row had pushed people to the limit.
"It's one of the worst things we have ever experienced," he told Beef Central on Monday.
"South of town they lost a lot fencing. The fencing companies will be smiling for months as a result of this.
"It came up so quickly and it just rattled a lot of fencing down.
"I think people have had a gutful of it all. When they got the first one they thought it was a one in 100 year occurrence, but they have kept coming."
Five-tonne load limits are in place on all bridges into Roma. Mr Turner said agents were hopeful the restrictions could be lifted in time for Thursday's prime sale to proceed, however a decision would be made on that today.
While many people had lost fencing and were likely to have lost stock also, Mr Turner said the rain was perfectly timed to spark pasture growth in the Maranoa.
"February is our best grass growing month in this country," he said. "If you can get rain in early February, and then you get all that heat through February, gee it really makes that buffel grow. "
Gunnedah – today
The yarding for today's sale at Gunnedah has been cut back for the second week in a row, with agents expected to yard about 1100, well down on the 2000 plus the centre might normally expect at this time of year.
Gunnedah saleyard manager Bruce 'Doc' Morrison said the season around Gunnedah was "unreal" after an early flood in the river last November.
"It is the mildest summer for so long," he said.
"We're normally cooked off here and brown by now, but it is green to the top of the hills and has been all summer."
Dalby – Wednesday
Peter Daniel from Grant Daniel Long at Dalby said the yarding for tomorrow's weekly Dalby sale would be back by a few thousand head as cattle from western Queensland, particularly flood-affected St George which is a major supply area to Dalby, remain cut off.
Southern Queensland is experiencing contrasting seasons with intensive rainfall in the Maranoa triggering flooding in southern areas, while nearby Taroom, Wandoan, Miles, Chinchilla and the inner Darling Downs are in growing need of a drink. Dryland sorghum crops on parts of the Downs are now showing signs of severe moisture stress.
Mr Daniel predicted that there would be a rush of numbers to sale in a few weeks-time when flood-affected areas reopen to mustering and transport, but the flow is not likely to be sustained.
"There's cattle to come, there will be a rush of numbers for a while, but then they will level out because there is still that big herd rebuilding stage going on," Mr Daniel said.
"The 25c/kg drop in the over the hooks market hasn't helped, people have thought we'll hang onto them a bit longer if they're going to pull the market back that hard.
"Obviously the processors are having a lot of trouble selling the meat with the high $A this time around.
"So people are hanging on a bit, but on the other hand there is definitely financial pressure and people need money so they have got to sell regardless."
Moree – Wednesday
Geoff Garland from Elders Moree BRW Rural was helping with the mass clean-up operation in Moree when Beef Central spoke to him on Monday afternoon.
The town has only managed to hold one weekly sale this year, which occurred in early January, with wet weather and flooding preventing every planned sale since.
Mr Garland said it was unlikely that there would be another sale in Moree for at least a couple of weeks after floodwaters inundated the town over the weekend.
He said it was still to early to accurately assess flood damage or cattle losses in the region, but wet weather had contributed to an outstanding season for grass and pasture in the region.
Narrabri – Wednesday
The Narrabri sale, which runs in conjunction with the Moree sales on Wednesdays, has also been cancelled for the past couple of weeks.
Saleyard manager Shane Rice confirmed this morning that tomorrow's sale has been cancelled again this week due to flooding.
Emerald – Thursday
After missing two sales in the past two weeks due to wet weather, Emerald saleyard supervisor Andrew Eaton said this Thursday's store and prime sale was still scheduled to proceed – provided more rain doesn't fall between now and then.
While the road to Rolleston and Injune was still cut, the road from Alpha had re-opened on Sunday night, while access was also open from the north.
Forecasts of possible rain meant it was still touch and go.
"In a lot of places it would only take a couple of inches to cut the roads again, so everything depends on the weather at the moment," Mr Eaton said.
Blackall – Thursday
Blackall's first sale of the year was scheduled to be held last Thursday, with a weaner and store sale also booked for this Thursday.
However Ann Russell from Grant Daniel Long at Blackall said both had been cancelled due to flooding in the region.
Dubbo – Thursday
Paul Jameson at Elders Dubbo said the yarding at this Thursday's weekly prime sale was likely to be significantly lower as cattle supply from north western NSW is restricted as floodwaters from Queensland sweep towards Bourke and Brewarrina.
"You would have to think that a yarding would have to drop by near a third I would reckon, probably from 3000 closer to 2000, given that all that country is shut off," Mr Jameson said.
He said the season from a grazing perspective in the large cattle catchment area surrounding the Dubbo Saleyards was "terrific".
"We didn't get a lot of that rain that was falling in other parts of the state, there was only a couple of inches over that 10 day period when everybody else was having many inches," he said.
"But that aside I think a lot of people here would tell you they haven't seen it this green with this bulk of feed for a long time.
"We really had no summer, only a handful of days above 32 or 33 degrees, and that has been a big help along with the rain"
"From a grazing perspective I don't think you'd find a better season really."