A NEW national online cattle marketing platform which carries a number of distinct features separating it from AuctionsPlus has held its first auction sale.
FarmGate Auctions held its inaugural sale last week, achieving an 89 percent clearance and total sales worth almost a quarter of a million dollars, including after auction sales.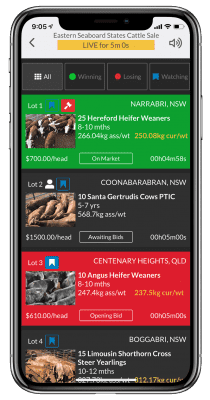 Feedback from the first sale has been described as positive, with buyers attracted to the platform's unique features, which include replicating the physical market with on-market lots timing-out.
Bidders for the inaugural sale last Tuesday logged in from across Queensland, New South Wales and Victoria. The offering was draw from across a wide area of NSW and into Victoria.
"Buyers and agents have called to congratulate us on our first sale," said FarmGate Auctions director Guy Gallen.
"They were impressed with how easy the platform was to use and how clean the live auction process was. They were particularly excited that our lots time-out and they can bid, buy and walk away in as little as 40 minutes."
Lots sold from the first sale included:
95 PTIC Hereford heifers 22-24 months which sold for $890/head, completing the dispersal of the Banoon herd from Barraba, NSW.
30 Angus yearling steers 15-18 months which sold for $1010/head from Loomberah, Tamworth.
21 Angus and Red Angus x Hereford yearling steers 11-13 months which sold for $950/head from Hartfell, Curlewis, VIC.
15 Angus x Hereford weaner steers 10-12 months, which sold for $610/head from Southend, Boggabri, NSW.
29 Angus yearling heifers 12-14 months sold for 260c/kg from Daisy Plain, Gunnedah.
63 Charolais x Hereford weaner heifers 8-12 months which sold for $525/head from Boonery Park, Curlewis.
"Despite the drought we had a great cross section of cattle to offer, which was a credit to the vendors in having their livestock in such good condition in trying times. We want to thank the Gunnedah, Tamworth and Barraba agents and their vendors for supporting our first sale," Mr Gallen said.
FarmGate Auctions lists some of the key features its mobile app as being:
The ability to complete online assessment forms on-property with or without internet connection.
Sales are made paddock to paddock which in turn reduces stress, time and money when replacing store or breeding stock.
On property data entry. Livestock weights, fat score, dentition, horn status and blemishes are recorded into an iPhone or iPad at the point of weighing.
Photos and videos can be added to the listing straight from the app without having to import or export from other sources like YouTube.
Vendor details are saved to My Favourite PICS so they auto-populate the assessment form each time.
A digital signature sign-off on the farm captures the agreement between the farmer and agent.
The platform saves time by eliminating the double-handling, double-entry and potential error rate of paper forms.
The platform facilitates bidding in faster real-time weekly cattle and sheep auctions. Once the lot is bought or sold, buyers and sellers can walk away and get on with their day.
On-market lots time out individually. In as little as 40 minutes registered buyers can purchase their livestock requirements.
Instant sale reports are delivered straight to buyers and sellers inboxes after each auction with contact information, prices and delivery details.
FarmGate is gearing up for its next cattle auction on Tuesday 22 October. There are currently four listings in the sale catalogue – click here to view.
About Farmgate Auctions
FarmGate Auctions is Australia's newest livestock auction mobile app. Livestock agents can assess, market and sell their livestock without leaving the paddock, creating a better experience for the animals, and helping sellers to save money and time.
Also available on desktop, FarmGate provides a streamlined process for buyers and sellers to watch the progress of upcoming and live auctions across Australia, add and manage lots for sale as well as bid for and purchase livestock from the office or on the go.
The company's founders and directors are Guy Gallen and Matt Murphie.
Guy is a licensed stock & station agent and auctioneer. He started working in the family business, Jacob & Anderson in 1972 achieving strong results in both livestock and property sales, becoming principal in 1997 with offices in Gunnedah and Boggabri, selling weekly at the Gunnedah saleyards, supported by rural property sales.
Matt is managing director of FP Markets, an international trading platform that executes billions of dollars in transactions daily. Having worked for a number of investment banks in his early years, Matt co-founded FP Markets in 2005 with investment from a number of high net worth individuals along with funding from ASX-listed CVC Ltd.
Through his leadership, FP Markets is now one of the largest CFD & FX providers globally, employing 110 staff in offices throughout Europe and in Sydney. While his background is in finance, Matt has country roots, growing up on a property near Scone.