Editor's note: Since this report was published earlier today, the EYCI daily summary issued a few minutes ago (5.25pm) has pushed the indicator higher again – this time to a new record of 741.75c/kg.   
THE explosive rise in young cattle prices being seen this year across eastern Australia shows no sign of losing momentum, with the Eastern Young Cattle Indicator yesterday reaching a new all-time record high of 737.5c/kg, dressed weight equivalent.
The previous high-point was 725.25c/kg, set during a period of extreme cattle shortage back in August 2016.
Yesterday's new record is up almost 27c/kg over the past week, 128c/kg over the past month, and a truly phenomenal 320c/kg on this time last year.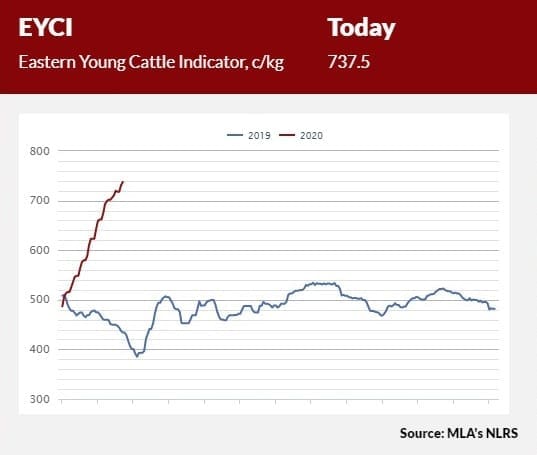 As Beef Central's home page 'Markets Dashboard' graph shows, the EYCI's relentless rise since the start of the year shows no sign of slowing down, with the 2020 trend line in maroon looking more like a 'fireman's ladder' than a plotted cattle price line.
As the graph also shows, the EYCI last year (blue line) remained under heavy pressure due to drought, trading in a relatively narrow band between about 400c/kg and 520c/kg.
The onset of first rains in January was the catalyst that sparked the change, supported by more solid rain across eastern Australia in February and early this month.
As today's weekly rainfall wrap shows (click here to view), rainfall of 25mm or more was recorded over large areas of WA, the NT, Qld and northeastern NSW again last week, adding to the solid start received earlier in some districts.
BOM's eight-day rainfall outlook only adds to the optimism, with forecasts of extensive rainfall of at least 50mm across large expanses of NSW, Queensland and into Victoria and the eastern parts of the NT.
MLA senior analyst Scott Tolmie said the speed and extent of the change in young cattle values this year had taken many by surprise.
"A lot of us thought this year that with good weather and an inevitable shortage of supply of cattle, we might see some records tumble, but none of us were thinking this would happen by March," he said.
The fact that significant rain events kept occurring, adding much-needed follow-up, was only further reinforcing buyer confidence.
"Restocker confidence is coming back with a vengeance, and with more and more rainfall coming across – in some cases getting into areas that missed out earlier – it is fuelling a lot of optimism," Mr Tolmie said.
Asked what danger existed of buyers overshooting – bidding at levels that were not sustainable – he said it was a 'million dollar question.'
"It depends on how much further the cattle market rises, and on some of the margin numbers for processors and lotfeeders."
"The sudden rise in cattle prices has made tough going for processors, with international meat markets in decline," he said.
"Export meat markets may bear an influence, together with the outlook for cropping, which has a bearing on future feedgrain and roughage values."
Saleyards numbers offered in eligible EYCI vealer and yearling categories are showing signs of significant decline, which is only further fuelling the price trend, with Roma's offering yesterday being down about 38pc on the same sale last month.
Prices at Roma yesterday continued to improve from the previous sale a fortnight ago (last week was cancelled due to conditions) with lightweight yearling steers reaching historic highs for the yards. In a yarding of 3391 head, the best of the lightweight yearling steers less than 280kg liveweight to restockers sold to a top of 482.2c/kg liveweight. Heavy weight yearling steers to feed reached a top of 425.2c/kg. Quality medium weight yearling heifers under 400kg to feed made to 404.2c/kg.
Restockers are driving the current young cattle market rally, however lotfeeders remain highly competitive on types suited to refilling pens, now that paddock feed has emerged in abundance.
About the EYCI
The EYCI is compiled daily by the National Livestock Reporting Service. It uses a seven-day rolling average of young cattle prices from 25 saleyards across Queensland, NSW and Victoria. The indicator is expressed in cents per kilogram carcase weight. The EYCI includes vealer and yearling heifers and steers, grade score C2 or C3, with liveweights from 200kg. Significantly during 2019, large numbers of young sale cattle exposed to drought were too light to qualify for inclusion in the EYCI calculation.