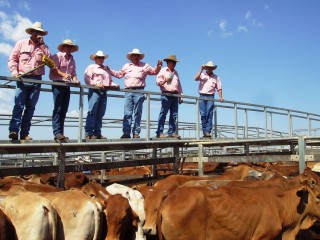 The National Livestock Reporting Service's main price indicator for young cattle stabilised yesterday after a week of declining values.
After shedding 6c for the week to close at 394c/kg on Monday afternoon, the EYCI lifted 2c/kg yesterday on the back of tighter supplies in most larger selling centres.
Yesterday's yarding of 3993 cattle at Roma was 38pc lower than the previous week. The NLRS said recent wet weather appeared to be encouraging producers to hold cattle back in the hope of a good growing season ahead.
A full panel of local buyers was joined by several restocker buyers from New South Wales which pushed light and medium weight steer prices higher.
Price averages for steer categories included 202c/kg for vealer steers, down 3c/kg; 207c/kg for vealer heifers, down 3c/kg; 235c/kg for lightweight yearling steers, up 9c/kg; 215c/kg for medium weight yearling steers to feed, up 34c/kg; and 188c/kg for heavy weight yearling steers to feed, down 4c/kg.
Light weight yearling heifers to feedlot buyers made to 203c and averaged 195c, unchanged on last weeks prices. A small sample of plainer muscled medium weight yearling heifers to feed averaged 166c, down 2c/kg. Medium weight grown steers to feed topped at 178c and averaged 172c, down 6c, while grown heifers sold to 166c and averaged 165c, up 20c/kg.
The cow market was described as "red hot" with prices lifting 8c to 12c/kg in places. Medium weight 2 score cows to restockers sold to 155c and averaged 143c, up 12c, while 3 score lines to processors reached 159c and averaged 150c, up 9c/kg. Medium weight 4 score cows made to 169c and averaged 164c, up 5c/kg. Heavy weight 4 score cows hit 168c and averaged 164c, up 8c/kg. Cows and calves made to $935/unit and averaged $809.
Numbers also eased the Central Tablelands Livestock Exchange in southern NSW where agents yarded 1330 head, 260 less than last week.
The yarding included fair numbers of yearlings and grown steers, with the majority suitable for restocker and lot feeder purchases, while heifers were reduced in number and only 120 cows were offered.
The NLRS said usual buyers competed. Light and medium weight yearling steers to restockers and lot feeders lost 2c to 3c, while the heavyweights improved 8c to 10c/kg.
The best B muscle pens to the trade reached 248c/kg. Yearling heifers "sold a few cents either side of firm" as those to restockers and lot feeders ranged from 190c to 214c, while the best B muscles to the trade reached 255.6c/kg.
Steers to lot feeders were firm, while heavy weights to slaughter also remained firm as the best reached 210c/kg. The heifer portion sold to solid competition to top at 200c/kg.
The plainer D2 cows lost 4c/kg, however the better finished D3 and D4 pens remained firm in value. The plainer D2 cows averaged 141c, while the D3 and D4 lots ranged from 146c to 162c/kg.
At Wodonga yesterday numbers were up by 300 head to 1800. The NLRS said quality was very mixed. Heavy cattle were well represented with increased numbers of secondary yearling heifers, along with a mixed selection of supplementary fed and grass finished yearling cattle. Lot feeder buyers were in attendance and local restockers were also operating on well-bred secondary lines.
Prices for medium weight trade steers sold firm to 3c dearer and the heifer portion sold to a cheaper trend of up to 4c/kg, due to an increased number of pen showing the effects of wintry conditions. Feeder steers sold to a small group of buyers and prices eased up to 8c with medium weight C2 steers averaging 191.1c/kg. Vealers were in short supply and quality was mixed prices 3c to 4c/kg cheaper.
European cross steers and heifers ranged in price from 232c to 255c/kg.
The NLRS said an excellent selection of 890 grown cattle sold to an almost full contingent of buyers, as heavy steers and bullocks sold firm to 1c/kg cheaper. Heavy bullocks sold to an average price of 190.8c, and a single pen of two teeth steers over 600kg reached a top price of 200c/kg. Heavy heifers were in reasonable supply with some pens in good condition, although most grades eased 2c to 4c/kg.