THE prospect of significant rain over parts of eastern Australia over the next week, combined with strong early January southern weaner sale results has driven the Eastern Young Cattle Indicator sharply higher during the opening stages of 2020.
Daily EYCI results only recommenced for the year on Tuesday, reaching 505.25c/kg this morning. That's up a sharp 18.5c/kg from the opening quote on Tuesday, and 23.5c higher than the final quote for the 2019 year back on 20 December.
Today's quote is the highest EYCI number recorded since November.
Expectation of rain across parts of NSW, Victoria and Queensland over the next week was a string driving factor in the sudden rise in the EYCI, MLA senior market analyst Adam Cheetham said.
The latest Bureau of Meteorology eight-day forecast, pictured here, has extensive areas of eastern NSW, Queensland and Victoria receiving 25-100mm of rain between now and January 25.
"What we saw was scattered showers in some areas over the Christmas break which kept the market for young cattle reasonably stable. But this week, producers are obviously looking at that rain forecast which looks pretty positive, for the eastern states in particular," Mr Cheetham said.
"We think the current EYCI rise is basically speculation – producers holding back livestock to see if they receive rain, combined with stronger competition from others anticipating some grass-growing rain – particularly among yearling categories, which have really driven the EYCI over the last few days."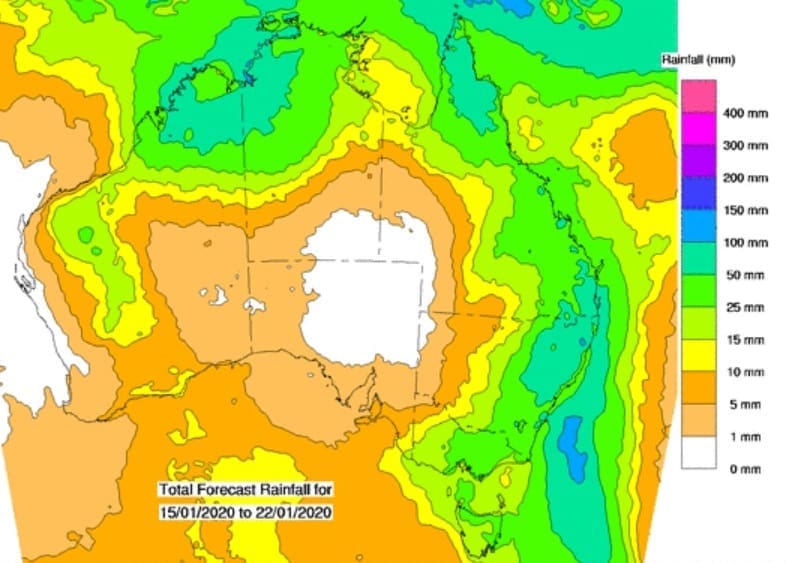 Roma store sale, which is the largest contributor to the EYCI result each week, saw some sharp rises among eligible cattle at yesterday's sale, with mediumweight yearling steers under 330kg to feed rising by 34c to 41c/kg. Medium weight yearling heifers under 400kg to feed rose by 31c to 54c/kg. Cows also saw a marked improvement with medium weights up by 11-40c/kg, as producers wait on the outcome of the forecast rain event later this week.
A good sample of quality medium weight yearling steers under 330kg to feed made to a top of 322.2c to average 307c/kg, while yearling steers under 400kg to feed sold to 313.2c to average 301c/kg.
The Bureau of Meteorology yesterday said much anticipated showers and storms were forecast to develop across eastern Australia over the next seven days, with the potential for some heavy rainfall, including areas affected by bushfires.
A deepening inland trough is drawing humid air across eastern Australia, leading to increased showers and thunderstorms from today. However the hit-and-miss nature of storm rain means that it is difficult to forecast the exact location of the heaviest rainfall totals, BOM cautioned.
However the storms that do form are likely to be slow-moving, bringing the potential for heavy rainfall. By Thursday, widespread shower and storm activity is expected across eastern NSW and Victoria, continuing into the weekend and extending into Queensland. Heaviest totals are expected over eastern NSW, with widespread accumulated totals of 30-80mm expected.
About the EYCI
The EYCI is compiled daily by the National Livestock Reporting Service. It uses a seven-day rolling average of young cattle prices from 25 saleyards across Queensland, NSW and Victoria. The indicator is expressed in cents per kilogram carcase weight. The EYCI includes vealer and yearling heifers and steers, grade score C2 or C3, with liveweights from 200kg. Significantly during 2019, large numbers of young sale cattle exposed to drought were too light to qualify for inclusion in the EYCI calculation.