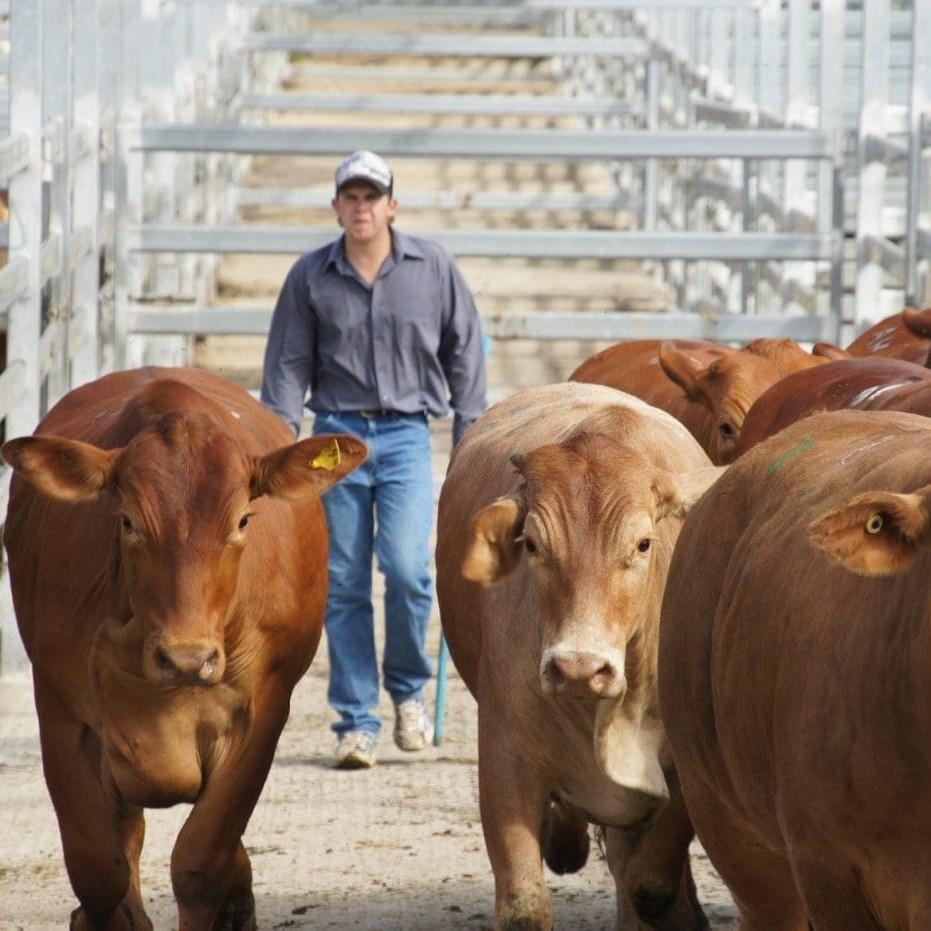 A change in sentiment, rather than rain-reduced cattle yardings, may have been the biggest influence over a 13c/kg jump in the Eastern Young Cattle Indicator over the past week.
While the EYCI closed yesterday at 335.75c, up 4 percent on Wednesday last week, it was still a whopping 46.25c behind where it sat this time last year.
MLA chief analyst Tim McRae agreed with the view that the adjustment signals something of a change of sentiment in the market.
"I think it may be the kick in price that, given a normal season, we would see in January, or early February," he told Beef Central yesterday.
"There are obviously some areas that still need a good drink, but overall, it seems that this system has already delivered some good fill-in rain in areas that missed out earlier – and maybe more to come."
The Bureau of Meteorology was this morning forecasting falls of 50-75mm across large areas of Queensland's dry Maranoa and Warrego districts today and tomorrow, with higher storm falls in places.
Mr McRae said he suspected many producers who were active in the market this week had sent away lines of slaughter cattle already, and encouraged by recent rain, were now looking for next year's cattle to background and finish.
"In some cases maybe they sold their last mobs in December-January, and were waiting for some sign of a seasonal break before having the confidence to go back into the market," he said.
"The word 'break' may be too strong a word, but conditions may have improved enough to stimulate some restockers to buy some young cattle."
Producers on Queensland's Darling Downs country that have now received some moisture are considering fodder option including oats, particularly if they get some follow-up rain this week. Areas of northern NSW that were previously dry were also starting to look in better shape.
"After Cyclone Oswald, there were probably still more areas of Eastern Australia that needed a drink than those which got some benefit. But since then, there are a lot more producers who are feeling things still might turn out OK, season wise. At least it's a start," Mr McRae said.
Yesterday's EYCI figure would have in fact finished higher than it did, except for being dragged down a little by some lower results at some southern yards.
Some yards yesterday were up around 345-350c, while others, like Camperdown was down at 310c, and Warrnambool, which granted only had small numbers, at 300c, which kept a lid on the indicator's overall increase.
"Obviously the dry conditions in the south continues to drag on those yards performance, but it was overwhelmingly balanced-off by stronger Roma and Dalby and northern NSW yards this week," Mr McRae said.
Roma store sale on Tuesday yarded close to 9000 head, while Dalby sale also experienced a 2500 head rise on a week earlier.
Mr McRae said an Australian dollar at US102c had also helped restore a little market confidence, but currency movements generally did not affect the market so abruptly for young cattle, given the 'lag factor' involved before they reached slaughter weight.
MLA yesterday reported that total national saleyard throughput as reported by NLRS dropped 13pc week-on-week, as the majority of states reported lower yardings due to rain.
Queensland was the only state to report an increase, up 9pc compared to a week earlier led by expansion in numbers at Roma and Dalby. The majority of those cattle were sourced from western regions as not all supply areas received significant rainfall last week.
Total saleyards consignments across NSW dropped 30pc last week, illustrated by Gunnedah and Wagga, down 55pc and 45pc respectively. CTLX was the only NSW saleyard to pen more cattle, up 33pc week-on-week with good numbers of yearlings and grown steers offered.
Numbers in Victoria slipped 20pc in total as the large selling centres of Pakenham, Shepparton and Wodonga had reduced numbers, while SA's throughput slipped 17pc with less yarded at Naracoorte.
At the conclusion of Wednesday's markets, the trade steer index lifted 3¢ for the week on 186.2¢, while feeder steers were +3c averaging 178.1¢. The medium steer indicator increased 9¢ on 169.6¢, while heavy steers rose 7c 179.9¢/kg. The medium cow indicator averaged 128¢/kg, +4c on a week earlier.