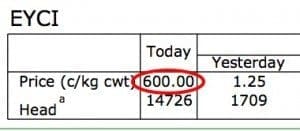 The Eastern Young Cattle Indicator (EYCI) hit 600¢/kg cwt for the first time on record on Wednesday afternoon, buoyed by rain-induced producer confidence at many of the major selling centres.
It has since risen further today to 600.75c – a rise of 160c/kg on this time last year.
The EYCI  is a seven-day rolling average and is the general benchmark of Australian cattle prices. It is expressed in cents per kilogram carcase (dressed) weight (c/kg cwt).
The indicator came within a whisker of the 600c milestone twice before over the past three or four months, before finally breaking through on the strength of early physical markets this week.
"Widespread rain – albeit far from drought breaking in many cases – over the Christmas period acted as the catalyst for many producers to retain stock, while also drawing out strong competition for the limited pool of cattle – particuarly at the lighter end of the market," Meat & Livestock Australia's market information manager Ben Thomas said.
"Tuesday's sales resulted in the indicator jumping 14.5¢, before a further 1.25¢ lift today meant the landmark of 600¢/kg cwt was obtained."
Markets that had particularly large price jumps were IRLX Inverell, where EYCI-eligible cattle lifted nearly 60¢ from the week before, averaging 620.25¢/kg cwt. Perhaps even more impressive, in the first sale for the year, EYCI-eligible cattle at Roma averaged 660.5¢/kg – up 191¢ from the first sale of 2015.
Dalby and Singleton also performed well today, with EYCI-eligible cattle averaging approximately 610¢/kg at both centres.
"The expectation is that cattle availability will remain tight for January, and thereafter will depend on the timeliness of follow-up rainfall," Mr Thomas said.
He said an  interesting dynamic had emerged early this year where the heavier end of the store market was generally a tad softer, whereas the lighter cattle (EYCI types) was where the gains were seen.
"That just goes to show how tight those restocking/backgrounding type lighter lines of cattle are, that many producers who have had some rain are looking to purchase."
'Disconnect' evident between store, slaughter market
In contrast with the strengthening young cattle store market, early signals out of Queensland processors this year suggest a 'disconnect' is happening between store and slaughter prices. Southeast Queensland meatworks grid prices have dropped 25-35c/kg, dressed weight since late last year.
MLA's weighted average OTH indicator is back about 11c/kg dressed weight at the heavier end on where it finished last year, at 521c/kg carcase weight. Those same cattle were making 536c in December.
However January was typically a difficult period to monitor slaughter cattle pricing, Mr Thomas said, with many processors yet to return to work, or to full capacity.
"And we're still only part way through the wet season. They are two variables which can have a considerable impact on the slaughter cattle market – probably moreso this year, coming on the back of two or three very poor wet seasons, leading to much lower capacity."
"But that 521c weighted average OTH indicator figure this week is still relatively strong. It got down to around to 502c in October, when prices softened before recovering a little," Mr Thomas said
"But what's going to be extremely interesting to watch this year is just how tight supply becomes. That will obviously be dictated by the time and extent of follow-up rain after that received in the Christmas/New Year period. There's still a lot of areas that need another good drenching in the next few weeks to have anything like a decent season."
"To me, we're also going to have to keep a really close eye on the A$ and how it relates to how the US export beef market is performing."
Early estimates indicate that Australian cattle slaughter will go from just above 9 million head last year to around 7.6 million this year, suggesting competition among processors will be intense.
The last time such a small beef kill was recorded was the very wet year of 2011, when everybody held onto cattle, forcing the national annual kill to 7.3 million. That year, the EYCI hit a then-record high of 428c.
Mr Thomas said recent strong competition for store cattle at the lighter end of the range was particularly evident in recent southern feature weaner sales.
"That's been evident from Victoria, all the way up to Queensland," he said. "Many of those feature weaner sales this year are at record levels – some up about $400  a head on this time last year. While that's a very large rise, year-on-year, when we look at where prices were late last year, it's pretty well in line with November-December values," he said.
While rain was the big factor, the A$ having weakened a few cents over the past fortnight to just below US70c would "go a long way" towards offsetting some of the big declines in price being experienced in the export meat market.
"The US grinding beef market, for example, lost about 30 percent in value last year," Mr Thomas said.
"That may cap the cattle price potential here in Australia, but the softer dollar should moderate that," he said.
While the EYCI hitting 600¢ marked a significant milestone in the Australian cattle industry, the benefits would only be reaped by those in the fortunate position of having cattle to sell – after what was an unprecedented three years of cattle turn-off," he said.
Click here to see today's full EYCI report from MLA.
Source: Meat & Livestock Australia