THE recent strong rally in young cattle prices has pushed the benchmark Eastern Young Cattle Indicator to another record high.
The EYCI closed yesterday at 776c/kg liveweight, a sharp 7.5c/kg rise over Wednesday, and 17.5c higher than this time last week. Year-on-year, the EYCI is now 266c higher in value.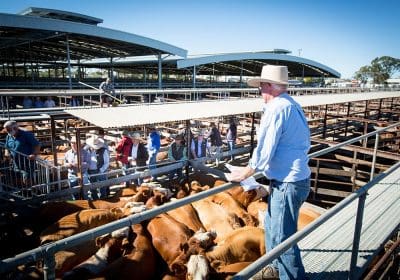 The previous record at 772c/kg was set back on 17 June.
Recent rain in parts of southern Australia has rekindled demand for young cattle, but restocker strength is being seen from across eastern Australia.
Tuesday's Roma store sale – which because of its size always exerts a strong influence over the EYCI performance – saw strong restocker competition for the large number of lightweight and mediumweight steer and heifers on offer. Steers less than 200kg rose by 28c/kg and heifers by 75c on the previous sale.
Light weight yearling steers less than 200kg to restockers made to 536c to average 488c/kg. Light weight yearling steers 200-280kg to restockers also made to 496c to average 449c/kg. Medium weight yearling steers 280-330kg to restockers sold to 488c to average 442c/kg.
While today's NLRS daily indicators are yet to be compiled, this morning's Dalby store sale followed a similar trend. Local and interstate restockers provided much stronger support across the lightweight lines of yearling steers and heifers on offer, lifting average prices by 11c to 16c/kg. Click here to view full Daly sale report.
About the EYCI
The EYCI is compiled daily by the National Livestock Reporting Service. It uses a seven-day rolling average of young cattle prices from 25 saleyards across Queensland, NSW and Victoria. The indicator is expressed in cents per kilogram carcase weight. The EYCI includes vealer and yearling heifers and steers, grade score C2 or C3, with liveweights from 200kg. Significantly during 2019, large numbers of young sale cattle exposed to drought were too light to qualify for inclusion in the EYCI calculation.