AFTER a brief rally in April, the Eastern Young Cattle Indicator has continued to decline in value, falling below 650c/kg (dressed weight equivalent) for the first time since November, 2020.
The indicator today sits at 646.7c/kg, falling another 24c over the past week, and now 461c/kg below where it sat this time last year.
Many in the industry felt the EYCI had found a bottom back in late March, when it found some support with a 33c mini-recovery through to this time last month – but that has proven to be short-lived.
The current push lower appears to be heavily influenced by supply, with more than 19,100 EYCI-eligible young cattle sold in Eastern states saleyards over the past seven days. That's up 120 percent in volume on the previous week.
"The whole saleyards cattle market this week is all supply driven – particularly in the young cattle space, with an extra 10,500 head going through the EYCI this week compared with last," MLA analyst Ripley Atkinson told Beef Central.
"That's not surprising, as volume of all cattle normally starts to lift once the industry gets through April and the short weeks."
Within the EYCI-eligible categories (see explanation below), the proportion of feeder cattle continues to grow, reaching 51.3pc of the total this week. The restocker portion accounted for another 42.6pc and processors the remainder.
The feeder steer component within the EYCI saw supply increase this week – up 54pc or 3000 head on the previous week – but prices still held firm. Currently the NLRS feeder steer indicator sits at 358c, down only 3c on this time past week, and slightly better than this time a month ago.
It's among the lighter EYCI cattle descriptions where prices have come under more pressure. Within the EYCI categories, +400kg and 330-400kg categories lifted 6c and 9c, respectively, over the past week, while the lighter 280-330kg descriptions have eased 21c. That suggests lotfeeders are still looking with the intent to fill pen space, after a lull earlier.
Roma factor
A big factor in this week's dramatically higher EYCI cattle numbers was the return of Roma store sale on Tuesday – easily the largest EYCI contributor – after missing a weekly sale last week due to ANZAC day.
Roma sale this week yarded almost 10,000 head, the largest offering this year, and accounting for 31.3pc of all EYCI eligible cattle, Australia wide.
Similarly, the Roma sale the week prior to ANZAC day also yarded big numbers, as vendors pushed sale cattle either forward, or back.
But despite the considerable 'shadow' of Roma on the EYCI's performance, there were much larger numbers yarded this week also at other centres, with almost 2000 EYCI-eligible cattle yesterday at Dubbo and 1830 at Dalby on Wednesday.
In fact there were six yards this week from Queensland to Central NSW – Roma, Dalby, Dubbo, Wagga, Carcoar and Tamworth – that all yarded 1000 head or more of EYCI eligible cattle for the week.
"It will be interesting to see whether current levels of young cattle supply is maintained over the next couple of weeks, now that the holiday closure factor is passed," Mr Atkinson said.
"There is still that good strong restocker demand evident in Queensland, because Queensland was much slower to recover from drought than southern states. It's the highlight in buying, at the minute. Compared with NSW, it's chalk and cheese."
"But we expected that, given the two-stage drought recovery between north and south."
Analysts forecasts
Back in February, six leading independent analysts were asked by MLA to forecast the EYCI price level for the end of June, arriving at a 'mid-point' average figure of 811c/kg (yellow line in graph below). The group also offered their high (black line) and low (green line) estimates. There is a 350c/kg difference between the high and low estimates.
"That's obviously a lot higher than where it sits at the minute, but there's still two months to run, and the autumn-winter transition is always interesting for the young cattle market," Mr Atkinson said.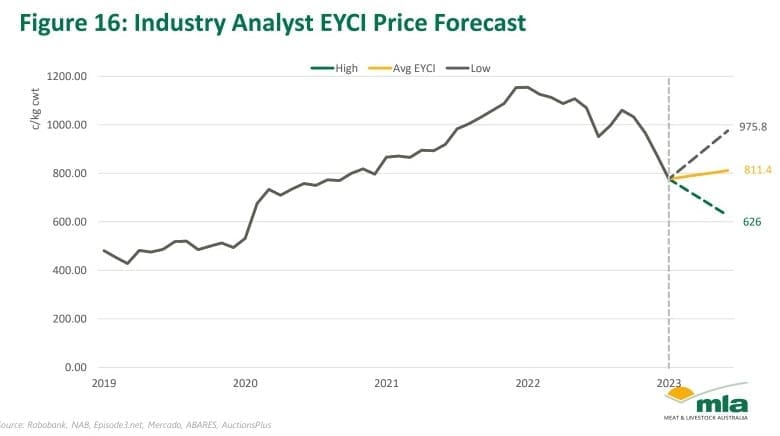 What is the EYCI?
The Eastern Young Cattle Indicator (EYCI) is a seven-day rolling average of young cattle prices (vealer and yearling heifers and steers 200-400kg liveweight, scores C2 and C3) from 23 saleyards across Queensland, NSW and Victoria. It is expressed in c/kg carcase weight.
At any point in time, a seven-day rolling average includes data from the past seven calendar days. In the case of the EYCI, the dataset takes the average ¢/kg cwt of an animal matching the specifications of the indicator per day for the past week, adds them up and divides the figure by seven. The indicator is updated daily to create a rolling average value for this specification of animal.