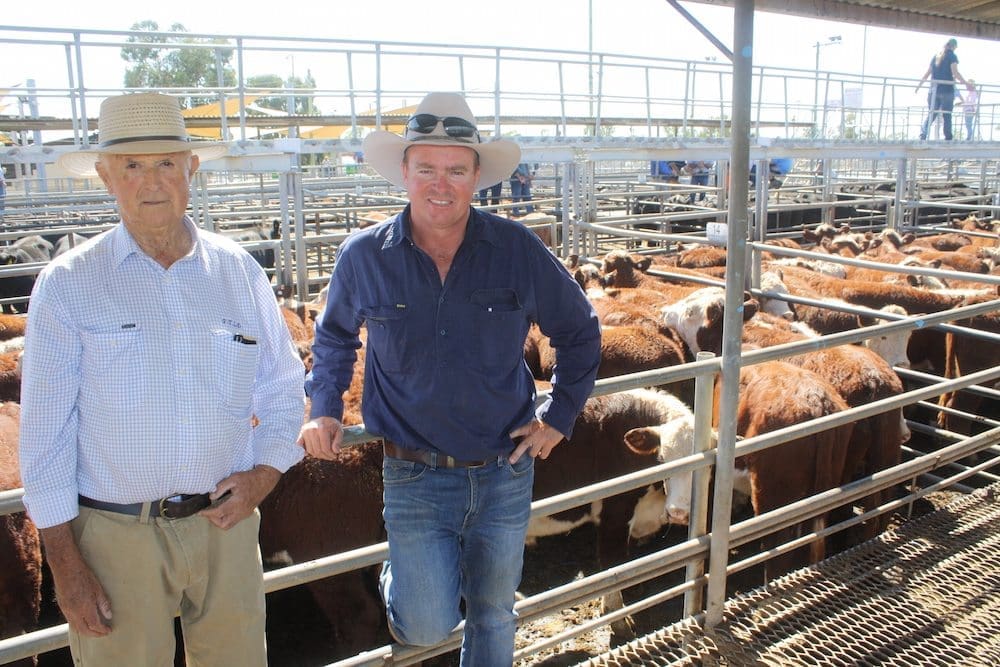 Greg Radford, G & J Radford, Albert (pictured with PT Lord Dakin and Associates' John Shadwell) offered 100 EU Poll Hereford weaner steers in the last store cattle sale, where 1670 head were yarded.
The Dubbo Regional Livestock Market is hosting some of the largest cattle sales seen in the centre's history, reaching almost 8000 head yarded at last week's prime cattle sale.
More than 60,000 head of cattle have been yarded so far in 2018, more than a third of the volume sold through the centre in 2016-17. Dubbo is the biggest saleyard by turnover in New South Wales and with the big yardings so far in 2018 is well on track to maintaining that position this year.
The bigger yardings are being fuelled as continuing dry conditions across most of the state push producers to offload numbers, according to local agent Justin Sanderson, Richardson and Sinclair.
"The cattle are coming from (vendors) all over the place," Mr Sanderson said.
"It is such a widespread dry, everyone is in unloading mode at the moment."
A total of 7960 cattle were yarded at the last prime cattle sale (held on April 12), most of which showed signs of the dry however good lines of finished cattle were still on offer.
Despite the dry, Mr Sanderson said there was solid support from buyers.
"Last week, there was a better range of buyers for a slightly smaller number of cattle yarded," he said. "Southern buyers turned up which influenced the market quite well, alongside two or three extra northern orders which pushed the market along."
"This week, with the bigger yarding, it was missing. "Overall, prices aren't that far from the last time it was this dry."
The market eased as much as 25 cents a kilogram compared the sale a week prior.
The yarding was made up of mostly yearlings, with numbers of vealers decreasing.
Restockers paid from 250 to 325c/kg for weaner steers and from 240 to 291c/kg for weaner heifers.
The best of the heavy vealers to processors sold up to 325c/kg while medium weight feeder steers averaged 276c/kg, reaching a high of 311c/kg.
Feeder heifers sold from 230 to 258c/kg.
Trade steers made from 254 to 293c/kg while the heifer offering reached 280c/kg.
The prime grown steers and bullocks sold from 255 to 273c/kg.
Restocking cows held firm reaching 180c/kg for PTIC cows. Medium weight cows ranged from 131 to 178c/kg while heavier, three- and four-score cows sold from 158c to 213c.
The best heavy bull reached 251c/kg.
The Dubbo store cattle has also had solid buyer support, with prices improving for some categories at the last sale on April 6.
Steers sold dearer at the store sale, making as much as $20/head more than the previous sale two weeks ago.
Steer weaners sold from $335 to $970/head, and averaged $610/head.
Heifer weaners were up to $30/head cheaper, averaging $435/head and topping at $720/hd.
Cow and calf units were also cheaper, by as much as $50/unit. They sold from $485 to $1360/unit.
PTIC cows sold from $480 to $890/hd while the small number of dry cows on offer sold up to $500/hd.
Greg Radford, G & J Radford, Albert offered 100 EU Poll Hereford weaner steers in the last store cattle sale, where 1670 head were yarded.
Mr Radford said he wouldn't usually sell these six to eight month old steers through the yards.
"We have had a little bit of rain in January and that's it," he said. Mr Radford said they would normally finish the steers and send to the feedlot however the cost of hay and grain didn't make that viable in the current season.
"Sell the grain and sell the cattle – it's worth more as money in the bank."
The Radford's line sold from $625 to $720/head and were purchased by buyers from Moree, Dubbo and Blackall, Queensland.
Source: Dubbo Regional Livestock Market