Yarding 2354 Change -126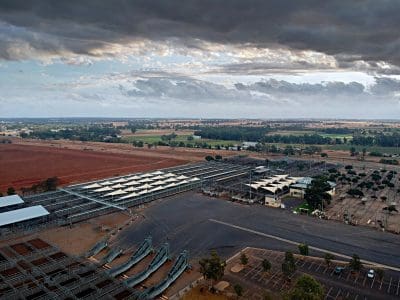 Numbers fell by 126 for a yarding of 2354 on a cold and wet morning in Dubbo.
It was a mixed quality yarding with fair numbers of young cattle to suit the feeders and processors though there were only limited numbers of grown steers and heifers.
There were fair numbers of cows yarded along with the expected runs of Bos Indicus cattle mixed throughout.
Most of the regular buyers were operating though a southern feeder buyer who has been attending was absent.
Young cattle to the trade were up to 14c dearer with prime vealers selling to 394c/kg. Prime yearlings sold from 240c to 400c/kg. Feeder steers and heifers were up to 30c cheaper with feeder steers selling from 260c to 368c/kg. Feeder heifers sold from 230c to 336c/kg.
Despite the wet morning young cattle to the restockers were 20c to 30c cheaper with the young steers selling from 150c to 380c while the young restocker heifers sold from 175c to 356c/kg. Grown steers and heifers were up to 15c dearer with the prime grown steers selling from 240c to 310c/kg.
Prime grown heifers sold from 260c to 322c/kg. Cows were 18c to 24c dearer with the 2 and 3 scores selling from 100c to 205c/kg. Prime heavy weight cows sold from $198c to 255c to average 219c/kg. Cows to the restockers sold from 70c to 216c/kg. Heavy bulls sold to 210c/kg.
Market reporter: David Monk
Source: NLRS. To view full NLRS Dubbo sale report click here