Yarding 1880 Change -930
With some more showers of rain since the last sale and the forecast for more numbers were back by 930 for a yarding of 1880. The markets are certainly reacting dramatically to the smaller yardings and the extra rainfall with some categories lifting by as much as 100c/kg in just two sales with some saying it is the largest correction we have seen in such a short time.
Cows once again made up a large percentage of the yarding along with good numbers of yearlings. There was some very well finished trade cattle yarded though the feeder quality was not to the standard of the previous sale. There was a limited supply of grown steers and heifers. The bulk of the yarding was sourced from local districts in the smaller yarding. All the regular buyers were in attendance and operating along with extra restocker orders from both the north and the south.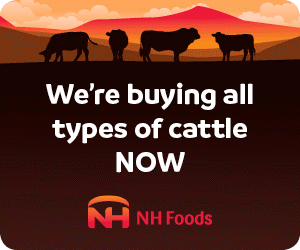 NLRS advises the young cattle to the trade were 5c dearer with prime steer yearlings selling from 265c to 315c while the prime heifer yearlings sold from 252c to 312c/kg with some outstanding Limousins which had been supplementary fed topping the market for both the steers and heifers.
Feeder steers were 14c to 18c dearer while the feeder heifers were 20c to 30c/kg dearer. Feeder steers sold from 220c to 295c with the lightweights weighing between 280kg and 330kg averaging 266c while the heavier weights averaged around 285c/kg. The feeder heifers sold from 213c to 270c with the lightweights averaging 237c and the heavier weights 266c/kg.
Young cattle to the restockers were dearer again lifting by as much as 40c/kg and more in places. Restocker steers sold from 200c to 313c with good quality young Angus steers selling for the top price. The lightweight steers weighing less than 200kg averaged 269c/kg.  The restocker heifers sold from 120c to 255c with the lightweight calves here averaging 241c/kg.
Limited numbers of grown steers were 10c dearer with the prime medium and heavy weights selling from 270c to 282c while the feeders paid to 259c/kg for grown steers to feed. Grown heifers were 12c dearer with the better types selling from 240c to 253c/kg. Once again there was good numbers of grown heifers sold to the restockers who paid from 108c to 222c/kg.
Cows to the processors were 20c to 30c dearer with the 1 and 2 scores selling from 80c to 174c with the 2 scores over 400kg averaging 164c/kg. The better 3 and 4 score cows sold from 170c to 238c with the prime heavy weights averaging 223c/kg. The restockers were keen to purchase good numbers of suitable cows which sold from 70c to 164c/kg.
Bulls were up to 18c dearer with the better heavy weights selling from 211c to 248c to average 234c/kg. Young bulls sold to the restockers selling from 148c to 227c/kg.
To view full NLRS report click here
ReplyReply allForward