WITH the forecast for useful rains across parts of New South Wales for the weekend, numbers were reduced for a yarding of 2910 at Dubbo today.
There were still some consignments offered from the far west, although there was not the percentage compared to previous sales. Overall it was a better quality yarding with some top lines of well-finished bullocks and cows along with some good runs of trade-weight cattle.
Most of the regular buyers were in attendance and operating in a stronger market.
MLA market information advises young cattle to the trade were 5c to 8c dearer with steer vealers selling from 298c to 322c with the heavier weights over 330kg averaging 307c/kg.
Heifer vealers to the trade sold from 290c to 329c/kg. Prime steer yearlings sold from 285c to 316c with the heavier weights over 400kg averaging 304c while the prime heifer yearlings sold from 270c to 307c/kg.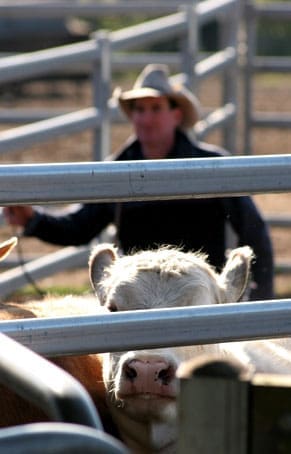 Young steers to the restockers were 4c to 5c dearer selling from 282c to 332c with the 200kg to 280kg calves averaging 325c, while the young heifers to the restockers sold from 264c to 301c/kg.
Young feeder cattle were 8c to 10c dearer with the feeder steers selling from 270c to 324c with the heavier weights over 400kg averaging 291c, while the feeder heifers sold from 269c to 298c/kg.
The good lines of well finished bullocks were 4c to 8c dearer with the prime medium and heavy weights selling from 268c to 303c with the steers weighing between 500kg and 600kg which were the majority averaged 286c/kg. Grown heifers were 5c dearer with the prime conditioned heifers under 540kg selling from 275c to 297c to average 280c/kg. Export weight feeder steers sold to 307c while the export feeder heifers sold to 292c/kg.
Cows suitable for processing were 7c to 12c dearer with the score 2s selling from 140c to 193c while the better 3 and 4 scores sold from 184c to 224c, with the 4 score heavy weights over 520kg averaging 212c/kg. Plainer conditioned cows to the restockers were up to 25c dearer selling from 140c to 209c/kg.
The better muscled heavy bulls to the processors were 14c dearer ranging in price from 230c to 241c to average 238c, while the lightweight bulls to the restockers sold from 290c to 313c/kg.