Yarding 5280 Change – 90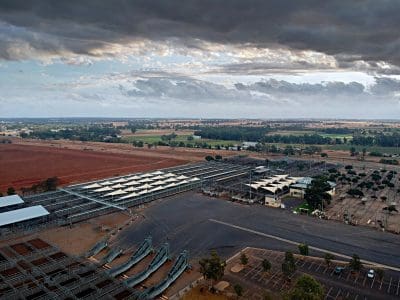 Numbers remained similar with a yarding of 5280.
It was a mixed yarding with a fair selection of young cattle to suit the feeders, backgrounders and restockers along with odd lots to suit the processors.
There was a good selection of prime grown steers and heifers along with large numbers of cows.
Most of the usual buyers were operating along with a couple of extra export processors and some extra feeder orders.
Young cattle to the trade were close to firm with prime vealers selling to 300c/kg. Prime yearlings sold from 273c to 330c/kg. Feeder steers were 5c to 7c cheaper while the feeder heifers were firm to 8c/kg dearer. Feeder steers sold from 240c to 347c while the feeder heifers sold from 208c to 280c/kg.
Lightweight restocker steers and heifers were a little dearer while the heavier weights were 15c/kg cheaper. Young restocker steers sold from 180c to 340c while the young restocker heifers sold from 186c to 278c/kg.
Grown steers were 15c to 20c dearer while the grown heifers were firm to 4c/kg dearer.
The prime grown steers sold from 246c to 286c while the prime grown heifers sold from 210c to 276c/kg. Prime heavy weight cows were 4c cheaper while the secondary cows were 6c/kg cheaper.2 and 3 score cows sold from 50c to 197c while the prime heavy weight cows sold from 165c to 246c to average 216c/kg. Good numbers of cows to the restockers sold from 50c to 156c/kg. Heavy bulls sold to 240c/kg.
Market reporter: David Monk
Source: NLRS. To view full NLRS Dubbo sale report click here