Yarding 4570 Change +540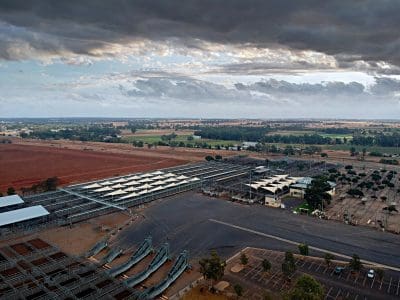 As the dry weather continues the cattle keep rolling in with numbers lifting by 540 for a yarding of 4570.
Overall, it was a much plainer quality yarding with only odd lots of young cattle to suit the feeders though there were some well finished young cattle to suit the trade buyers.
There were good numbers of grown steers and cows, limited numbers of grown heifers and there were large numbers of Bos Indicus cattle throughout Young cattle to the trade were firm with prime vealers selling to 450c/kg.
Prime yearling steers sold from 326c to 426c while the prime heifer yearlings sold from 340c to 385c/kg. Medium weight feeder steers finished 12c dearer while the heavier weights were 10c/kg cheaper. Feeder heifers were 4c to 6c cheaper. The feeder steers sold from 286c to 396c while the feeder heifers sold from 268c to 360c/kg.
Young cattle to the restockers were firm to 6c cheaper with the young steers selling from 325c to 488c while the restocker heifers sold from 210c to 358c/kg. Grown steers finished 7c cheaper while the grown heifers were firm with the prime grown steers selling from 300c to 359c while the prime grown heifers sold from 295c to 348c/kg.
Cows were 10c to 15c cheaper with the 2 and 3 scores selling from 160c to 268c/kg. Prime heavy weight cows sold from 248c to 312c to average 270c/kg.
Heavy bulls sold to 306c/kg.
Market reporter: David Monk
Source: NLRS. To view full NLRS Dubbo sale report click here