Yarding 3790 Change +880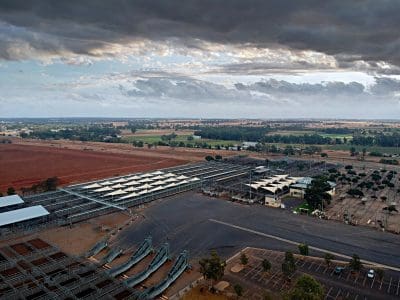 The first sale for a fortnight produced a larger yarding of 3790.
It was a mixed yarding with large numbers of weaners and yearlings suitable for the restockers and backgrounders along with fair numbers to suit the feeders.
There were good numbers of grown steers, heifers and cows and there were large numbers of Bos Indicus cattle mixed throughout.
Young cattle to the trade were dearer with prime vealers selling to 430c/kg. Prime steer yearlings sold from 360c to 468c while the prime heifer yearlings sold from 300c to 444c/kg. Feeder steers and heifers were 10c to 15c dearer with the feeder steers selling from 330c to 410c/kg.
Feeder heifers sold from 290c to 378c/kg. Young cattle to the restockers were dearer with the young steers selling from 300c to 500c while the young heifers going back to the paddock sold from 292c to 330c/kg.
Grown steers and heifers were 8c to 15c dearer with the prime grown steers selling from 306c to 354c/kg. Prime grown heifers sold from 295c to 345c/kg. Cows were up to 23c dearer compared to two weeks ago. 2 and 3 score cows sold from 230c to 270c while prime heavy weight cows sold from 278c to 328c to average 300c/kg.
The restockers paid from 252c to 311c for cows to breed on with.
Heavy bulls were dearer selling to 288c/kg.
Market reporter: David Monk
Source: NLRS. To view full NLRS Dubbo sale report click here