Yarding 3980 Change +1626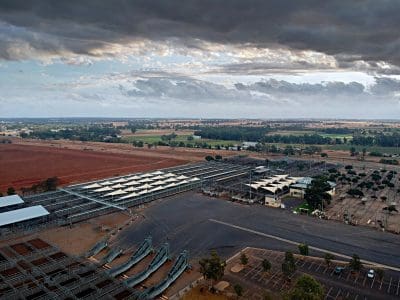 It was a mixed yarding with fair numbers of young cattle to suit the feeders and processors along with good numbers of young weaners to suit the restockers.
There were limited numbers of grown steers and heifers and there was a good supply of cows.
There were also the expected runs of Bos Indicus cattle mixed throughout.
Young cattle to the trade were around firm with prime vealers selling to 365c/kg. Prime yearlings sold from 260c to 356c/kg.
Feeder steers and lightweight feeder heifers were 5c to 12c dearer while the heavier feeder heifers were up to 15c/kg cheaper. Feeder steers sold from 254c to 378c while the feeder heifers sold from 220c to 338c/kg.
Young cattle to the restockers were up to 30c dearer with the young steers selling from 146c to 380c while the young restocker heifers sold from 214c to 340c/kg.
Grown steers and heifers were up to 25c cheaper with the prime grown steers selling from210c to 305c while the prime grown heifers sold from 226c to 302c/kg.
Cows were 10c cheaper with the 2 and 3 scores selling from 135c to 206c/kg. Prime heavy weight cows sold from 190c to 223c to average 208c/kg. Cows to the restockers sold from 136c to 172c/kg.
Heavy bulls sold to 226c/kg.
Market reporter: David Monk
Source: NLRS. To view full NLRS Dubbo sale report click here