Yarding 3641 Change -275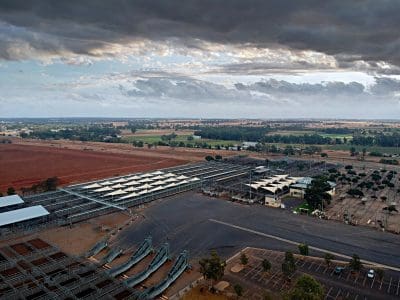 It was a pretty good quality yarding with good numbers of well finished grain assisted yearlings to suit the processors along with a fair selection of young cattle to suit the feeders.
Cows were well supplied and there were good numbers of grown steers and heifers. There were also good numbers of weaners suitable for the backgrounders and restockers.
Young cattle to the trade were dearer on quality with prime yearlings selling from 270c to 354c/kg.
Feeder steers and heifers were firm with the feeder steers selling from 300c to 358c while the feeder heifers sold from 210c to 324c/kg.
Young cattle to the restockers were also around firm with the young steers selling from 265c to 370c while the young restocker heifers sold from 172c to 325c/kg.
Grown steers were 5c to 9c cheaper while the grown heifers were 12c/kg dearer.
Prime grown steers sold from 262c to 307c while the prime grown heifers sold from 235c to 290c/kg.
Angus heifers sold on account of a Coonamble district stud sold to restockers up to 400c/kg. Cows were up to 16c dearer with the 2 and 3 scores selling from 100c to 227c/kg.
Prime heavy weight cows sold from 220c to 250c to average 236c/kg.
Angus cows which were 4 to 8 years old and PTIC sold to the restockers for 254c and 261c/kg. Bulls were dearer selling to 236c/kg.
Market reporter: David Monk
Source: NLRS. To view full NLRS Dubbo sale report click here