THE sustained downward trend in cattle listing numbers on AuctionsPlus continued this week, with 7370 head offered, down another 1050 head. The looming prospect of a dry winter continues to impact on prices and clearance.
Young steer weight categories trended up in price this week, while heifer prices were mixed.
Feeder cattle continue to draw strong bidding activity with a line of 110 18-22 month old Angus steers from Walcha, NSW averaging 410kg topping this week's market and selling for 378c to a local buyer.
Interstate buying activity also continues, with a line of 50 Santa backgrounder heifers averaging 287kg and aged 12-26 months from Goodooga, NSW sell for 215c to a buyer 1600km away in Richmond, QLD. NSW continues to dominate the listings making up 68pc of this week's offering, with significant numbers from the North West Slopes & Plains. Buying regions were dominated by the Northwest Slopes & Plains and Riverina, NSW, followed by Southern QLD.
Large numbers of joined females continue to flood the online market, comprising 25pc of the catalogue this week. NSW buyers were active purchasing all lots sold within the category. PTIC heifers sold from $1140 to $1200, averaging $1170. Highlights included a line of 15 PTIC Angus heifers, 20-12 months, from Cooma, NSW which sold for $1140 to a local buyer.
Grown and mixed aged PTIC cows sold from $950 to $1550, averaging $1311. A line of 22, six-year-old Angus cows, PTIC to Angus bulls from Guyra, NSW sold to a local buyer for $1430.
This week's offering of cows and calves sold from $690 to $1720, averaging $1157. Top price was achieved by a line of 41 x 41 NSM Angus cows, 3-4 years averaging 482kg from Glengarry North, VIC.
Other highlights included a line of 43 x 43 NSM Angus cows, aged 3-8 years, 519kg from Nevertire, NSW return $1060, while from Stanthorpe, QLD, 15 Angus and Charolais cross mixed age SM cows averaging 453kg with 13 Angus sired CAF, sold to a buyer across the border in NSW for $690.
Light steers under 280kg were in demand with an 81pc clearance achieved for the category and prices ranging from 245c to 348c, to average 296c. A line of 103 Angus cross steers averaging 241kg at 9 months from Narrabri, NSW sold for 302c to a buyer in Inglewood, QLD.
From Bungunya, QLD a line of 80 Poll Hereford x steers, 8-10 months averaging 217kg sold for 271c to a local buyer, while from Marcus Hill, VIC a line of 49 8-9 month Angus steers 204kg sold for 333c to a local buyer. From Winkleigh, TAS a line of 16 Angus steers, 7-9 months averaging 251kg sold for 319c.
Heavier steers in the 280kg-330kg category were not as sought after this week, selling from 262c to 335c, averaging 297c. From Bungunya, QLD a line of 32 Poll Hereford X steers, 8-10 months averaging 291kg sold for 262c to a buyer in Inglewood, QLD, while from Wellington, NSW a line of 44 Angus steers, 9-10 months, weighing 319kg sold for 335c to a local buyer.
Light heifers less than 280kg sold from 192c to 296c, averaging 236c. Highlights saw a line of 50 Charolais X heifers, 12-20 months averaging 276kg from Goodooga, NSW sell for 217c to a buyer in Richmond, QLD. From Dubbo, NSW a line of 42 Angus cross heifers, 12-13 months 251kg sold for 253c to a local buyer.
From Wandon Vale, VIC a line of 281 Hereford x Simmental heifers, 10-11 months averaging 279kg sold for 281c to a buyer in Naracoorte, SA. Tasmanian heifers under 280kg sold from 241c to 259c, averaging 251c. The top price was returned by a line of 16 Angus heifers, 7-9 months, weighing 251kg from Winkleigh.
In a breakdown of young cattle sold this week, by weight range:
Steers less than 200kg sold from 273-300c to average 287c; while heifers sold for 233c
Steers 200-280kg sold from 245-348c to average 298c; while heifers sold from 192-296c to average 239c
Steers 280-330kg sold from 262-336c to average 297c; while heifers sold from 216-248c to average 232c
Steers 400+ kg sold for 378c; while heifers sold from 207-235c to average 331c
Steer Highlights
8 to 10 month old, 217kg, Poll Hereford steers from BUNGUNYA, QLD sold for 272c/$589
8 to 10 month old, 290kg, Poll Hereford steers from BUNGUNYA, QLD sold for 262c/$760
7 to 9 month old, 244kg, Hereford steers from WARWICK, QLD sold for 246c/$600
18 to 22 month old, 410kg, Angus steers from WALCHA, NSW sold for 379c/$1,550
9 to 11 month old, 256kg, Angus steers from BUNGOWANNAH, NSW sold for 348c/$890
9 to 10 month old, 318kg, Angus steers from WELLINGTON, NSW sold for 336c/$1,070
8 to 9 month old, 204kg, Angus steers from MARCUS HILL, VIC sold for 333c/$680
7 to 9 month old, 260kg, Angus steers from WINKLEIGH, TAS sold for 320c/$830
8 to 9 month old, 219kg, Angus steers from BUCKLAND, TAS sold for 292c/$640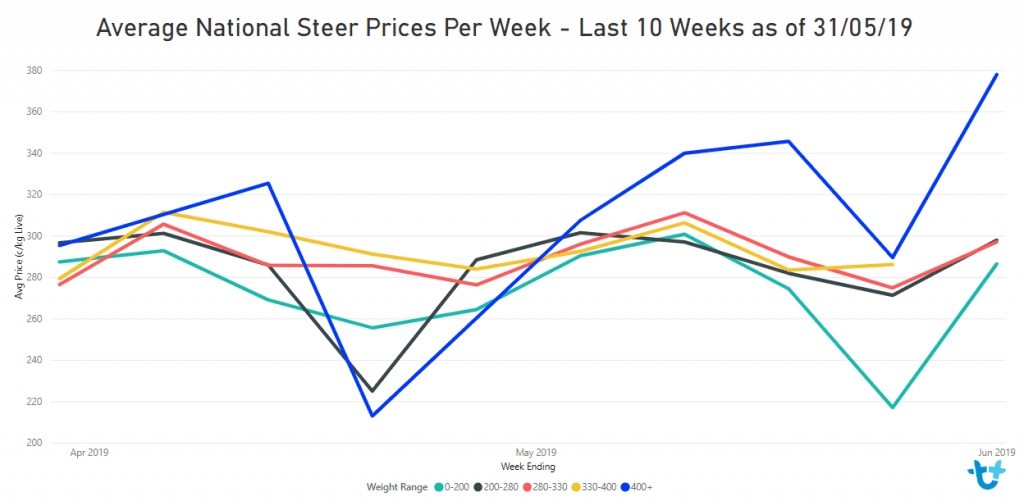 Heifer Highlights
12 to 24 month old, 345kg, composite heifers from ROLLESTON, QLD sold for 235c/$810
12 to 18 month old, 297kg, Santa cross heifers from ROLLESTON, QLD sold for 231c/$685
12 to 13 month old, 251kg, Angus/Charolais/Shorthorn heifers from DUBBO, NSW sold for 253c/$635
9 to 11 month old, 259kg, Angus heifers from MULLALEY, NSW sold for 249c/$645
19 to 20 month old, 361kg, Speckle Park heifers from BUNDARRA, NSW sold for 208c/$750
8 to 14 month old, 286kg, Angus heifers from MUNNI, NSW sold for 249c/$710
7 to 8 month old, 229kg, Red Angus/Hereford/Simmental heifers from WANDO VALE, VIC sold for 297c/$680
10 to 11 month old, 279kg, Red Angus/Hereford/Simmental heifers from WANDO VALE, VIC sold for 281c/$785
7 to 9 month old, 250kg, Angus heifers from WINKLEIGH, TAS sold for 260c/$650
7 to 9 month old, 204kg, Poll Hereford/Angus heifers from BUCKLAND, TAS sold for 260c/$530
7 to 9 month old, 280kg, Poll Hereford/Angus heifers from BUCKLAND, TAS sold for 243c/$680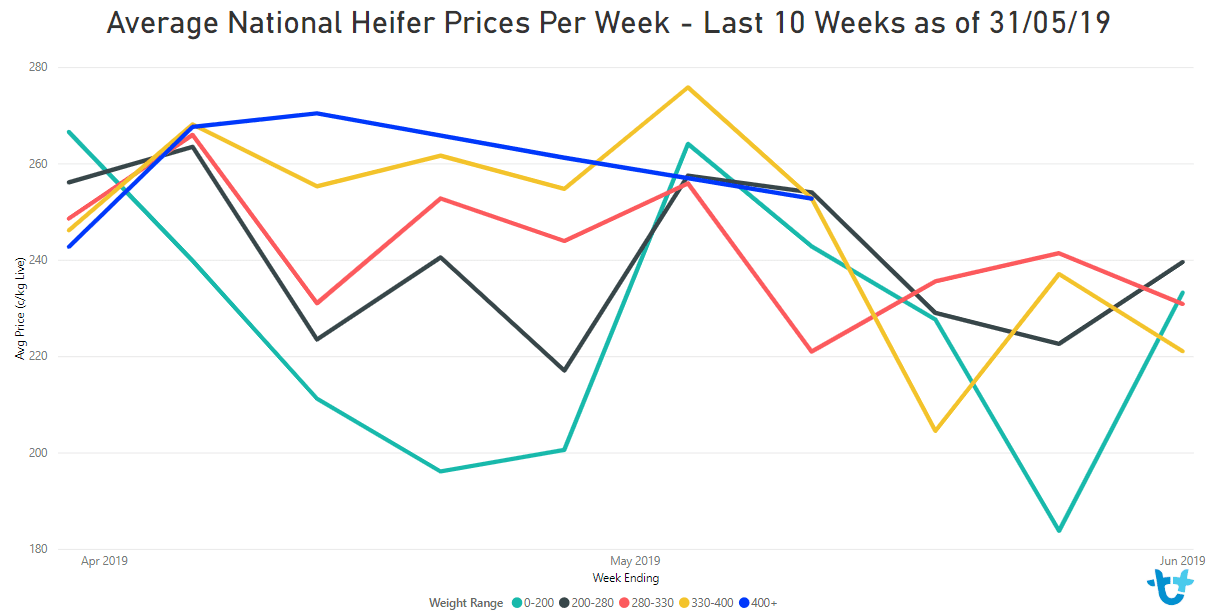 Source: AuctionsPlus