DESPERATELY dry conditions across the Northern Territory's Barkly Tableland region saw the Australian Agricultural Co push another large line of young cattle from its Northern Territory properties to market late last week.
AA Co offered a big line of 727 Barkly composite backgrounder steers in six runs on AuctionsPlus on Friday. The steers had been sent 2000km from Brunette Downs the week before to AA Co's Wylarah Station near Surat in southern Queensland, where they have been bunk-fed on a silage/hay ration.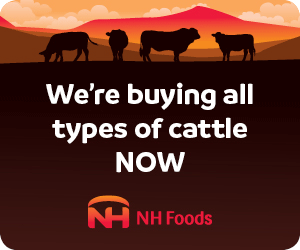 Ranging in age from 13-28 months and drafted into ages and weights from 209-294kg, none of the six lines attracted a bid in Friday's AuctionsPlus weaner and yearling sale – in a market which declined 8-10c/kg, in line with recent saleyards trends.
Onlookers said AA Co's expectations before the sale may have been optimistic in what was already a declining market, with nominated starting prices ranging from 269c/kg for the older steers to 280c/kg at the younger end. As is routine practise on AuctionsPlus, the steers may re-appear in this Friday's sale, possibly with a new starting price.
The result was a big contrast to AA Co's offloading back in March of about 7200 young Barkly cattle of similar description to Friday's AuctionsPlus offering, in two sales through Longreach saleyards.
The first run of 5200 steers sold back on March benefited greatly from the impending arrival of Cyclone Trevor in the Gulf of Carpentaria, and earlier patchy storm rain across Queensland. The lift in the market that day was clearly triggered by renewed buyer confidence, with the heavier AA Co steers making 290-300c/kg while the lighter lines sold upwards from around 275-280c/kg.
AA Co backed up two weeks later with another 2000-odd steers and heifers, also through Longreach sale.
Assessor comments attached to Friday's AuctionsPlus offering said steers like those offered were usually backgrounded internally by AA Co to feedlot entry weights and grainfed for 100 days, and were only being sold this year due to seasonal conditions across the Barkly.
Reflecting the desperate circumstances across the Barkly region this year, the annual Brunette Downs Races and campdraft held each June have been cancelled, for only the third time in the 109 year history of the event. The previous two cancellations were due to World War II, and another severe drought year.
"This is not a decision the committee, a community group, has taken lightly, but considering the due to the intense drought conditions being experienced across the Barkly Tablelands, it is in the best interests of all involved, and most importantly, the welfare of animals," the race committee said.
The Australian Agricultural Co delivers its full-year results to the market on Wednesday. The presentation is expected to include guidance on the financial impact of the closure of the Livingstone Beef processing plant in July last year, and an update on livestock losses accrued from the February floods which impacted AA Co's Gulf breeding properties Canobie, Wondoola, Dalgonally and Carrum stations. Initial estimates back in March suggested losses might of totalled 45,000 head.