AuctionsPlus has recorded a dramatic 62 percent increase in cattle turnover for the financial year just completed.
Results requested by Beef Central show that the 2019-20 financial year throughput reached a record 632,887 head – more than 240,000 head higher than the previous year, when numbers reached 391,229 head.
The previous record year for cattle turnover was 2017-18, when numbers just exceeded 450,000 head.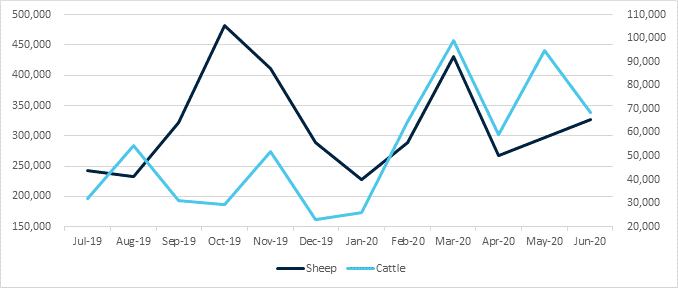 As the graph published here shows (cattle trend in light blue, sheep in dark blue), almost all of the momentum behind the 2019-20 financial year's huge total in cattle came in the February-June period earlier this year, following drought-breaking rain across large parts of eastern Australia.
As the table published below shows, cattle throughput shot up dramatically between February (about 64,000 head) and March (a monthly record 99,000 head), and has remained historically higher ever since, as grass-fever driven record cattle prices underpin the market.
The Eastern Young Cattle Indicator currently sits at 760c/kg, just below its all-time record set back in mid-June.

AuctionsPlus chief executive Angus Street agreed with Beef Central's suggestion that the priority among vendors had changed from simple 'disposal' of cattle during the drought period as feed resources disappeared, to a total focus on 'optimising' price, during the current market boom.
"AuctionsPlus's key attraction in a rising market like this, when there is buyer demand after rain, is in broadening the competition base," Mr Street said.
"The surge in turnover this past six months is all about the size of the buyer audience, during a period of high prices."
Beyond that, buyers in the current markets were looking in detail for cattle with the tributes they were seeking, and the large number of online listings was catering for that.
"It's about providing the information to make a more informed buying decision," Mr Street said.
For vendors, AuctionsPlus price results on young cattle in FY19 were about 10-15pc above the EYCI figures posted the same week, and the process avoided saleyards transaction costs and transport.
Past history had suggested that buyers tended to be a little more confident to jump online during times of rising markets, Mr Street said.
First time vendors
The dramatic lift in throughput last year included a substantial number of first-time AuctionsPlus vendors, supported by existing users listing more cattle.
"Given the prices experienced over the past six months, more new vendors decided to give AuctionsPlus a try," he said.
Young cattle growth
Weaners, yearlings and feeder cattle accounted for the largest portion of the big rise in listing numbers last financial year. There was also a marked rise in breeders and PTIC females, but proportionately, young cattle accounted for the largest segment of the rise.
That was significantly different from the previous record turnover year in FY17, when PTIC females and cows with calves at foot really drive the market growth.
"The difference this last year is in the herd structure after two consecutive years of continental-scale drought, which removed a lot of those females from the national herd," Mr Street said.
This time around, the national herd was already heavily compromised, when the rain finally came.
"The national herd structure at the time clearly plays a part in what gets sold. Obviously producers this past year were more focused in keeping remaining breeders, but turned to store cattle and younger in a rapidly rising market."
"For us, it is really exciting to see that more producers are really understanding the benefits of trading via AuctionsPlus. The past six months has just cemented that, and more people are really starting to see value in the system."
Mr Street said each time AuctionsPlus experienced a surge in listings, as had been seen in the FY2017 and FY2020 years, there tended to be a lingering effect afterwards with more users tapping into the system.
"We're seeing good retention of users, and it's exciting to see all of these new users who have given it a try and had a good experience over the past 12 months," he said.
Mr Street said despite the setbacks caused by COVID, there was still a huge amount of confidence in where the livestock sector was going, with strong underpinning global demand.