BALLARAT STORE CATTLE SALE
DATE: October 16, 2020
AGENTS: Ballarat Associated Agents
EYCI: 788.75c/kg
FEEDER STEER AVG: 435C/KG LWT (EYCI RATING +8.6 POINTS)
YARDING: 3030 head
STEERS: 500KG+ $2040-$2450, av 400c/kg; 360-500KG $1550-$2100, av 436c/kg; 280-360KG: $1380-$11720, AV 473c/kg.
HEIFERS: 500kg+ $1820-$2450, av 386360-500kg: $1480-$1960, av 418c/kg; 280-360KG; $1260, av 426c/kg.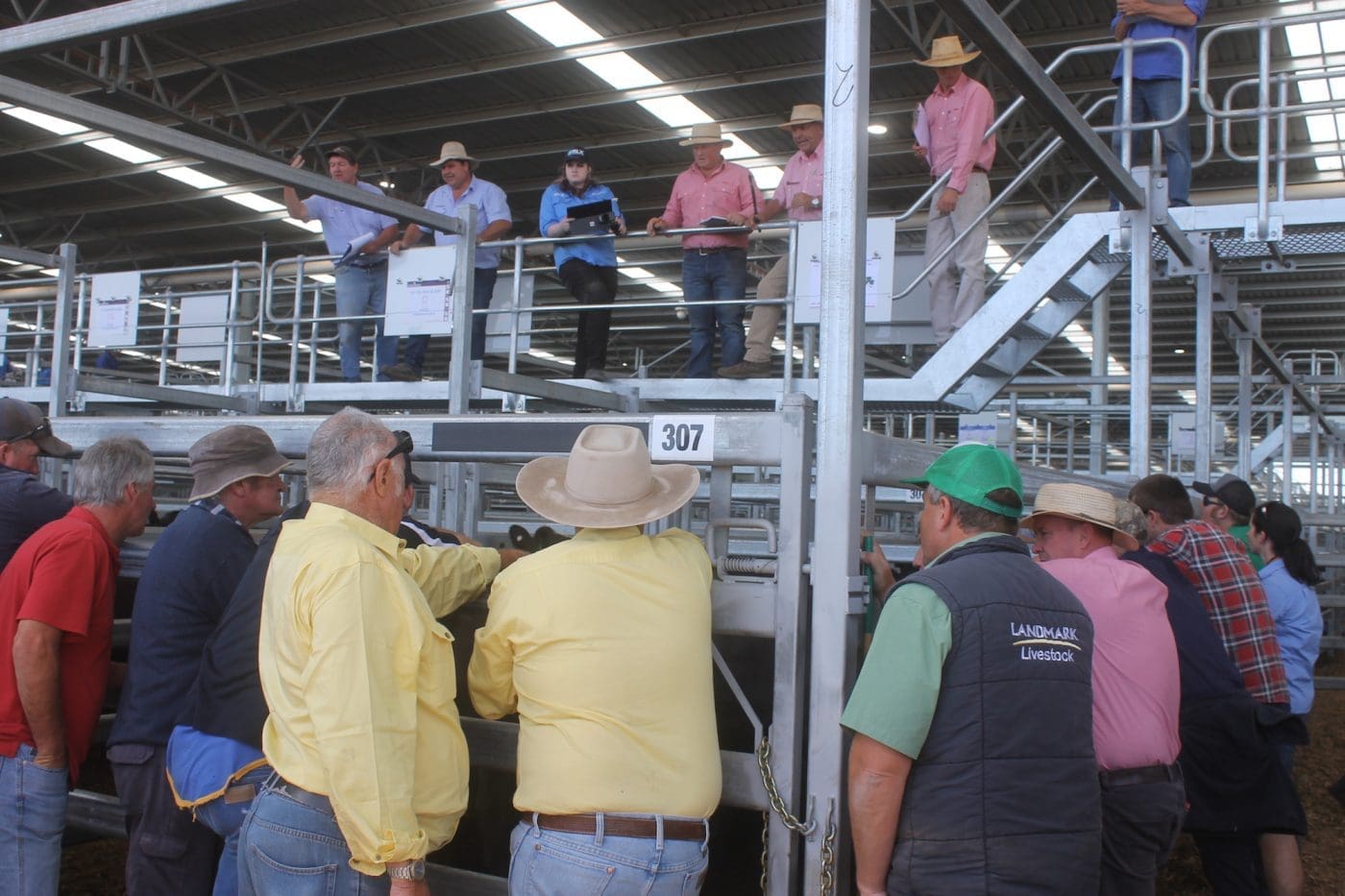 SOUTH Gippsland bullock finishers, lot feeders and backgrounders from numerous pockets of the state and interstate applied strong competition to Ballarat's October store cattle sale held Friday.
Offering 3000 head of predominantly black cattle, the market provided another outstanding result from bidders standing both at the rail and competing online.
The steer market, which overall averaged 443c/kg, saw a good number of bids soar beyond the $2000 a head mark, topping at $2450 for a yard of 640 Angus weighed at 640kg.
The market toppers, for Terry Simpson of Springbank, recorded a per kilogram rate of 383c/kg while a slightly lighter pen of seven Angus, 635kg made $2410 at 380c/kg for B&J Cahill.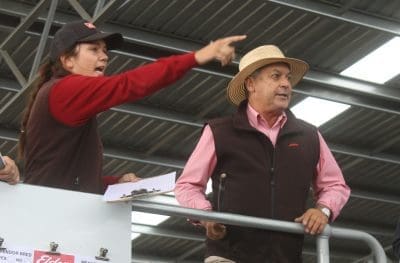 Steers fitting feeder weight specifications of saw sales flip mainly from 415 to 460c/kg for a 436c/kg average across the category.
Prices for these 360 to 500kg steers varied from $1550 to $2100/head with a large number sold from the $1750 to $1950 per head range.
Among some of the better sales in the steer penning was a yarding of 20 FA & GJ Richardson Angus, 500kg, from Newlyn that made $2100. These were sold to South Gippsland bullock interests as were a yard of 18 Brackenhurst Angus, 499kg that also made $2100.
HF Crabbe sold a yard of 18 Angus, 473kg, at $1970 while a second yard of 17 from the same vendor truck, 508kg, made $2100.
A yard of A&J McKenzie Angus, 437kg, were penned as the lead of the weaner run. These were bid $1940 a head while a yard of 15 RJ & SM Erwin Angus, 381kg, made $1690 or 447c/kg.
TB White & Sons principal Leo White quoted this portion of the market at least $50 a head stronger than the centre's month earlier sale.
It's hard to believe that the market could be any dearer, Mr White said.
"It was a phenomenal result. It was definitely the dearer I've ever seen not just for steers, it was across the board… for little steers, heifers and joined and calved females.
"We did have a much better quality yarding this month than last, however especially in the yearling-off and grown steer yarding.
(The quality) was miles better this month which would account for some of this substantial rise".
Ballarat Stock Agents association president, Sean Simpson told Beef Central that discussions with fellow agents following concurred the result was one of the best ever seen at Ballarat.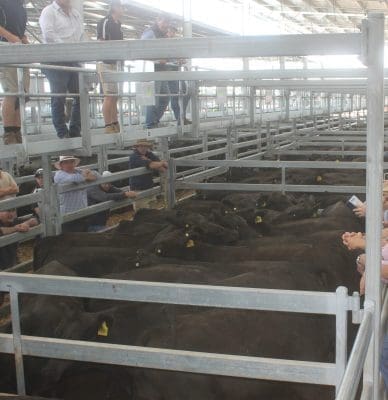 Opinion he said varied as to whether the result was $50 or up to $100 a head dearer but in most cases, it was found that 420 to 450kg steers had made 420 to 450 cents per kilograms which was a truly an outstanding outcome.
"And, it was more so the case for lighter cattle as there were plenty of people wanting to purchase steers for around the $1200 a head mark that found themselves well off the pace.
An example of this, he said was the sale of 14 Shorthorn steers, 250kg that made $1420 while a yard of 22 Angus, 252kg, made $1480: bot realized 568 and 587c/kg respectively.
Mr Simpson said the spread of areas represented among the buying field was as diverse as has been seen at a Ballarat sale for a long time.
There were a lot cattle purchased by South Gippsland, the northeast and Southwest of Victoria, Southeast SA and for several destinations in NSW, he said.
"And while lot feeders were active, the grass finisher inquiry was the most dominant we've seen at Ballarat for a good while" Mr Simpson said.
View Beef Central's interview with Sean Simpson:
The market for unjoined heifers was equally as strong as rates achieved soared to average 418c/kg for heifers heavier than 360c/kg, and 427c/kg for those 280 to 360c/kg.
The market top for unjoined heifers was a price of $2340 for a yard of three Angus, 648kg while a pen of 26 Angus, 455kg, made $1870 to realize 410c/kg for vendor, CAB Investments.
Other significant sales of heifers included a yard of 27 Charolais, 405kg, sold for vendor, Rosevale Ridge, at $1850 or 456c/kg while its draft of 22 Angus, 379kg, made $1630 or 430c/kg.
The keen tempo to the demand was also carried through to the cow and calf and joined female penning where a top price of $3280 was bid for a yarding of eight Angus with substantial late autumn-drop caves at foot.
These were sold by account Pemel & Pisano while vendor Cardago Springs sold, at $3050, a yard of 22 Angus cows, with Charolais young calves at foot that were rejoined.
Numerous other large and small pen lots of cows, standing young calves at foot, made $2500 to $2800 while two yards of 490kg Angus heifers, PTIC for an autumn calving to Merrigrange sires made $2280 for G Reid & Son at the commencement of the breeding female section.